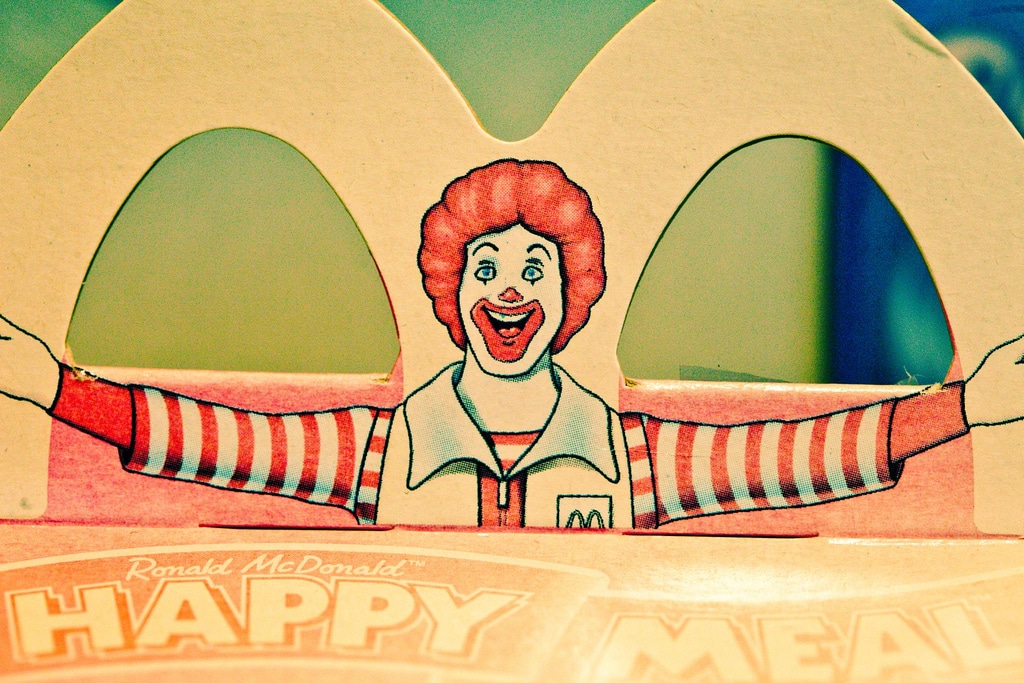 Fast Foods, Fast Replies – Managing Social Media for Effective Customer Support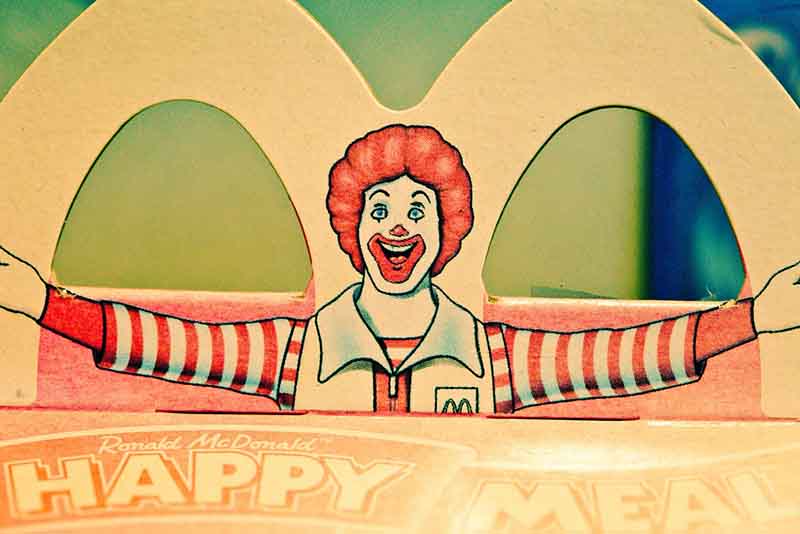 In the coming weeks we will be writing about the advantages of doing customer support via social media management. You'll be introduced to a number of success stories, as well as to less successful approaches when it comes to handling customer requests, complaints & other interactions on social media channels including Facebook, LinkedIn and Twitter.
If you're not on SM, you don't exist
Social media can take your business to the highest peaks or sink it into the ocean. This is the thought one should bear in mind when starting a business. Ignoring the importance of direct, immediate response via social media can have huge negative impact on a brand's image. At the opposite pole, putting effort into creating a personal connection with customers via social media, and letting their wishes or dissatisfactions be heard can work wonders for a brand.
Some companies – like 37 Signals – use Twitter as their foremost customer support channel because it allows customers to post comments and reviews, while also enabling companies to provide direct and immediate response to customers' questions. This guarantees caring for the customer. Other reasons for providing customer support via social media can be found here.
Fast food chains are huge companies with thousands, even millions of customers. This means that, every minute, they are dealing with the challenge of providing immediate responses to their clients' questions and complaints. Are they good at using social media to provide an efficient customer support? Some are doing a great job, whereas others have still a long way to go.
One of the reasons why McDonald's and KFC are the first names that pop into your head when you say fast food is, of course, their tradition and long-time presence. However, being veterans on the market is not enough. These companies have also known how to provide customer support and make themselves popular via social media channels. Here's some of their actual strategies in dealing with customer complaints on social media.
McDonald's cares!
The Facebook page for McDonald's UK has a lot of eye-catching content, most of which is product-oriented. However, they do seem to care about their customers, since they reply to messages in less than 24 hours and, in some cases, in less than an hour. They even reply to simple "hellos", which is a big plus for their online marketing team.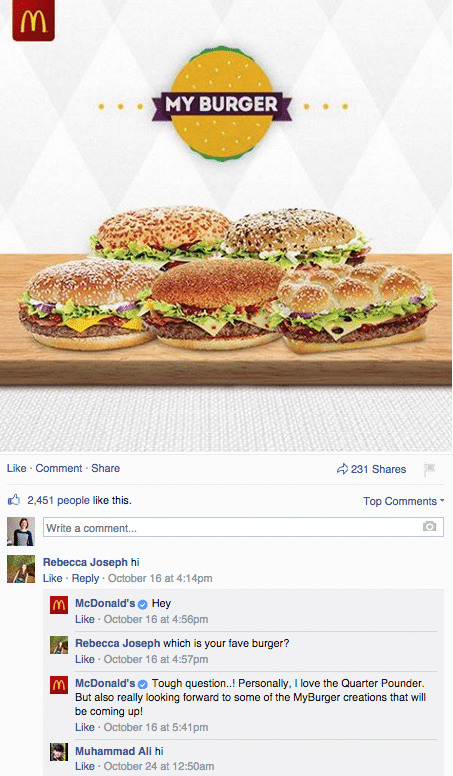 McDonald's France is also doing a great job on Facebook. A lot of promotions and marketing, but most of their replies are prompt (under 30 min) and to the point, even when it's only 8 a.m.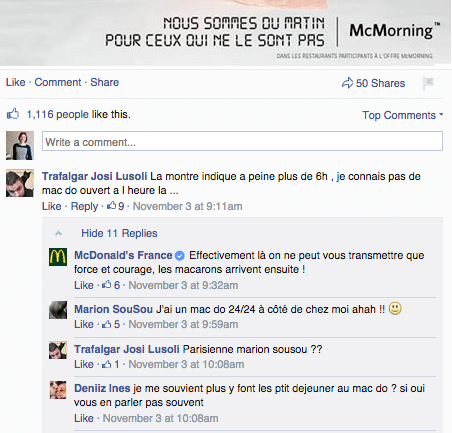 Although there is a lot less interaction than on other European FB pages, McDonald's Austria answers customer queries extremely rapidly (in a few minutes). Their replies on Twitter come in less than 24 hours and no comment is left unanswered. Additionally, the page is very interactive, with funny pictures and videos that promote their products, but also creates a pleasant experience for the customers.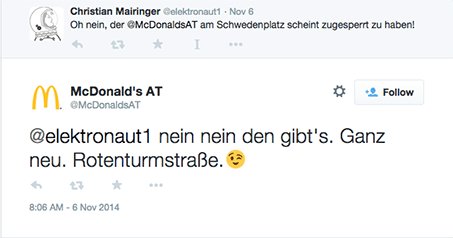 Increased care for customer support is noticeable by the addition of a professionally-managed FAQ on which customers can interact with the brand.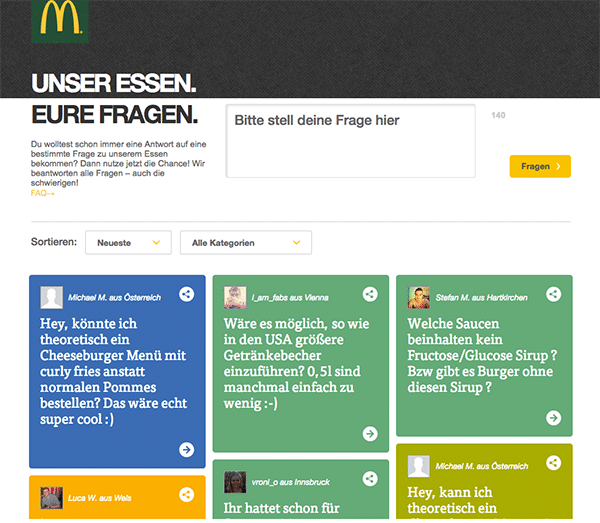 The interesting side of McDonald's strategy on social media is that they manage to maintain a balance between promoting their products and engaging their customers. Therefore, they cannot be accused of not caring or exhibiting too much publicity, which at the end of the day makes everyone happy.
KFC: "Slow and steady wins the race" does not apply to SM
KFC UK, on the other hand, is not doing a great job when it comes to customer support via Facebook. Their biggest flaw is the long time interval between the customer's comment and KFC's reply. While a customer's complaint demands a high degree of vigilance, it sometimes takes them a whole day to deliver an answer.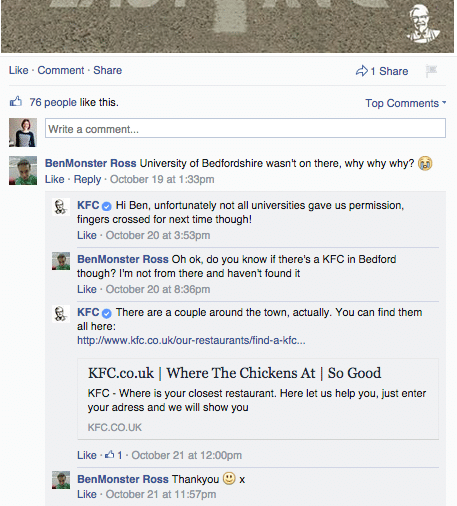 Looking at the Facebook page of KFC Germany, very few replies from KFC representatives can be found in the last 3 months and the ones that are present usually deal with a bad incident or an unpleasant situation.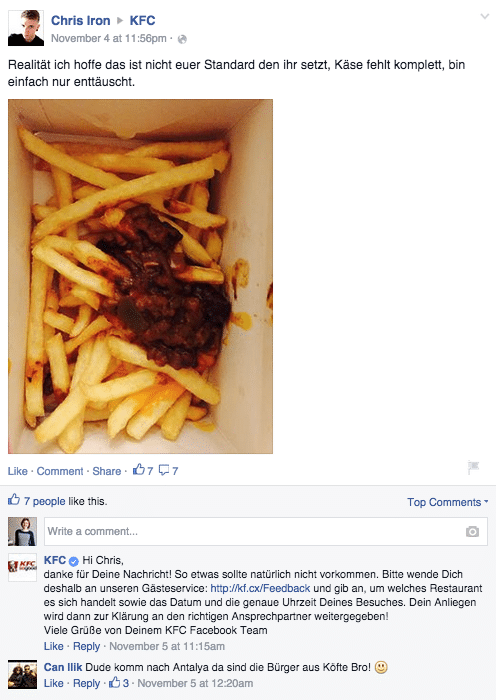 Also, KFC Germany is not very fast in delivering a reply! They post promotions, videos and all sorts of ads and commercials referring to their products, but forget about the human side of the story. Their Facebook page also has a number of appreciations and good thoughts coming from fans but unfortunately they remain unanswered. Not at all a customer-engaging recipe!
Compared to McDonald's UK, that has 94.000 followers on Twitter, KFC UK and Ireland has only 6.691. There is interaction and customer engagement, but unfortunately the scenario is similar to that of their Facebook page: they do a poor job at replying to customer feedback or complaints in a short amount of time. It takes them a day or two to do that and this may be one of the reasons why their number of followers is this low.
Nordsee. Doesn't ring a bell? Don't worry, they haven't heard about you either
Surely you've known McDonald's and KFC since childhood, but have you ever heard of Nordsee? It is a German fast-food restaurant chain specialising in seafood. Does that ring any bell? Probably not, since the company have kept their eyes closed in the face of LinkedIn, Twitter or Pinterest.
Furthermore, after taking a closer look at their Facebook page, we've noticed that it's full of promotions and colorful photos of their best courses but has very little customer feedback or interaction. The same goes for their Romanian and Russian Facebook pages. As a result, although their food tastes delicious, their online presence is minimal, which means (if you remember the introduction) that they are almost non-existent in this new world.
Pizza Hut: Silence is not bliss
After taking a look at the Facebook page of Pizza Hut UK, one can easily see that, with the exception of several promotions posted in the last three months, Pizza Hut doesn't seem to bother replying any customer comment (even when dealing with serious complaints). Is it bad management or bad intention? Whichever the answer, customers are not at all happy with the way they manage their social media channels.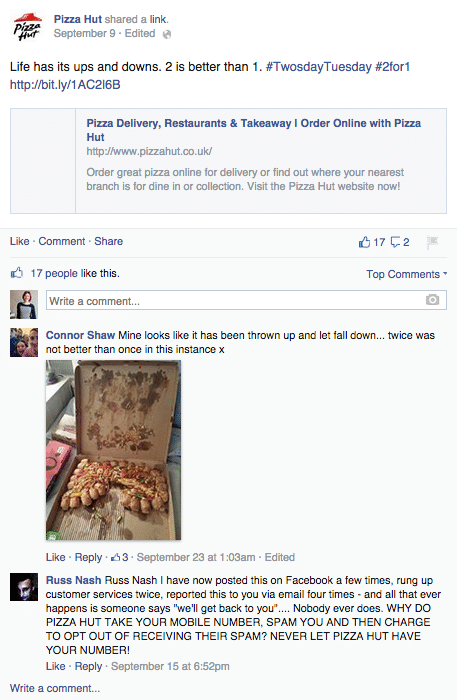 Pizza Hut France seems to be doing a better job on Facebook, in the sense that they are more active and sometimes they do take the time to respond. It's a pity they are not very prompt.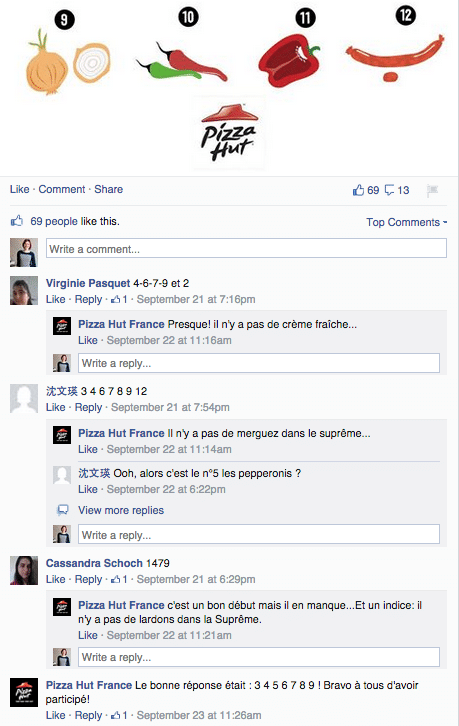 The same problem goes for their Twitter account, where it took them three whole days to reply to a customer complaint.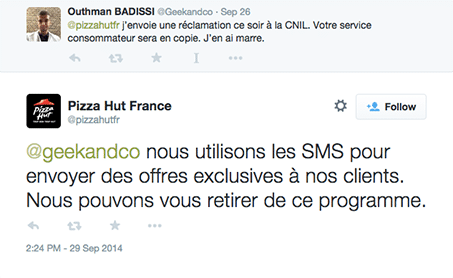 At the opposite pole lies Pizza Hut Germany, which seems to have understood the importance of customer support and interaction via social media. Their posts are funny and friendly and they are engaging customers in a different way compared to other European Facebook pages. A plus for their social media management team!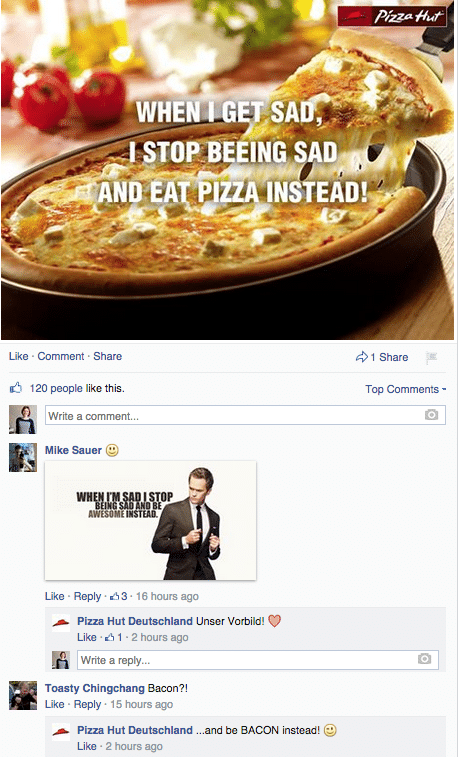 Burger King: We know you like us on Facebook!
Burger King Germany is doing a really nice job on Facebook. They reply to every comment and are putting a lot of effort into creating, as well as maintaining a close connection with their customers.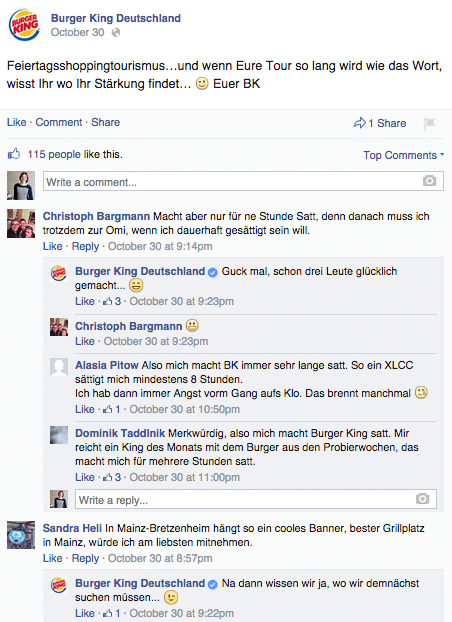 The same goes for their UK Facebook page: immediate and friendly answers even to the simplest comments.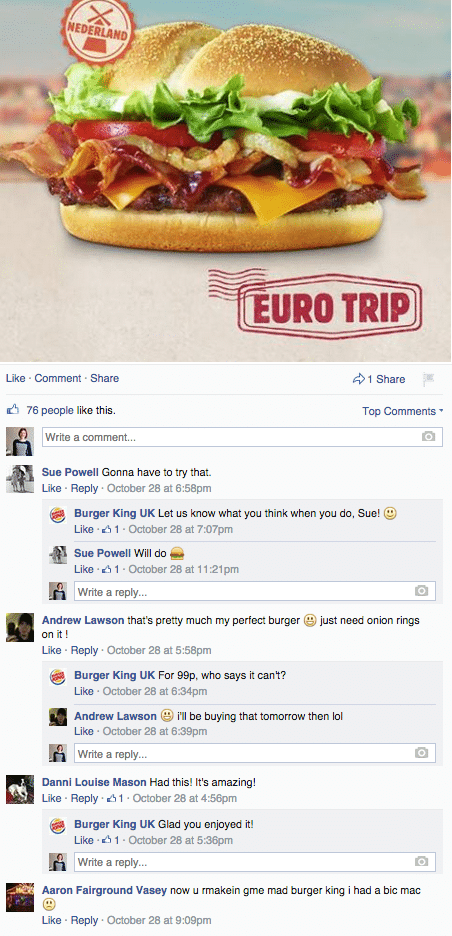 However, Burger King UK doesn't have much activity on Twitter, since their page is very recent (October 10 2014). Hopefully, they will keep up the good work, as they have been doing with Facebook.
However, things are not flawless. There are three Facebook pages for Burger King France, which can be very confusing for customers. One of them has very little activity (only 3 posts) with nothing new since December 2011. The other page, dubbed "Officiel, Burger King revient en France", is a tad more interactive and has 2,256 likes. Both are non-official, which is obvious once you find "Burger King France". Its 38,401 likes may be a clue for the fact that this is their official Facebook page. Tough job finding it – BurgerKing really should get rid of the fake ones!
Twitter seems to be the preferred channel by Burger King France. They are very active and post many colorful pictures and promotions. Unfortunately, there isn't much customer interaction. A good guess would be that they are using Twitter only to promote their products and not as a customer engagement channel.
In the end, the question remains: which fast food is doing a better job at making its clients happy? We would say that McDonald's leads the way in customer support via social media management, followed by Burger King. Although Nordsee has only got a Facebook account, at least there aren't any customer complaints that were ignored by its representatives. The last place is occupied by both Pizza Hut and KFC, which are doing a poor job at making their clients happy. They either don't reply to customer complaints or give late responses to serious problems.
What does this mean for you?
Time is precious, for both company and customer. If you're a big brand, you've probably already set a number of processes in place to automate work. If not, you should start looking into better handling your social media accounts. There are many tools out there that can make this easier, by providing:
e-mail notifications for new comments, replies, retweets, private messages, enabling around the clock presence across all channels; this, in return, provides a quick reaction time;
a "ticket inbox" that aggregates all community activity, customer requests, complaints etc. in one place and across all your social media channels, with a simple way to forward/assign tickets to members of your team.
text-templates that allow your team to answer "frequently asked questions" in a quick and consistent way (but remember, you should still try to connect with users at a personal level!)
fulltext-search & user-profiles give you easy access to a customer's past conversations with your brand. Find out if the customer in question has complained before etc.
Social media is a game changer in how businesses manage customer relationships. Prepare for the challenge with our eBook!
Social Customer Service – The Essentials
Social customer care is quickly becoming a company-wide approach that involves all departments and a common social media engagement strategy. Is your business up for the challenge? Download our eBook today to find out!
[Featured image credits: Thomas Hawk cc]
Swat.io makes social media management and customer service easy. Start your free trial and find out how our tool can support you with your daily social media work!
Efficient Social Media Communications With Swat.io