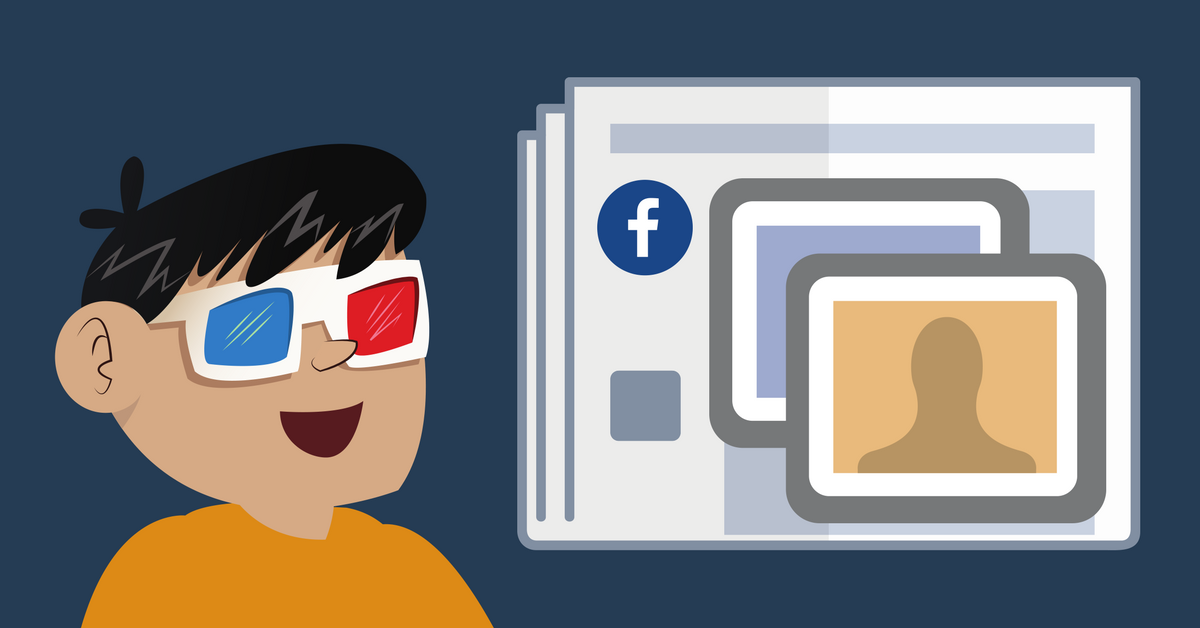 3D posts on Facebook – gimmick or serious marketing tool? 
After first tests at the end of October, the new Facebook feature that allows publishing 3D posts on the platform is available to everyone. Sounds like a gimmick? In fact, the new feature could address a key problem for many social media managers by helping them extend their reach despite growing competition and changes in the Facebook algorithm.
According to Facebook's developers, 3D content should become the next big thing on social and should open up a whole new world for content creators. Further, 3D content should contribute to merging Augmented Reality (AR) and Virtual Reality (VR) to new spaces of experience. But how does that new feature work, and what potential does it bear for companies that are active on social media?
Requirements for 3D posts
Facebook's 3D feature is just at the beginning of its possibilities. So far, users can rotate objects and look at them from different angles, which makes the result similar to a 360-degree-photo. There are also examples in which users can open the doors of a car or move the leg of a character. Those examples are probably the first hints on what is to come in future.
Using the new feature is surprisingly uncomplicated. You can use some already known tools to create 3D content, but there are some requirements that need to be fulfilled:
It must be a GLB file, the only format currently supported by Facebook. This is a packed binary version of a glTF 2.0 file.
Your file has to be 3 MB or smaller.
For textures, Facebook supports JPEG and PNG.
Facebook currently ignores animations.
You can find further information about the prerequisites for 3D posts here.
Tip: With Modo, you can create 3D objects that fulfill Facebook's requirements without having to convert your file. Other suppliers should follow soon. An alternative to use on a smartphone is Sony's creator app for Sony Xperia XZ1. Oculus Medium is also supported.
This is how you publish 3D content
Publishing 3D content works as follows:
Open the field for creating a new post.
Drag the object you have created in the text field.
Facebook starts now to render your object. The background is white by default, but you have some options to change it while you file is uploading.
Once your object is rendered, you can click on "publish" and your post goes online.
Your followers can like and share your post, of course. Facebook also allows you to take uploaded 3D models to Facebook Spaces, the company's young virtual playing field.
From Lego to Wayfair – how 3D posts are employed by companies today
One of the first companies that took advantage of the new feature was toy manufacturer LEGO. The company demonstrated how products can be introduced to an online audience in a playful way by uploading a 3D model of a colorful bird that can be rotated and looked at from different perspectives.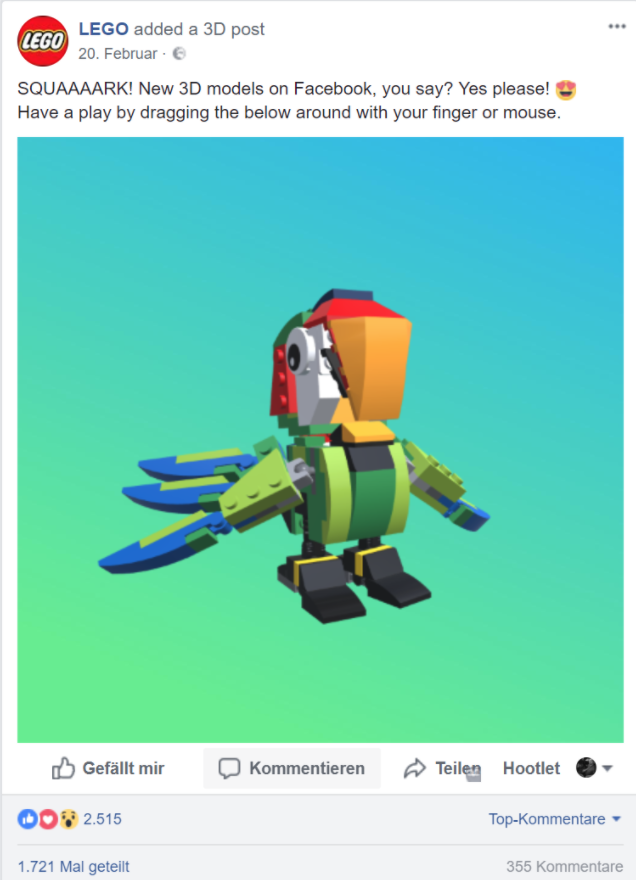 The Wayfair mail order company was also quick to join in, providing a chest of drawers with decorative objects in 3D view.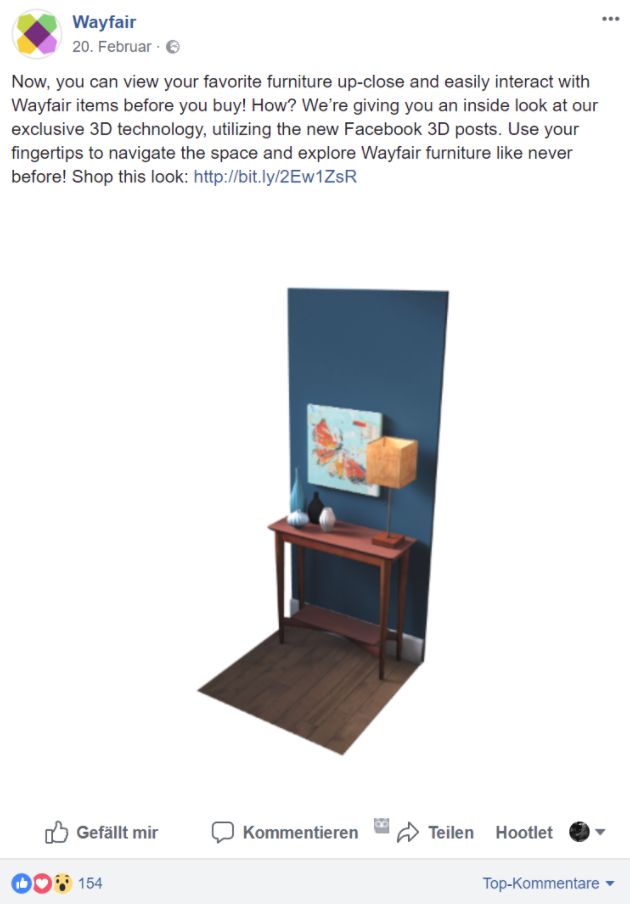 Jurassic World took the opportunity to present a 3D dinosaur to fans.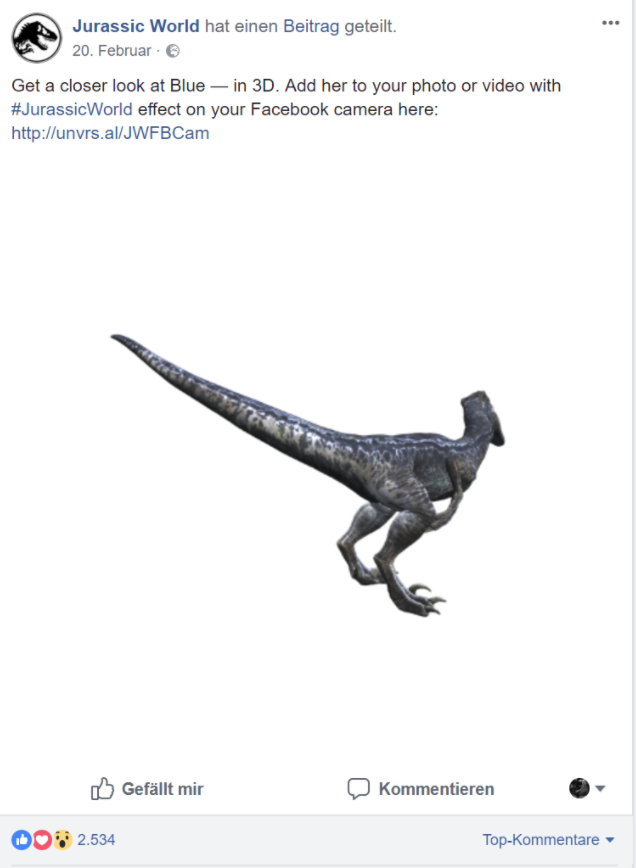 The Finnish game developer Supercell introduced the new character Magic Archer with Facebooks 3D feature – including a "hidden" message that becomes visible by turning the character.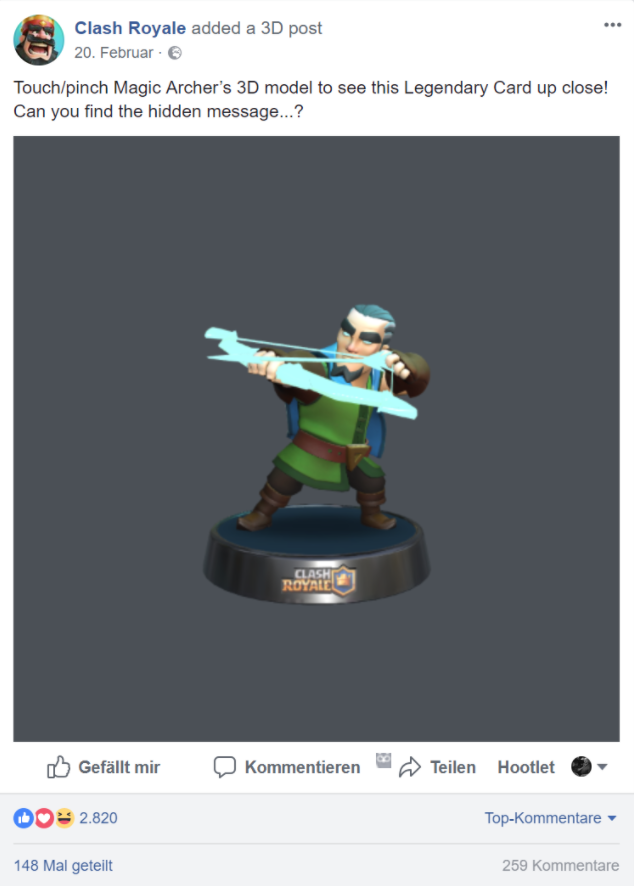 Getting more attention in your follower's newsfeeds? The potential of the new Facebook feature
Even though the options which were described so far sound pretty impressive, there's still the question what advantages posting in 3D actually has. Is it possible to successfully advertise on Facebook or is it just a gimmick that matters to toy manufacturers?
In fact, the new feature already offers exciting possibilities in its current, rudimentary form:
Product presentation: Lego and Wayfair already did it and others will follow soon. The opportunity to post your own products in 3D makes them more vivid and gives potential customers the feeling of holding them in their hands. Further, prospects are ensured that the product they see on screen actually is the one they will find in stores. Therefore, experiencing the product at a screen becomes more realistic and similar to shopping at a store.
Driving attention to your posts: pure text posts hardly have any effect on Facebook. The search for images or infographics that stand out from the crowd and achieve an above-average reach is becoming increasingly difficult. 3D posts are an eye-catcher just because of their novelty character.
Driving engagement: even though 3D objects can only be twisted and looked at from different angles, the new feature is literally an invitation for your followers to interact with the posts. The more people follow that invitation and interact with the post, the higher the reach of that post will be.
Even at this early point in time, it definitely pays off to take a close look at Facebook's latest feature upgrade because it has the potential to change what is possible on Social Media as we know it nowadays. Facebook itself writes about the creation of a "3D ecosystem" on its developer's blog.
Are you looking for up-to-date tips and tricks to optimize your Social Media Marketing to be on top of the game despite growing competition? Download our eBook From Zero to Hero – The Social Media Marketer's Strategy Kit now for free and take advantage of ready-to-use templates for your successful Social Media Marketing strategies.
From Zero to Hero: The Social Media Marketer's Strategy Kit
Download the strategy kit for social media marketers who want to stay on top of their game. Use the actionable steps, tips, tricks, and guidelines to take your brand and business from 0 to hero on social media. The kit is accompanied by ready-to-use templates to help you define, implement and monitor your social media marketing strategy in all its complexity.
VR-Shopping and 3D models in the real world – What does to future hold?
Making your own products tangible in virtual worlds sounds like a dream of the future. But in fact, Facebook's 3D feature could be a decisive step towards realizing this idea. After all, it is already possible to take 3D objects with you on Facebook Spaces, a possibility that the company wants to expand further.
In addition, it should be possible in future to use the feature in conjunction with AR platforms, together with interactive animations. In this context, Facebook's acquisition Oculus is driving the development of VR and AR glasses that enable users to bring digital elements into the real world. The 3D objects themselves should be increasingly more detailed. Virtual and "real" reality could merge in a way that is currently only possible in science fiction films.
Conclusion: 3D on Facebook – a new feature with massive potential
The question remains to what extent it is worthwhile for marketing managers to take a closer look at Facebook's new 3D feature. The answer to this, as with all marketing activities, is left to the respective marketing manager himself, depending on their strategy and that of their company. But there are already indications that 3D will play a major role on Facebook in the future. This alone is a good reason to pay attention to it as early as possible.
Are you looking for a professional tool to simplify your social media management? Try Swat.io for free now for an efficient and convenient support of all channels!
Efficient Social Media Communications With Swat.io