How Brands Use Snapchat, Facebook and Instagram Stories
Snapchat was the first social platform to launch Stories. Instagram joined the party in 2016, followed by Facebook earlier this year. On Facebook and Instagram, the "Stories" feature is placed at the top of the newsfeed to ensure it's the first thing users see when they open the app. Facebook has a much broader demographic than Instagram and Snapchat, increasing your chances to monetise your business with Facebook Stories.
Stories are meant to give a twist to your marketing strategies on social media. Brands should use Snapchat, Facebook, and Instagram stories because of their scarce nature. Posts are available for 24 hours only. This gives brands a unique opportunity to promote flash sales, hype up announcements and discounts codes, and provide exclusive content to their followers.
Stories maximise impact when integrated into your digital marketing strategy. In the lines below, we'll be focusing on how social media stories can be used to:
Increase brand awareness
Make your content unmissable
Drive more traffic
Attract more customers
Redirect fans to your site
Add countdowns to make your content attention-grabbing
Deliver your message in a concise and easy to understand manner
Influencer Marketing: The Practical Handbook for Social Media Marketers
Download the free and practical influencer marketing guide for social media marketers. Learn on over 60 pages how to find the right opinion leaders for your company, how to integrate influencers into your campaign and how to develop a campaign from A to Z together with them. This guide gives you everything you need to successfully implement your Influencer marketing campaigns.
How to use Instagram Stories
Stories can be integrated to keep followers updated with your brand's upcoming events. Use the feature to lay out a chronological narrative; let people know how things unfold at your company in a 24-hour period. Most of your users don't have time to read all the content you post on Instagram in a week; or watch all your videos. Making a "Stories" package on Instagram and summarizing everything in a video helps deliver the right message to the right people a lot easier.
Use Instagram Stories to showcase weekly sales or provide a special offer and influence the purchase intent of your followers. When stories are created, followers get alerts in their Insta feed. It's a great way to increase awareness around an offer, and make it exclusive in the eyes of your followers.
Stories on Instagram don't demand a lot of timing and execution. Their spontaneous nature and the visuals you can use when creating Stories makes them a fun way to convey a message or deliver content. It can be a far more interesting and innovative technique as opposed to regular status updates.
When Stories was launched on Instagram, Nike allegedly generated a wooping 800,000 views in 24h on their Insta Story. Even though brands with lots of followers stand out more on social media, rookie brands shouldn't give up either.
UK-based floral stylist, Jennifer Pinder, talks about how she uses Instagram stories to wow her clients.
"I use Stories a lot on my Instagram page, and Instagram is how I get most of my clients. I find that in my line of work (floristry) the market has become incredibly competitive and so I really need my Instagram gallery to be in great shape for people to even consider following me. […] I love Stories because it is less calculated and more fun and immediate. I use it to give an unedited window into my flowery world. The fact that everything disappears within 24 hours means that I feel no pressure for the images or videos to be 'perfect' – which I do feel with my gallery!"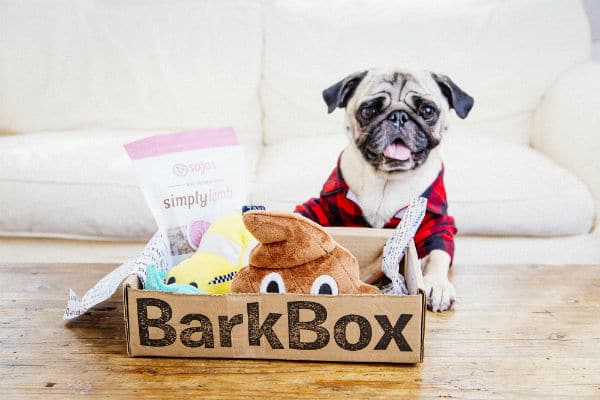 BarkBox, a box service that sells dog toys, goodies, and treats came up with a cool idea for an Instagram Story. They made a collection of "doggie interview" clips between an employee and an adorable pug. It was delightful to watch and hilarious. As you can see, there are ways to boost brand awareness without being salesy. When using Stories on Instagram, focus on telling an actual story. Think beyond classic videos and snapshots, and share a genuine story that resonates with your audience.
How to Use Snapchat Stories
Extremely popular among the young generation, Snapchat drew enough attention from popular brands and companies hunting for original ways to market their products and services. What's driving brands to get Snapchat-wild? The key to a killer story is about taking human interaction to a whole new level. On Snapchat, you have 10 seconds to come up with something that appeals to your target audience.
One of the core benefits of Snapchat is the focus on Millennials and Generation Z. Brands can use it to reach out, connect and boost awareness with a lot more ease. Snapchat is candid and raw; it is a platform aimed at building brand personas and emphasizing on storytelling among its customers. Use it to capture the daily pulse of your brand, and stand out with a story like no other.
In 2016, the famous retail brand Bloomingdale's turned to Snapchat to make its content more visually engaging and easier to digest. Jonathan Paul, VP of social media at Bloomingdale's, said:
"Snapchat allows us to bring the energy and animation of what's happening in our stores to our followers," said vp of social media Jonathan Paul. "That's something we couldn't do on other channels."
With Snapchat Stories, the retail store created new experiences that significantly increase brand awareness. Looking at a 10-second video can have a lot more impact than staring at a photo for 1 hour. Marketing your products and services on social media has gone mainstream. It's no longer enough to create social media pages and invite people to follow you. It is fundamental to adapt your marketing strategies if you want to make a memorable impression.
As far as engagement and reach is concerned, Snapchat is limitless. The Stories feature instills a sense of urgency, immediately grabbing attention, and compelling people to take action. Limited stories and snaps improve customer loyalty and foster retention.
Snapchat stories instill a sense of urgency, instantly grabbing attention and compelling people to take action.
Another brand that did Snapchat stories impeccably was Taco Bell. The company paid to have their very own Snapchat sponsored lens. Available for 24 hours only, the campaign for Cinco de Mayo was viewed 224 million times, the most successful in Snapchat's history. How did Taco Bell do it? Basically they focused on speaking the language of the company's younger fans. They came up with the idea to produce a product that was fun and playful. The filter created was hilarious as everyone started taking snaps with the taco-shaped head.
Taco Bell had a very clear purpose in mind: to entice and create a unique story with visuals. Senior manager of social strategy, Ryan Rimsnider, emphasises what brands should be using when creating stories. "The content is expected to be lightweight and humorous, and the platform empowers you to be nimble and efficient in creation."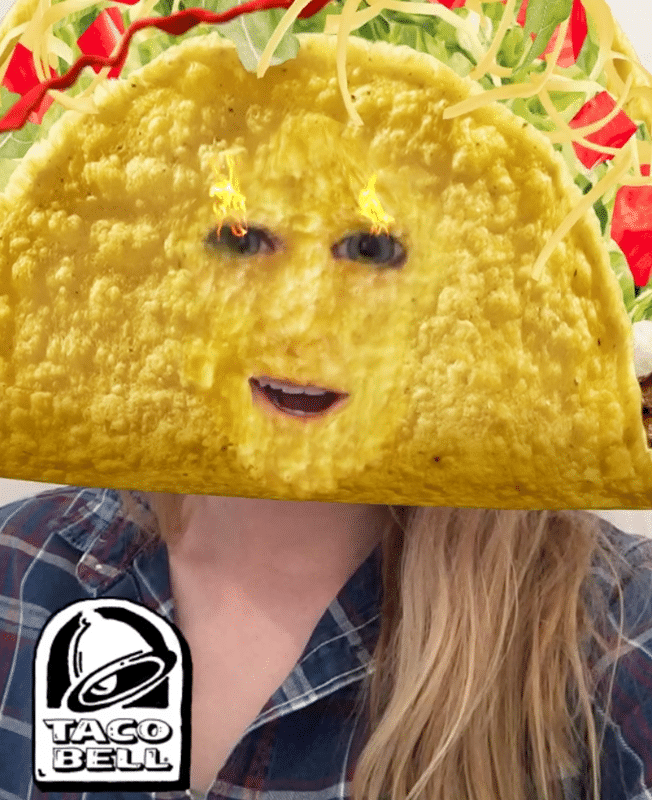 How to Use Facebook Stories
Facebook launched its own Stories feature in January this year. With over 1.8 billion people already using one of the world's most famous brands for social networking, a little extra recognition can't hurt. Instagram is now a key Facebook player too. As a brand eager to stand out, it's up to you to decide where your stories might have the biggest impact.
Facebook Stories adds "Issues" to the mix. These are themes you can use to make your stories more personal. Posts can be decorated with stickers, text, drawings, and animated filters. But the feature comes with a few twists. It is Facebook's first app to feature animated face filters. The social media giant
Why should you use Facebook Stories? We live in a social world where image-based messaging is increasing in popularity. By introducing Stories, the social media giant aims to validate that camera-based communication is more appealing than text-based communication. Brands have started to love that they can finally tell a story without writing a 400-word post on Facebook. On social, the old adage "a picture is often worth a thousands words" fits perfectly into the scenario.
Facebook has more users than Snapchat and Instagram combined. The platform suits people of all age groups, which makes its newly integrated Stories feature appeal to the masses. Please note that Facebook Stories are only available for personal accounts and not for business pages yet.
Snapchat, Facebook & Instagram Stories at a Glance
To have a better overview of the main features of Snapchat, Facebook and Instagram Stories, we've created this condensed comparison where you can find the main similarities and differences.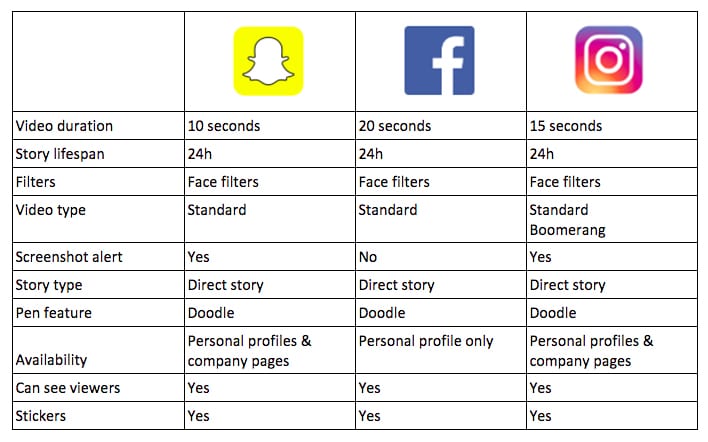 Which social media platform would you choose to create a Story and increase your brand's awareness? There's an ongoing battle on social media about Stories. Each feature has its own unique signature.
Choose the platform that best matches with the goals of your brand, and make it count.
Efficient Social Media Communications With Swat.io