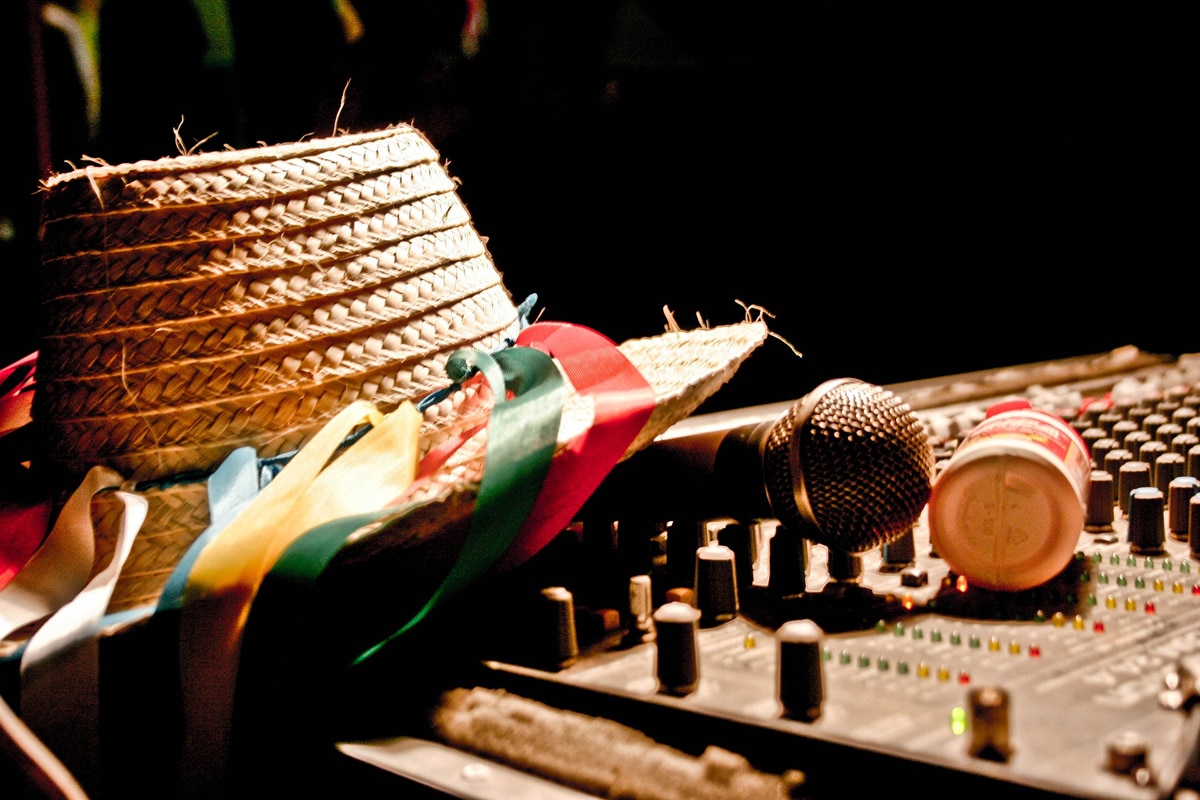 How Publishers & News Outlets Use WhatsApp Broadcast Lists
12.06.2019: Update on WhatsApp Broadcasting
We are committed to reinforcing the private nature of our platform and keeping users safe from abuse. We recently detailed our on-platform capabilities to identify and ban accounts in this white paper: Stopping Abuse: How WhatsApp Fights Bulk Messaging and Automated Behavior. […]
Beginning on December 7, 2019, WhatsApp will take legal action against those we determine are engaged in or assisting others in abuse that violates our Terms of Service, such as automated or bulk messaging, or non-personal use, even if that determination is based on information solely available to us off our platform. Source
WhatsApp broadcast lists are being used by an increasing number of media outlets for newsletter-like content distribution.
WhatsApp was launched in 2009 as a mobile messaging app allowing users to communicate via free, SMS-like messages. The app initially gained popularity because it represented a way of avoiding SMS charges. Users can also send images, audio & video content through the app.
In 2014, Facebook purchased WhatsApp for a reported USD 19 billion. Since then, many people are wondering whether the WhatsApp "broadcast" feature will overtake or change social media marketing as we know it.
WhatsApp launched what is called "broadcasting" in late 2013. A Broadcast List "allows you to create, save and message a list of contacts instantaneously. Recipients receive your broadcast message like a regular message – directly in the individual chat. Recipients also do not know who else received the message and do not know that it was sent as part of a Broadcast List. When they respond, they only respond to you individually. In this sense, it works like the bcc (blind carbon copy) function in an email." Broadcast lists are currently limited to 250 contacts each (however users can create any number of lists).
In order for specific contacts to receive your broadcast message, they must have your phone number saved in their address books and sent at least one message to you.
How TV & Radio Broadcasters are Managing Social Media
Download our whitepaper to find out how TV and radio broadcasters are using social media to create a tight bond with their audience. Find out which social media channels they are using, what works and what doesn't, as well as what the big players are doing to market their shows via different social media platforms. Bonus: a case study on how broadcasting companies are using WhatsApp to increase their reach!
Publishers & news outlets worldwide are using WhatsApp
News organizations worldwide have been experimenting with the WhatsApp broadcast lists feature which helps them reach almost 100% of their WhatsApp subscribers organically (=without paid advertising). Compare this with the organic reach of Facebook – roughly 6% – and the hype around building a WhatsApp audience becomes understandable. Even more so, if you take into account the extremely high click-through-rates which have been reported.
TV broadcasters in the UK
The BBC
In 2014, the British Broadcasting Corporation (BBC) used WhatsApp "Broadcast Lists" to disseminate news regarding the general elections in India and the Ebola crisis in West Africa. Since WhatsApp doesn't allow brands to have their own channels yet, the BBC used their existing online and offline channels to promote a mobile number for the audience to add to their contacts list. In order to start receiving messages on the topics of interest, users needed to send the word "JOIN" to that number. Users were also offered the option to unsubscribe from the WhatsApp broadcast list by sending the text "STOP".
The BBC limited its number of updates to three/ day in order to avoid becoming spammy.
Channel 4
Also in 2014, British public-service television broadcaster Channel 4 started using WhatsApp broadcast lists so that more people receive news updates, as well as previews of big stories which are to be discussed during live shows.
Channel 4 News ensured that they will not share users' mobile numbers and other details with any other third parties.
Newspapers in Brazil
TV broadcasters are not the only ones using WhatsApp. Many Brazilian newspapers have started to use the channel in order to receive contributions from their readers. Images, audios and videos sent through the app have also been used in published newspapers, TV and Internet.
A list of newspapers that opened news reception through WhatsApp include:
News outlets in Austria
Der Standard
Austrian national daily broadsheet newspaper Der Standard started using WhatsApp in early 2015. Readers who want to receive the latest news straight on their mobile devices need to fill in a short form by entering their phone number, selecting one or more desired categories and clicking "Send". Then, they need to save the number that appears on the form as a contact in their phones' address book. Lastly, users need to send a message with their first and last name in the text via WhatsApp to Der Standard number, which is displayed after registering.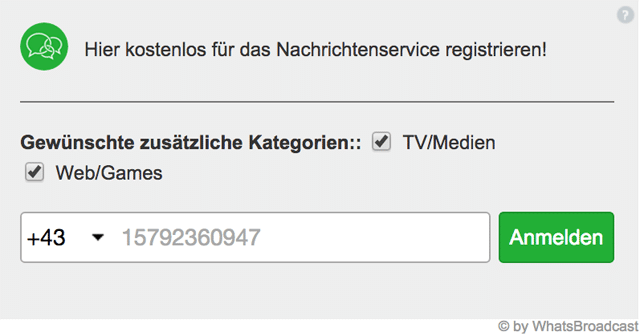 Austrian Radio Stations
Austrian nationwide radio station Hitradio Ö3 is also using WhatsApp to stay in contact with their audience who can use the channel whenever they have questions or want to provide feedback. They can also receive around-the-clock news and information that interests them by sending Ö3 they preferred keyword. Users can choose between: NEWSFLASH, SPORT, Horoscope and Weather.
News magazines, blogs and websites in Germany
t3n
The t3n magazine sends its WhatsApp subscribers a selection of the most important and relevant information, as well as latest news. They send only items that can be read conveniently on mobile and limit them to 2 per day.
Der Postillon
German website Der Postillon features satirical articles reporting on international, national, and local news. Similar to the examples above, audience members who subscribe to receiving the latest news via WhatsApp need to enter their mobile phone number and follow the steps. Der Postillon promises not to send them more than 3 news items/ day.
Express.de
They launched the WhatsApp service in September 2015. They promise to send the top news of the day directly from the Messenger service to registered users. The latter receive the latest information from Cologne, North Rhine-Westphalia and the rest of the world, breaking news from 1. FC Köln or quick messages about traffic chaos in the city. Not more than 3 news items/ day.
Basic Thinking
In order to engage their readers on every channel, the blog made the WhatsApp service available to its audience and notifies members every time a new article in published.
TV broadcasters in Germany
German television station RTL made the WhatsApp service available as part of their RTL NEXT initiative. Subscribers will receive the most important news on the mobile phones every day between 8 a.m. and 8 p.m.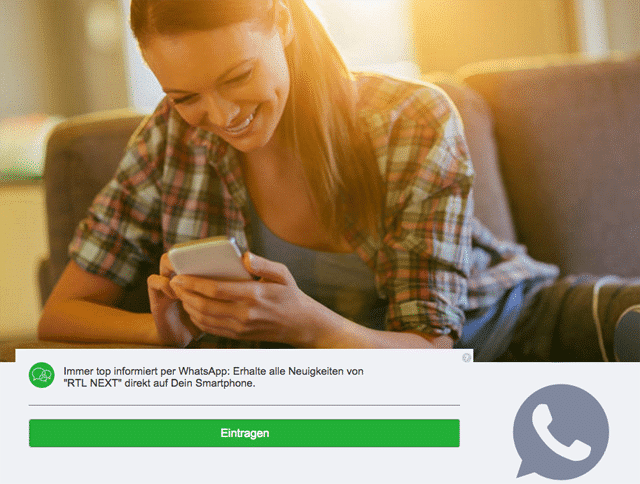 Before you start broadcasting on WhatsApp…
Since WhatsApp is mainly used for personal communications, brands entering this space must tread carefully. The BBC recognized this challenge and made it clear from the outset that the maximum number of messages sent each day would be three.
WhatsApp places limitations on the setup of Broadcast Lists: each list is limited to 250 contacts. While the BBC clearly benefits from a large audience, smaller broadcasters might find it challenging to build a complete list, as each recipient must add their number to his/her contacts to receive messages.
Using 3rd Party Tools
Since the maximum of 250 contacts on each broadcast list is rather limiting and time consuming for bigger communities (you'd have to send broadcasts in batches of 250), publishers have started to use 3rd party tools that make managing WhatsApp services a lot easier. While we have recently integrated our social media management tool Swat.io with such a service, it must be pointed out that these third party tools are using unofficial APIs or other workarounds to achieve this. Also, WhatsApp's terms of service explicitly forbid "commercial use" – however it remains unclear what "commercial use" means exactly. That being said, publishers who are aware of these facts, can bring their WhatsApp services to a whole new level:
Easier signup through an embeddable widget on your website & a welcome-SMS which spares users the tedious & error-prone manual entry of a phone number.

Scheduling and automatically sending broadcast messages to any number of subscribers instantly (not in batches of 250)

Send broadcast messages to interest-based channels for topics like "traffic", "news", "sports", etc.

Support for link-shortening, click-tracking and – of course – Emojis 🙂
For publishers who don't want to take the risk of using an unofficial 3rd party service, there's still the option to use WhatsApp through the official app or the web-interface at http://web.whatsapp.com.
[whatsapp]Manage WhatsApp, Facebook, Twitter & Co. from one dashboard! Broadcast messages to your subscribers and engage in real-time private messages.[/whatsapp]
If you want to start using the WhatsApp broadcast feature, follow the next steps:
Get a new phone number that isn't tied to your personal mobile phone since receiving notifications 24 hours/ day may become annoying at some point.

Download WhatsApp and promote the number through your existing marketing channels to encourage users to sign up.

Once you have contacts, set up your Broadcast List. Open the app and tap the "Broadcasts" button, then tap the "New List" option at the bottom of the Broadcast List screen and then type your contacts names or select them directly from the Broadcast List. After selecting everyone, tap "Create."
You can edit your list to add or remove people at any time.
WhatsApp offers broadcasting companies a unique opportunity to tap into a highly engaged audience. To date, most businesses using the broadcast feature have been news organizations. However, it is expected that more businesses will experiment with WhatsApp in the following months.
Efficient Social Media Communications With Swat.io