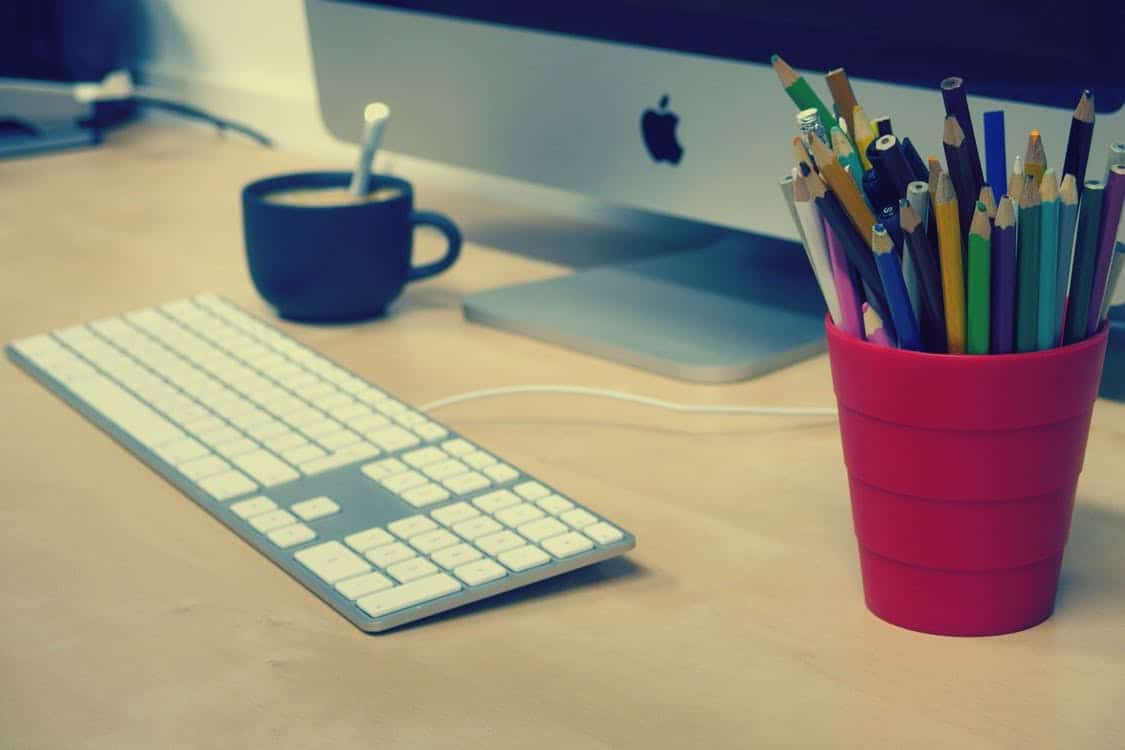 The Digital DNA of the Perfect Facebook Post
For your brand and business to stand out on Facebook, it needs a personal "voice". Make a difference with the perfect Facebook post. There's no one-size-fits-all recipe because every business page has its own goals and objectives.
But there are some general rules of thumb that apply. On Facebook, your aim should be to craft posts that engage and motivate your audience to take action. It's not easy, as you can't know for sure whether a link post on Facebook matches better than an image type of post.
The digital DNA of the perfect Facebook post translates to elements that make it unique.
In the following lines we will tell you more about:
How to reach your goal of drafting the perfect anatomy of a Facebook post; maximizing clicks, likes, and comments.
Different types of Facebook posts and how to create them
How to settle on the right types of Facebook posts with A/B testing
The anatomy of a Facebook post – an overview
There are different types of Facebook posts you can use to engage your audience. It depends on what your readers might want to click to read when landing on your Facebook page.
We've chosen the three main types we believe have the most traction on social media:
The anatomy of a Facebook post – an overview
There are different types of Facebook posts you can use to engage your audience. It depends on what your readers might want to click to read when landing on your Facebook page.
We've chosen the three main types we believe have the most traction on social media:
Link posts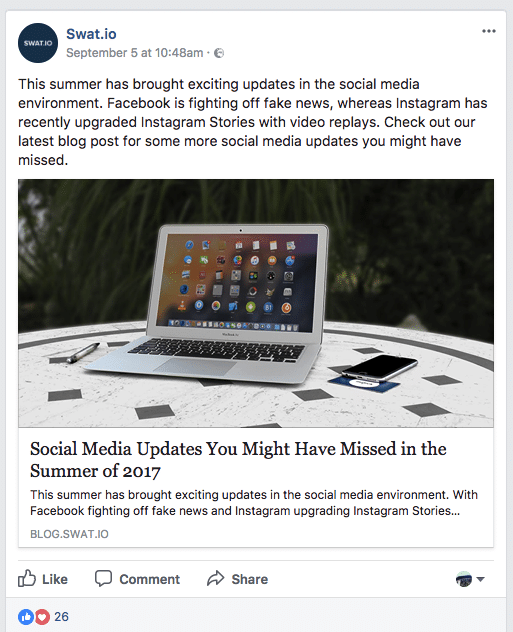 Link posts include:
A short description of what the link is about (it shouldn't reveal everything, but just enough to hook the audience)
Image (image that you can choose when uploading posts with Swat.io or another third party social media management tool, which is not affected by the Facebook Link Preview Update. If you're not using Swat.io (or such a tool), the featured image from the link's website is automatically inserted into the post)
Headline (it should be bold, interesting, and catchy)
Meta-description
Link
The digital DNA of a link post on Facebook: catchy copy that hooks the reader, high-quality image that matches the copy; top-notch headline and unique meta-description.
Image posts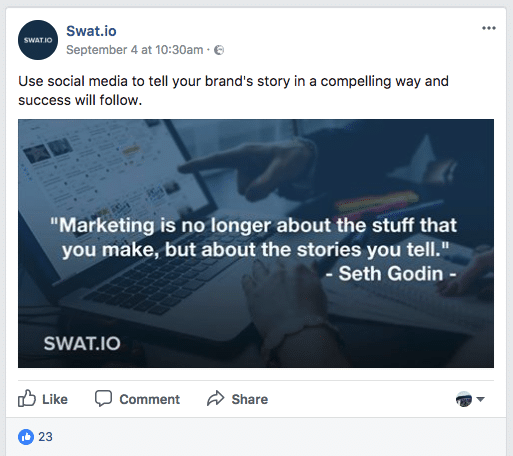 Image posts include:
Short description of the image (often used to entice the audience, and pique their interest)
Informative type of Image (give readers a reason to scan your image with a quote, statistic, fact, list; something they may not know, or may not have heard of)
Creative type of image (that you can use to show something emotional, attention-grabbing, interesting)
The digital DNA of an image post on Facebook: engaging copy that instills curiosity, perfectly formatted image size according to Facebook recommendations). Make sure to use a high-quality type of picture; preferably sticking to light colors.
Video post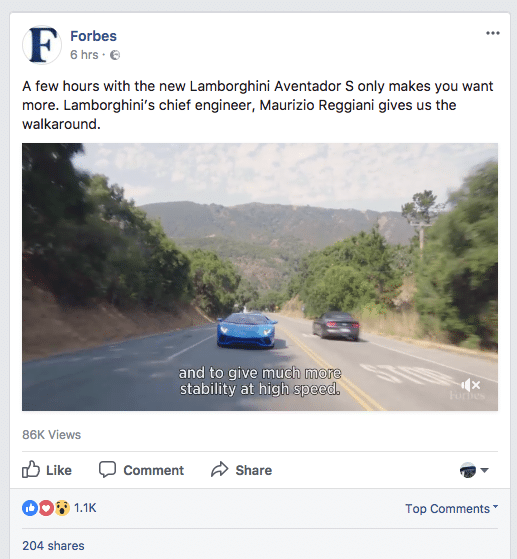 Video posts should:
Have a short description that usually introduces what the video is about (e.g. launch of a new product, teaser for a new event)
Be of high-quality, with a crystal-clear message to grab people's attention
Have subtitles. This step is debatable, and it is recommended when uploading a video that is informational.
Enable HD upload for better clarity
The digital DNA of a great video type of post on Facebook: short brief highlighting some insights of the video; to give the reader a reason to watch and instill curiosity to click.
A/B testing and experimenting
Before settling on a type of Facebook post, test the three types we mentioned above, to see which ones engage best with your audience. After your post is live, head to the Facebook Insights section, and analyze the highest reach and engagement levels.
A quick example of an A/B test: slightly change your Facebook copy to test only several elements of your posts; such as headline, caption, image, or description. Steer clear of cramming all variables into one A/B test.
When testing 2 different headlines, Facebook post A and B should have the exact same image, caption, and description. The only change should be the headline. If you change any other variables, you won't be able to know which element your audience is responding to.
The goal: after assessing which variant works better for your target audience, use it to improve future posts; making them unique and customized to fit your readers.
A/B testing helps brands and businesses find the secret recipe to the perfect Facebook post. Both testing and experimenting help you figure out the personal digital DNA of your Facebook post.
Efficient Social Media Communications With Swat.io
Link Facebook posts vs. image Facebook posts
There is no right or wrong type of Facebook posts. It depends on the target group, branch, and many other factors. However, a study performed by Facebook highlights that link posts with built-in link format get twice the clicks of an image type of post. The findings emphasize that link formatting is more compelling because it consists of several key elements; including brief, image/video, meta description, and link.
On the other hand, image posts include a small brief and an image. That's up to you to decide. It's true that relevancy and targeting matter a lot when posting on social media. But it's equally important to focus on the visual aspect, too.
To most users, the first type has more traction because link posts use meta tags from the website, such as information on the title of the page, description, and image. The end user has the option to click the Facebook link post and be redirected to the website; where he/she can read more.
The Art of Social Media Content Creation
Download our eBook and learn how to plan, create and distribute your social media content while measuring its effectiveness on your relevant social media channels. To ensure you don't miss out on any big social media content trend or best practice, we've also included interviews of 5 experts in this field. Find out how to master the art of social media content creation using the latest available tools and determine what type of content makes your audience tick!
Conclusion
There's no all-in-one strategy for the perfect digital DNA of a Facebook post. However, there are statistics that say what works and what doesn't. It is important to do an A/B test before settling on a strategy. Experimenting works because it helps you hone the anatomy of your posts.
Your copy might be good in a link post; but what if the headline is not engaging enough to compel people to click, like or share the content you publish on social media?
Next, you should thoroughly assess Facebook Insights; track and see which types of posts are the most attention-grabbing for your target audience: it could be link, image, video type of posts, etc. The more you know about what people like to read about, the better chances you have to refine the digital DNA of your Facebook posts; and make them stand above the competition.
What's your take on how the best post should look like on Facebook? Share us your thoughts.