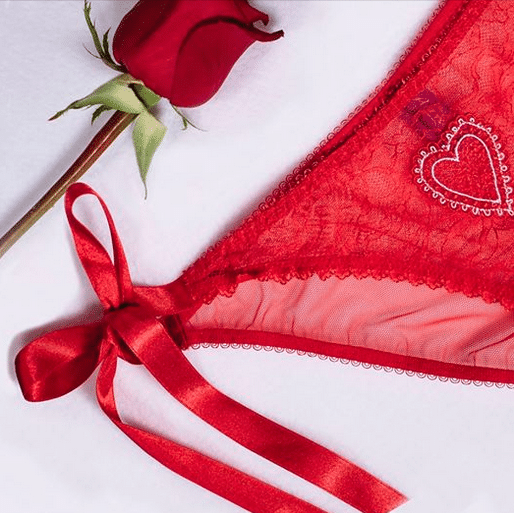 10 Successful Social Media Strategies for Valentine's Day
What social media strategies do companies use to attract more customers around Valentine's Day?
There are many holidays throughout the year: Christmas, New Year's Eve, Easter. All of them are about family, friendship and love. However, only one special holiday uses hearts, teddy bears and roses to convey the idea of everlasting love and happiness: Valentine's Day! Are you ready for it? Have you bought the perfect gift for your dearest one? These are some of the many questions that companies use when setting up marketing campaigns to attract customers. Let's have a look at the strategies that some brands had in mind for this year's Valentine's Day.
McDonald's Invites Customers to Pay With Lovin'
Starting February 2 until Valentine's Day, McDonald's randomly accepted a new form of payment. Any customer visiting a McDonald's restaurant in the US between 6 a.m. and 6 p.m. could have been selected to pay by performing a "random act of Lovin'", which included dancing, giving a high five, calling a family member or sending a selfie.
Their #paywithlovin hashtag has triggered a lot of activity and impressions on Twitter.
Play #etsymatch – Valentine's Day Social Media Contest!
The whole social media strategy was based on the idea that customers could sign up for their chance to win a USD 500 Etsy gift card by checking the #etsymatch page on Facebook for the latest question and answer on Twitter with the hashtag #etsymatch.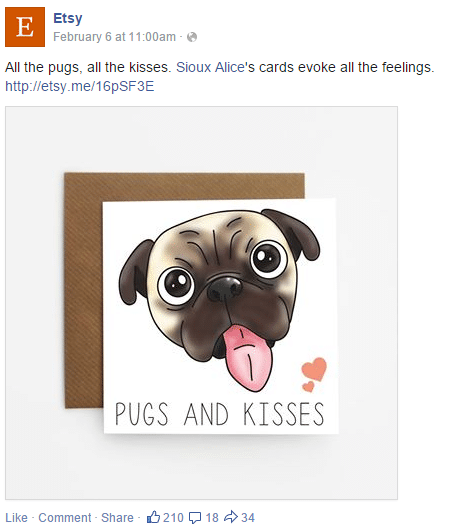 Starbucks & Match.com – the 'World's Largest #StarbucksDate'
Starbucks teamed up with Match.com to host the world's largest coffee date in honour of Valentine's Day. They were set to throw what was aimed to be the 'World's Largest Starbucks Date' on February 13 at participating Starbucks locations. There was romantic music, menu specials and photo props!
Starbucks and Match.com also added a 'Meet at Starbucks' feature to the popular dating site, which allowed members to easily schedule coffee dates.
The social media strategy for this particular campaign is based mainly on Twitter where both Starbucks and Match.com have been very active. They post on a daily basis and receive positive feedback from their customers, plus many retweets and favourites.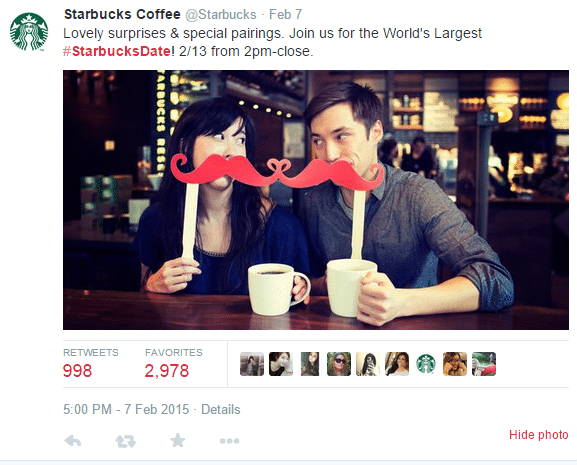 Durex – Reality, it's Better than Fiction
As part of their social media strategy, customers used the #50GamesToPlay hashtag on Twitter to let Durex know what they have always wanted to surprise their partner with for Valentines Day. Those with the best ideas won the money to help them turn their idea into reality. Apart from that, everyone who was called on air also won a Durex Embrace Pleasure Gel Gift Pack. This made everybody a winner!
Along with its #50GamesToPlay new guide, Durex has also produced a tantalising new video which is being promoted on both its Twitter and Facebook pages as well as on Youtube.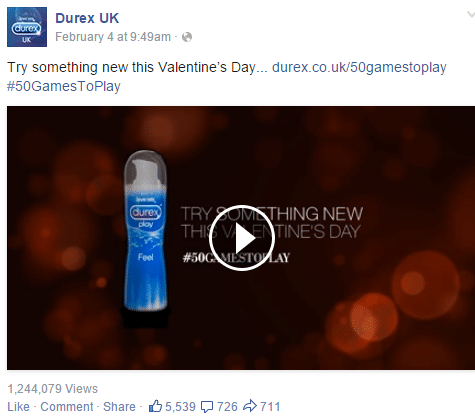 Godiva Chocolates – Game Over, Game On
As part of their social media strategy, Godiva encouraged its customers to share the "Game Over, Game On" video on Twitter and tag it #GODIVAWinSweeps for a chance to win two season tickets to cheer on their favorite team in 2015.
On Pinterest, there's a lot of red and every picture has at least one heart-shaped chocolate candy. After all, chocolate is one of the few gifts that you just can't go wrong with on Valentine's Day!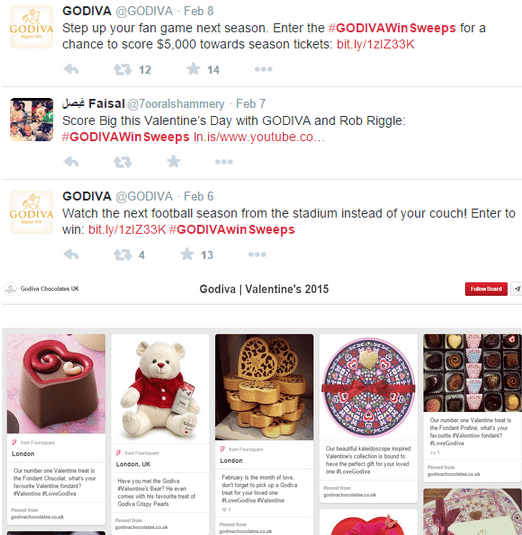 Sephora – 'Gift Exquisitely this Valentine's Day with a Fragrance'
This is among the first mentions of Valentine's Day on Sephora's Facebook page. The famous beauty chain didn't have a specific Facebook social media strategy in place for the 14th of February. However, it promoted its products through posts related to products that could have made the perfect Valentine's Day gift (especially perfumes). And they received a lot of appreciation.
Sephora used Instagram for this year's Valentine's Day. Customers needed to follow @Sephora on Instagram between February 9 and February 10, post an original selfie to their Instagram profile and include #SephoraSweeps in the caption of their image. The winner was selected at random from the pool of eligible entries. The prize was made up of a bundle of Too Faced products plus a bralette and panty set from the celebrity-favorite fashion brand, For Love And Lemons.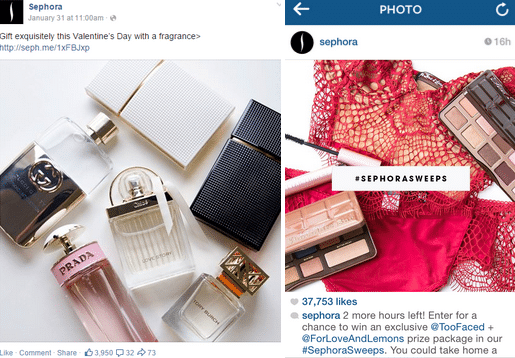 Nordstrom – Need ideas for Valentine's Day? Visit our Website
They've done a great job with adjusting their website for Valentine's Day. Light pink colours and, of course, hearts! The challenge was to get people to see these changes and turn to Nordstrom when searching for the best gift for their dearest one. The solution? Posts with ideal Valentine's Day gifts that link back to their website. The traditional and safe way of doing things!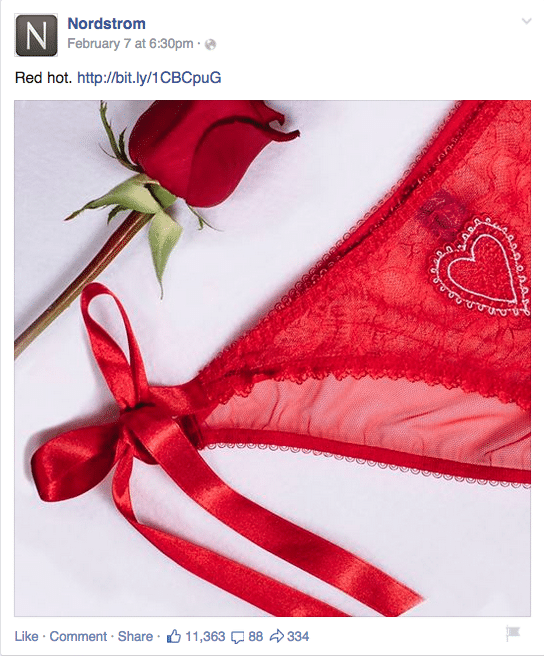 Pandora – a Valentine's Day Collection
Yes, this jewelry chain had a whole collection for Valentine's Day! In what concerns their social media strategy, Pandora pretty much followed the traditional approach, similar to that of Nordstrom. They promoted their collection on their Twitter and Facebook pages. And they received a lot of appreciation!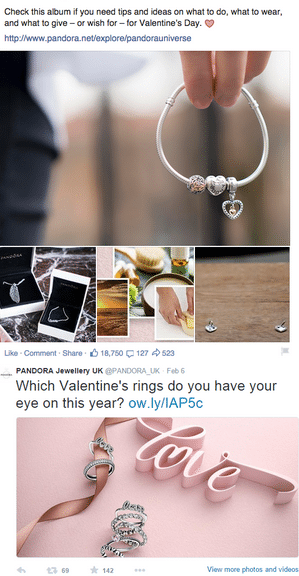 Amazon – Valentine's Day Gift Cards
Amazon offers a variety of Valentine's Day gift ideas on its website. If you're not sure about the suggested items, you can always purchase a gift card. It's the safest idea for a present! Amazon is promoting this via its Twitter account.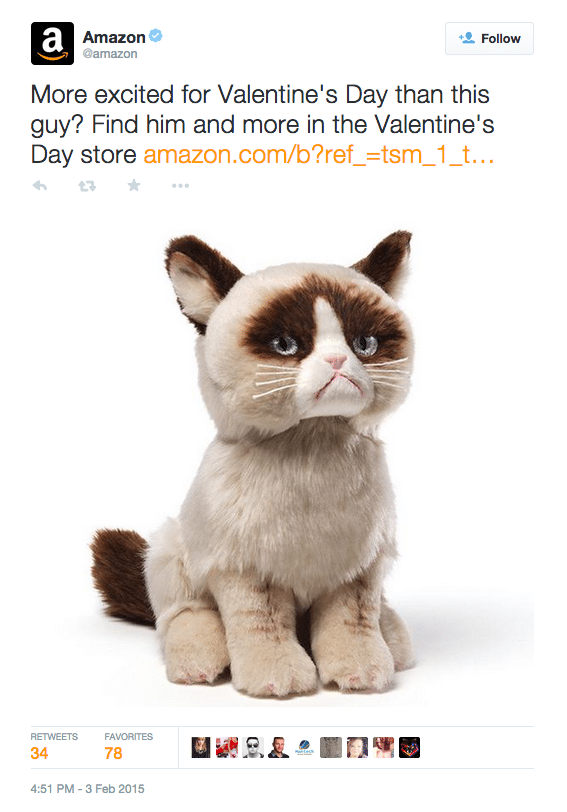 Triumph – The Valentine's Collection
They launched a collection specifically designed for Valentine's Day and they've successfully promoted it on Facebook and Twitter.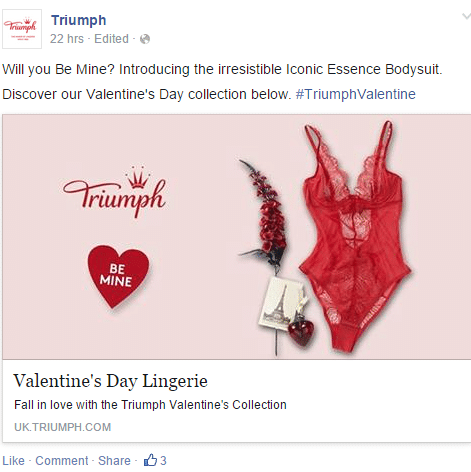 Well, that's it for this year's Valentine's Day social media strategies. The conclusion: Twitter seems to be the prefered channel by most brands, followed by Facebook and Pinterest/ Instagram. Not all brands have a specific strategy in place but those that do have one, are definitely on the winners side.
Have you found any social media strategy for this year's Valentine's Day that you particularly liked? Share it with us in the comments!
Manage your social media strategy now! Try Swat.io!
Efficient Social Media Communications With Swat.io