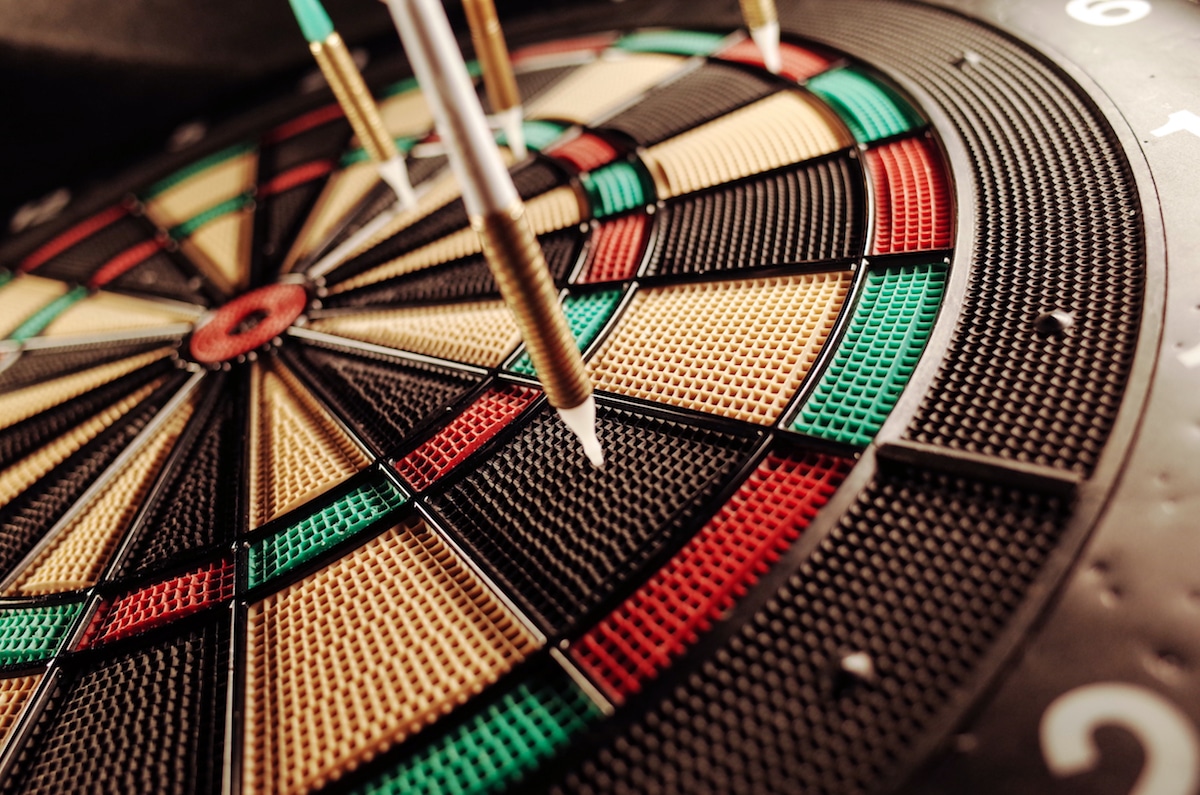 How to Research and Engage Your Buyer Persona on Social Media
Businesses might find it difficult to pinpoint their target audience on social media platforms. Identifying the best channels, assessing the size of the audience and approaching it with the most engaging content needs some effort to put in. However, it's entirely worth it, as directing your message at the people wanting to hear it will pay off soon enough.
In this blog post, we're sharing tips on researching and locating the target audience, as well as on figuring which type of content works best.
Locating and Sizing Your Buyer Persona
Brands that are just getting started with their social media marketing efforts might have a hard time identifying the target audience. Knowing who your ideal customers are and where they are located can help you better market your products or services.
When portraying your ideal customer or buyer persona, it's important to sketch an image of your target groups. Answering some of the following questions can help you building your buyer persona profiles:
Where do they live?
What position do they have and how much experience?
How does a typical day in their life look?
What pain points can your products or services address?
Are they aware of the problem to be solved?
Is your solution the first they're trying?
Would they invest in your suggested solution?
What are their values and what goals are based on that?
What is their ideal experience when using your product?
What are their objections on your solution?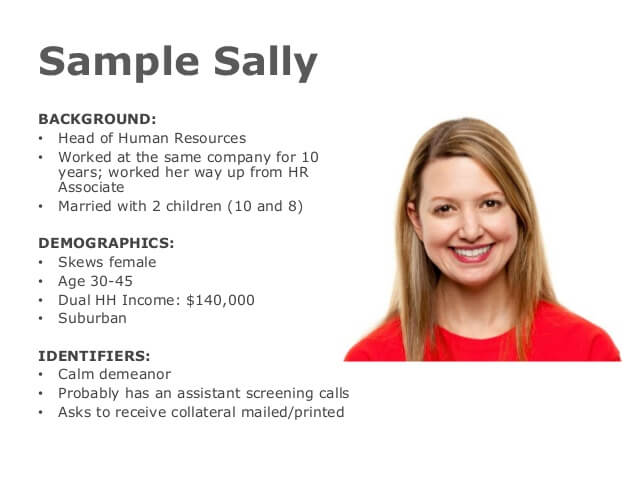 Answering all of these questions will help you in several ways. First of all, you'll be able to set your marketing goals with more precision. Secondly, you'll be able to get an estimate of your audience size on social media. How? For example, on Facebook you can use the Ads Manager, but the other channels also feature similar solutions. Let's assume that you want to market your social media management services to SMM Managers aged between 22-45 and located in Germany, Austria and Switzerland.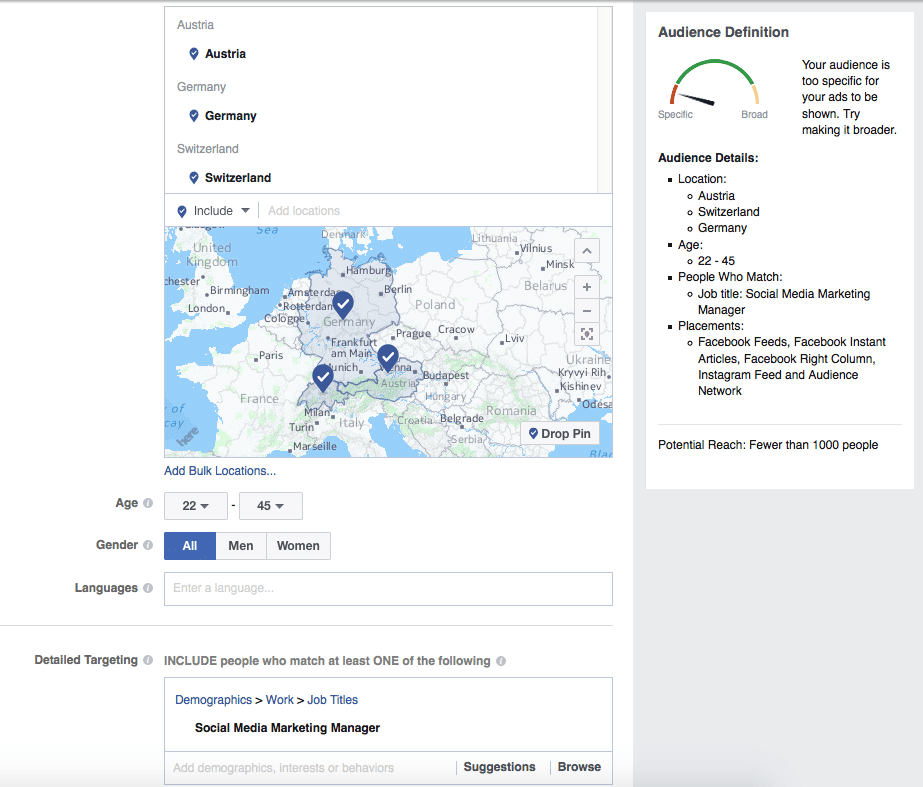 As you can see in the above screenshot, the size of the audience is smaller than 1,000 people. Pinpointing such a small audience using a single criterion might not yield the best results. Adding social media interests could help increase the reach in the target group. Take this approach while keeping in mind that not all people make their job title public, and that there are more. Too large audiences aren't good, either, because then the market needs are too many and too diverse.
What Platform Statistics Tell Us about Buyer Persona Demographics
To know what platform to use, you first need to see which one your audience prefers. Buyer personas have a lot of ramifications, but using age as the main criterion is a good starting point.
According to a 2016 study conducted in the US by Pew Research Center, 79% of internet users (68% of all US adults) are on Facebook. The same study reveals that 32% of internet users (28% of all US adults) are on Instagram. As you can most probably tell, Instagram is far more popular among teenagers, rather than adults. You should also take into account that women use this visual content platform at a much higher rate than men (38% vs 26%).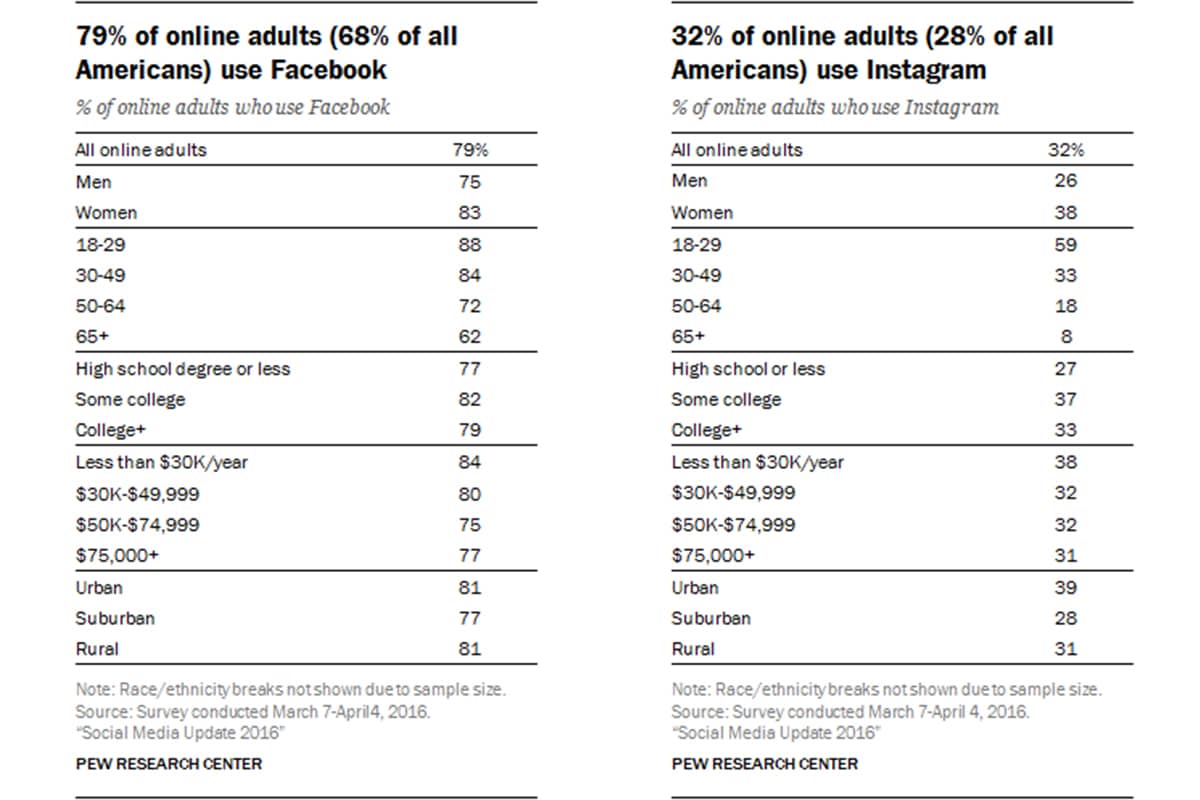 LinkedIn takes the third place with 29% of internet users or 25% of all US adults. This network is popular with high-income earners and college graduates, who make up 50% of LinkedIn users. Furthermore, statistics show that 45% of online adults have an account here.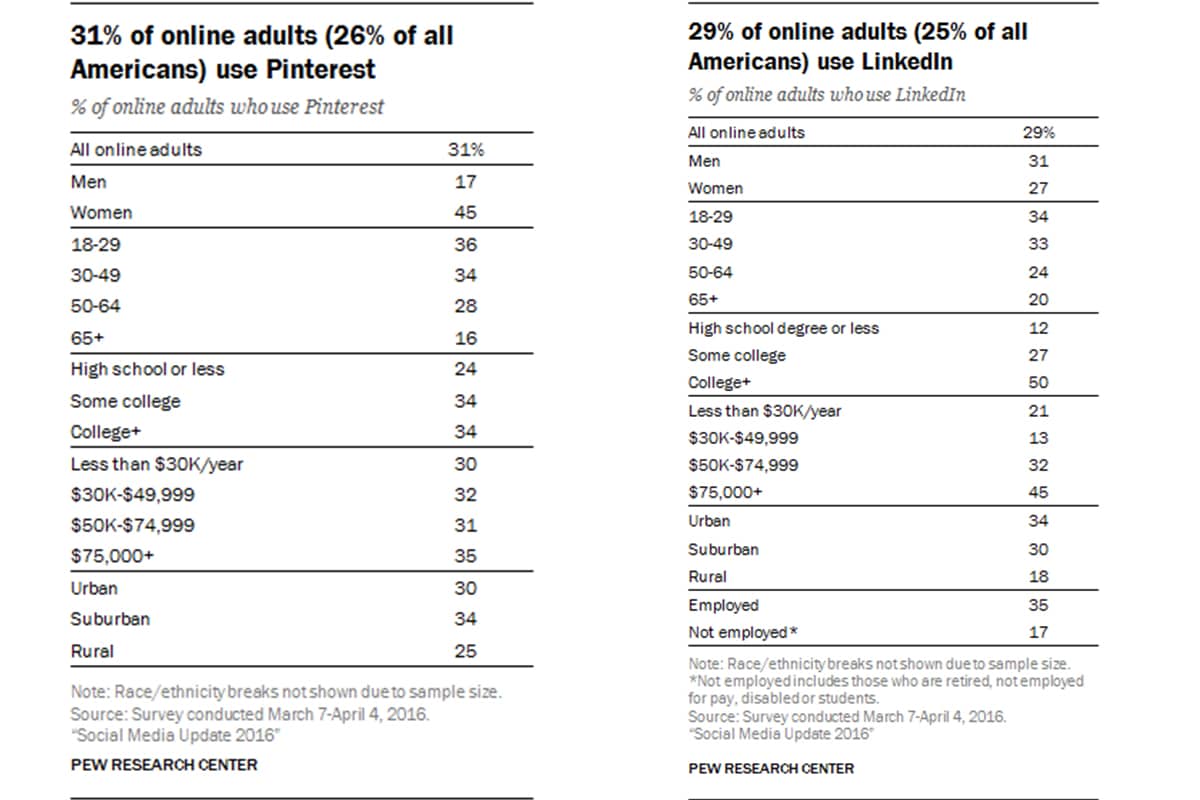 Pinterest, which accounts for 31% of internet users and 26% of all US adults, is additional proof that visual content is consumed at large scale. Unfortunately, this percentage hasn't changed over 2015. As far as the genders are concerned, 45% of females and 17% of males use this platform.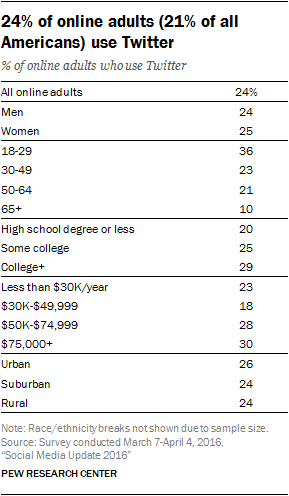 Twitter is a slightly less popular option, as it's only used by 24% of internet users (21% of all US adults). As in the case of Instagram, it's more likely for younger people to be on this social network, rather than adults. Bear in mind that Twitter is also more popular among highly educated people. In fact, 29% of internet users with a college degree are on this network, compared to the 20% who have a high-school degree or less.
All of the above statistics should give you an idea about where your target audience might be. Once you know this, you can proceed to choosing between various types of content to discover which works best.
The Art of Social Media Content Creation
Download our eBook and learn how to plan, create and distribute your social media content while measuring its effectiveness on your relevant social media channels. To ensure you don't miss out on any big social media content trend or best practice, we've also included interviews of 5 experts in this field. Find out how to master the art of social media content creation using the latest available tools and determine what type of content makes your audience tick!
What's the Best Type of Content for Buyer Persona Engagement?
Lately, social media networks have become very flexible, allowing individuals and brands to post all sorts of content. Photos, links to other resources, live video and text updates are all perfectly fine for Facebook and Twitter. Considering the more professional nature of LinkedIn, updates that aren't related to this can drive the target audience away. Instagram and Pinterest maintain their focus on visual content with text descriptions to support it.
What type of content works best on social media is a question you'll be able to answer only after some experimentation. The target audience and the product or service you offer play a significant role in the type of content you'll post on each social network. However, you won't be able to tell what the target audience prefers until they engage with it.
Facebook is a great platform for sharing updates, as they can be light and funny, while still 100% on brand. Focusing on visual content is always a good idea, as photos lead to 39% more engagement than other updates. Twitter consumers also seem to favor video that's uploaded directly to this platform. In fact, video can generate 2.5 times more replies, 2.8 times more Retweets, and 1.9 times more likes. When it comes to LinkedIn, the focus is again on visual content, more specifically on branded images. Even though this platform allows lengthy updates, it's best to keep the copy short.
Here's where social media analytics comes into play. Each social media platform includes tools for monitoring reach and engagement. These two metrics will indicate the best type of content. In Facebook's case, for example, the Post Types tab in Facebook Insights will display the average reach and average engagement for each sort of content. Once you have these numbers, you should still mix content types, as over-relying on photos or videos could cause engagement to drop.
Even though Twitter allows mostly the same content as Facebook (minus the long text updates), the main characteristic of this network remains instantaneity. A message shared here has the potential of going viral within minutes, if the content is right. You can (and should) experiment here, as well, to see what particular type of content yields the best results. Chances are that visual content will perform best on this platform, as well, so try to share original photos, videos and infographics.
As the third-fastest growing social network, LinkedIn can send 4 times as many people to your website than Facebook or Twitter. Company insights represent the type of content that works best here. Informative posts or links to useful articles will be the most appreciated, as that's what your target audience expects from you.
Don't Forget to Optimize for Mobile
The Digital in 2017 Global Overview Report from We Are Social Singapore reveals that more than half of the world's population now has a smartphone. More than 50% of the world's web traffic is coming from mobile phones. These statistics obviously had an impact on social media, as 2.549 billion people accessed social media platforms on their mobile devices in 2016. That's an increase of 30% over the previous year.
All these statistics are clear indicators that brands should not neglect mobile platforms when developing a social media strategy. Paid campaigns even enable social media marketers to target an audience based on the mobile OS of their device. Taking this one step further, think that many social media updates drive the audience to a website. In this context, besides having a good mobile social media strategy, you also need to ensure the responsiveness of your landing pages.
Final Thoughts
Now that you know how to locate, research and drive audience engagement on social media platforms, you can proceed to creating the content. Starting to post blindly, without a buyer persona in mind or even on the wrong platform is no longer an option nowadays. Besides, making sure that your message is received mostly by the people who'd be the most interested in your products or services can significantly increase your social media ROI.
Efficient Social Media Communications With Swat.io
Do you know any other tips for approaching a brand's target audience on social media? If so, please share them in the comments section below.