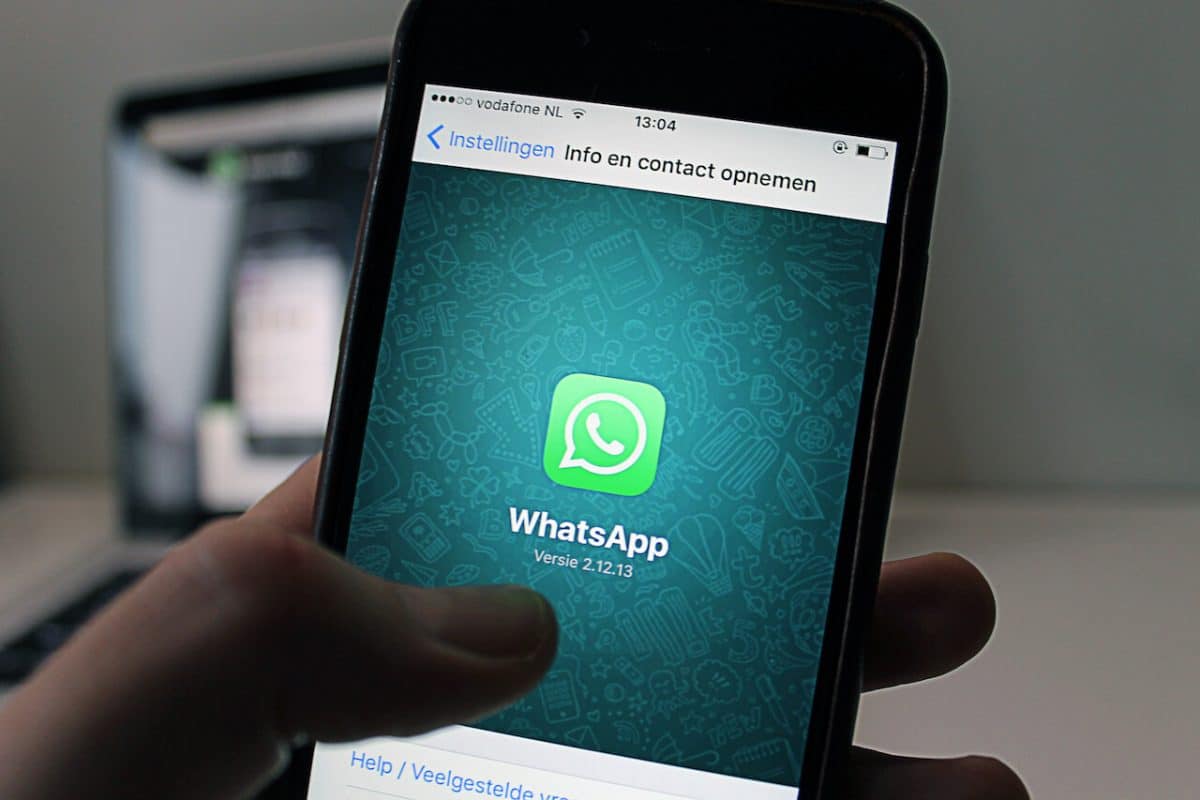 Messenger Apps: More Social Media Success Even with Less Reach
Sending a newsletter via WhatsApp – bet it's something you've never thought of, right? There you feel like many social media managers in German companies. Although it sounds odd, all predictions suggest that in the near future, messengers will play a key role in digital marketing.
The reason for this is simple: messenger marketing is creating new ways to get in touch with your target audience. 5,000 target users that you can get in direct contact with are
at least as valuable as 50,000 Facebook fans who eventually gave you a like on your page.
But what exactly are the benefits of using messenger apps to communicate with both potential and existing clients? How can they be used and what does it mean for well-established marketing methods such as email marketing?
Quick, direct, and easy – why messenger marketing is more than just a passing fad
If you take a look at your private life, Messenger apps have long since replaced SMS and e-mails. And the reasons for this also make them valuable tools for digital marketing:
Widely used: People of all ages use messenger apps. According to a survey carried out by Bitkom, even 59% of internet users between 50 and 64 years old use them.
Easy: Communicating via WhatsApp or Facebook Messenger is convenient and it feels a lot less like work than reading and writing emails or spending ages on the phone to customer service.
Different: Smileys, GIFs, and pictures; messenger apps give people the possibility to
customize their messages, to attract people's attention and surprise them, too.
Personal: Most people use messenger apps to get in touch with their friends and family, which means that messages automatically get that personal touch – even if the person they are getting in touch with is a service person.
Visible: Unlike email providers, messenger apps do not have spam filters that automatically block messages that they deem spammy.
Automation: Chatbots can be set up to automatically answer customers' simple questions by themselves, and they can be programmed for further consultation.
Initial figures show just how effective messenger marketing can be. Opening rates of up to 90 percent and click rates of 20 to 30 percent for newsletters via Messenger are impressive proof of the potential of WhatsApp and Co.
Looking to test out messenger marketing for your company? Swat.io makes it easy for you to integrate and take advantage of messenger apps in your digital marketing strategy. Keep track of everything with a tool for Facebook, WhatsApp, Instagram, and Twitter etc.
Efficient Social Media Communications With Swat.io
Examples of use of messenger marketing
Messenger marketing can be used for a variety of different marketing objectives, e.g. customer service, newsletters, or sales.
Customer service – give your customers the help they need, and fast, with chatbots
Surveys show that fewer customers are picking up the phone when they've got a question about a product or order. Instead, they're getting in touch with companies via Facebook Messenger. It's fast, can be done anywhere, and saves the annoying waiting loop.
From a company perspective, companies can save a lot of time by using chatbots to answer simple questions. If a bot doesn't know what to do, a real customer support adviser can then step in. Doing things this way ensures that customers get fast and accurate answers to their questions – provided that the limits are clearly defined, when a chatbot is not able to cope and an employee from the customer service will step in.
For many people, communicating via WhatsApp or Facebook Messenger even feels personal when it's obvious that a chat bot is leading the conversation.
After-sales automation
Once the purchase is complete, chatbots in Messenger are useful for the after-sales process to get feedback from the customer. Depending on the feedback, companies might decide to give the customer a call (if the review was negative), or to ask the customer to provide an online review (if the review was positive).
In addition to classic customer service, messenger apps can be used to offer additional services. A good example of this is "WhatsApp Stylecheck" by Outfittery. It gives the user the chance to ask style questions via the messenger. This means that partygoers can get last-minute fashion advice straight to their smartphone.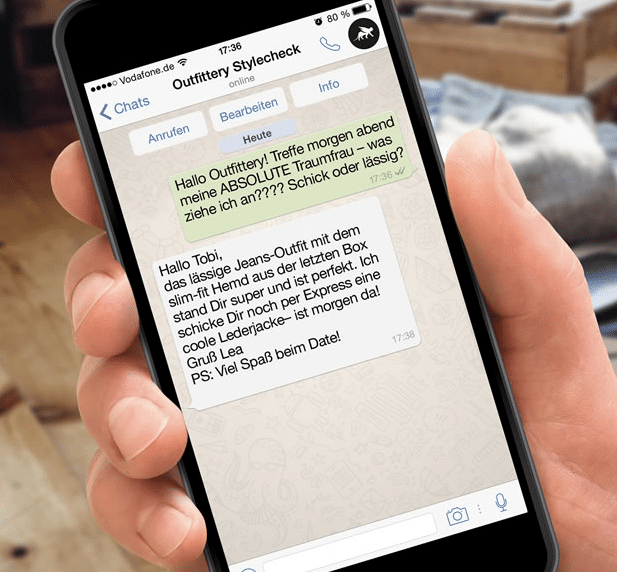 Fantastic opening rates: Newsletter and customer loyalty via Messenger
Zalando has been sending out Newsletters via WhatsApp since 2017. If you register on the corresponding landing page, you will receive regular styling tips, offers and vouchers about Messenger.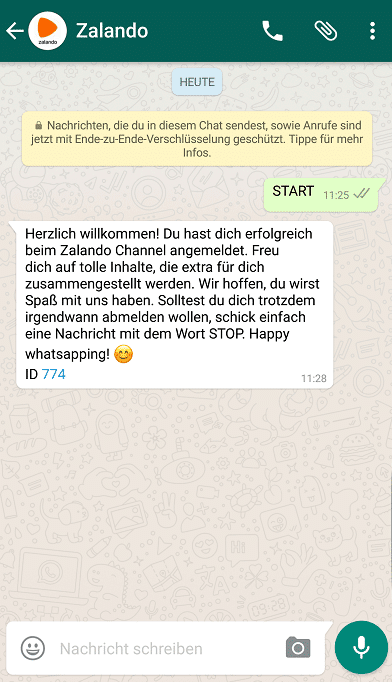 This seems like a logical step. Afterall, newsletters are a valuable tool for customer retention and reactivation. However, it's becoming harder to get your email newsletters noticed amongst the mass of other emails people normally have in their inbox. This leads to the majority of emails not being opened or stuck in spam, even if you do follow all the golden rules of marketing.
Therefore, it makes sense to make the most of messenger newsletter open rates, as the high-level of personalization offers optimum results. It's not a coincidence, though, that Zalando's newsletters focus on sending "personalized offers and exclusive sales info". To use messenger marketing, you need to have the users permission.
Messengers have their own rules which mean that users have to give companies permission to send them messages – or you could let users fill in a permission form.
By the way, an alternative to long and detailed newsletters is to send snippets of news and important events. Media such as Bild or n-tv have long been successful at sending news via messenger apps for customer retention.
Sell on Facebook and WhatsApp
Urlaubspiraten are a great example of proving that you can sell over Messenger. This unique travel community sells its own travel and recommends appealing holiday deals to their users.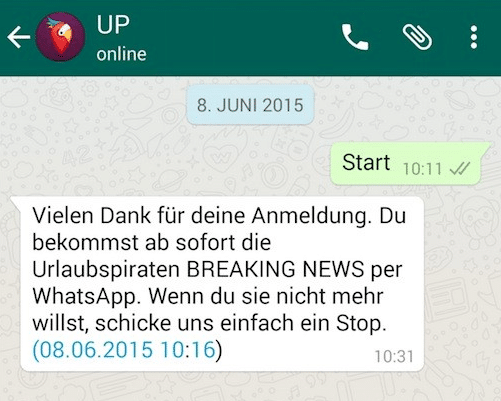 Most of the communication between Urlaubspiraten and their customers is done via WhatsApp. People who are interested receive offers straight to their smartphone, and bookings are even made via the messenger. In other cases, users see the offer on WhatsApp and then book using their computer. In both cases, messenger marketing can be linked directly to sales.
In the fashion industry too, messenger apps are becoming increasingly involved in the sales process. A growing number of fashion companies are having chatbots ask questions about clothes the customer is looking for, and then giving them suggestions based on their answers. Again, the customer can buy directly through their messenger. Customers can also send pictures of similar clothes via WhatsApp or Facebook Messenger in return for vouchers.
These methods pay off even if no sales are made. You'll have received valuable information about your customers, which can be used to analyze your target audience.
Online communication needs to be more personal
You've all probably heard the phrase "the greater the reach, the more successful the marketing is". Many people agree with this idea, even though if you take a closer look it's not exactly true. Nowadays, direct communication is more important than ever.
If you take a look at the other side of the stick, anyone who reaches out to their target audience directly with personalized content is creating the ideal conditions for turning users into customers and creating customer advocacy. Messenger apps like Facebook Messenger and WhatsApp are great for this. If you're a fan of email marketing don't panic – you don't have to get rid of email marketing completely. Email marketing is still indispensable, especially for B2B marketing. Plus many customers still prefer to receive newsletters by emails. This is why it's so important to integrate both email and messenger marketing into your digital strategy in order to make your brand future-proof.
You generally want to optimize your social media strategy? Download this eBook. It'll help you with that.
From Zero to Hero: The Social Media Marketer's Strategy Kit
Download the strategy kit for social media marketers who want to stay on top of their game. Use the actionable steps, tips, tricks, and guidelines to take your brand and business from 0 to hero on social media. The kit is accompanied by ready-to-use templates to help you define, implement and monitor your social media marketing strategy in all its complexity.
Summary: 5 reasons why you should give messenger apps a go in marketing
Not every fad turns into something bigger. Messenger marketing, however, has the power to become one of the next biggest trends in digital marketing. Messenger marketing offers fascinating advantages and possibilities in dialogue with your target group:
Communicate directly with the target audience
Little loss of intensity
Highly personalizable
Extensive automation options, such as chatbots
Flexible usage
You are not sure if and how to integrate Messenger Apps into your social media marketing strategy?
Why not give it a go right now? We're giving you the chance to try Swat.io for free for three weeks. By using just one tool, you can keep track of all of your favourite social media channels like Facebook, WhatsApp, Instagram and Twitter. So why not try sending out your next newsletter via WhatsApp and seeing just how much your open rates improve by? Or you could just make your customer service a little bit more personalized.
Efficient Social Media Communications With Swat.io