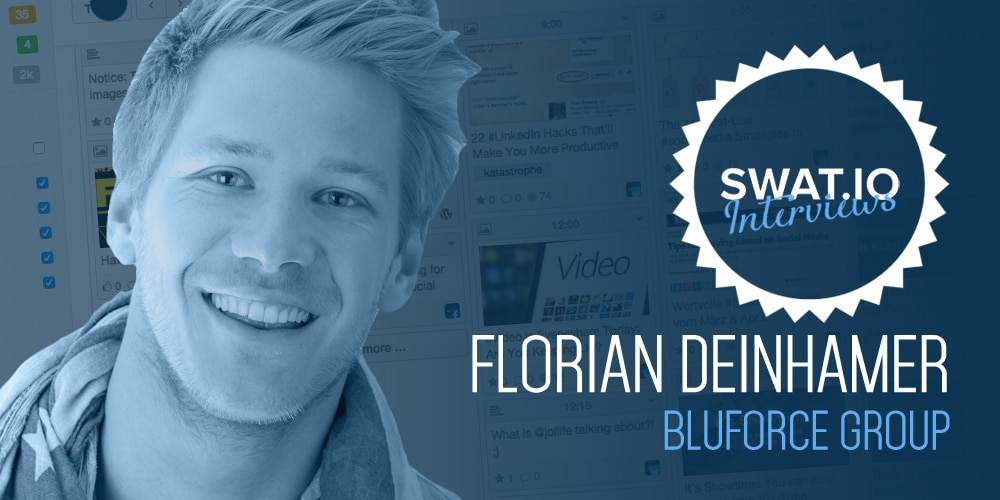 Florian Deinhamer, bluforce group (Austria): "It's important to put strategy first and define clear goals."
Between you and us – we're quite proud that our social media management tool Swat.io is being used by digital and marketing agencies all around the world. However, after our interviews with social media experts in Brasil and Jamaica, it's high time we talked to a social media manager at one of Austria's homegrown agencies.
Florian Deinhamer, New Media Director at Salzburg-based agency bluforce group, has recently talked to us about his day-to-day work, the challenges he faces, and the tools he uses to deal with them.
1. Tell us a little bit about your clients, about who they are, their size, etc.
The bluforce group team supports a variety of brands, all having very different goals. We're not just a regular digital-only agency, but actually accompany our clients from brand positioning all the way through to the implementation of their communication measures on various channels.
We currently do social media management for about 30 channels. The biggest page we run is the Lidl Austria Facebook page (https://www.facebook.com/lidloesterreich) with more than 500,000 fans.
2. Thirty channels! That sounds like a lot of work. What does a typical day in your life look like?
Actually, I don't really have typical days 😉 They're always different, because the talent I work with is so different and comes from a wide range of disciplines. Furthermore, I work closely with teams on the clients' side. It's important for us not to think in boxes, but to allocate talent according to experience and know-how.
The Blueprint – Successful Social Customer Service in 13 Steps
Download our eBook and learn the 13 steps that will take you on the right path to social customer service success in no time. It's all about the strategy and we've come up with the perfect one for you!
3. Which tools do you use to stay on top of your work load?
We use different tools for different tasks – for monitoring and listening, for content management, for community management and for analytics. Relevant KPIs are continuously summarised and reported on dashboards.
4. Can you tell us a little bit about what your work flow looked like before you started using Swat.io?
Our process used to vary from one client to the next. We used a lot of cloud solutions and shared documents, and, of course, email and face-to-face meetings. We still put great value on coordinating in person, but Swat.io has made planning and approving posts so much easier for us.
5. Which Swat.io feature do you and your team treasure most?
For us, the best feature Swat.io offers is the personal support from the Swat.io team. When support is necessary, it's always fast and competent. Aside from that, Swat.io's main and most important feature is the calendar for planning and publishing posts.
6. How is Swat.io different from other tools that you've considered using?
We need to be able to completely rely on the tools we use. It's important that they keep what they promise. Swat.io has a straightforward interface, is intuitive to use, and not filled with useless or buggy features.
7. In your opinion, what are the biggest challenges for key account managers?
A key account manager always has to see the bigger picture, to know where several tasks and projects stand. This is where Swat.io's collaborative features really come in handy. Of course, it's important to set permissions and profile settings accordingly, so the user's inbox doesn't get flooded, but only those updates come in, which actually concern them.
8. Do you have some advice for our readers who would like to improve their own social media management?
Yes, sure! Those three pieces of advice that make everything run flawlessly 😉 No, but in all seriousness: I believe it's important to put strategy first and define clear goals. Part of a good strategy, however, is also to question it every single day. After all, in social media everything can change within a day. But that's what makes it so interesting.
About Florian Deinhamer
Florian Deinhamer is blueforce's New Media Director since 2012. Sometimes he can be found off-screen – but he's always addicted to digital.
1822direkt, Ardex Austria, dm Drogeriemarkt Österreich, Fortis Swiss Watches, Gevestor, Gusteria, hogast, Hütthaler, Lidl Österreich, Strasser Steine, we are austria, Werner & Mertz, XXXLutz