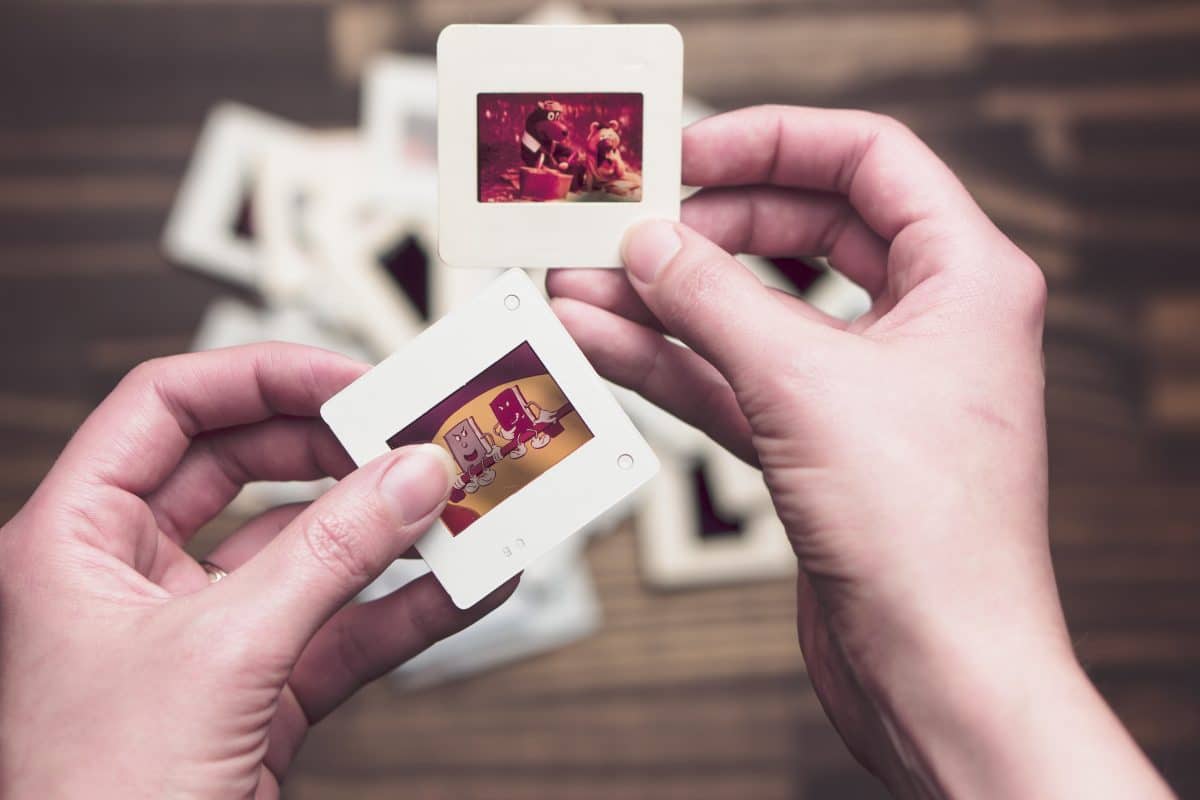 The Top Social Video Platforms for Businesses
Video is increasingly becoming one of the most powerful online tools for businesses, especially when it's coupled with social media and quality content. Cisco Systems predicted in a June 2014 report that video would account for between 80% and 90% of global consumer internet traffic by 2018. The fact that videos usually require more time and effort to produce than other forms of both written and visual content, oftentimes poses a real challenge, especially for small businesses lacking the necessary resources.
Nowadays, there are many social video platforms that companies can use depending on their audience. The truth is that, given its importance, video will probably be supported by every social media network in the future. Here is a list with the top platforms that currently support video on social media:
YouTube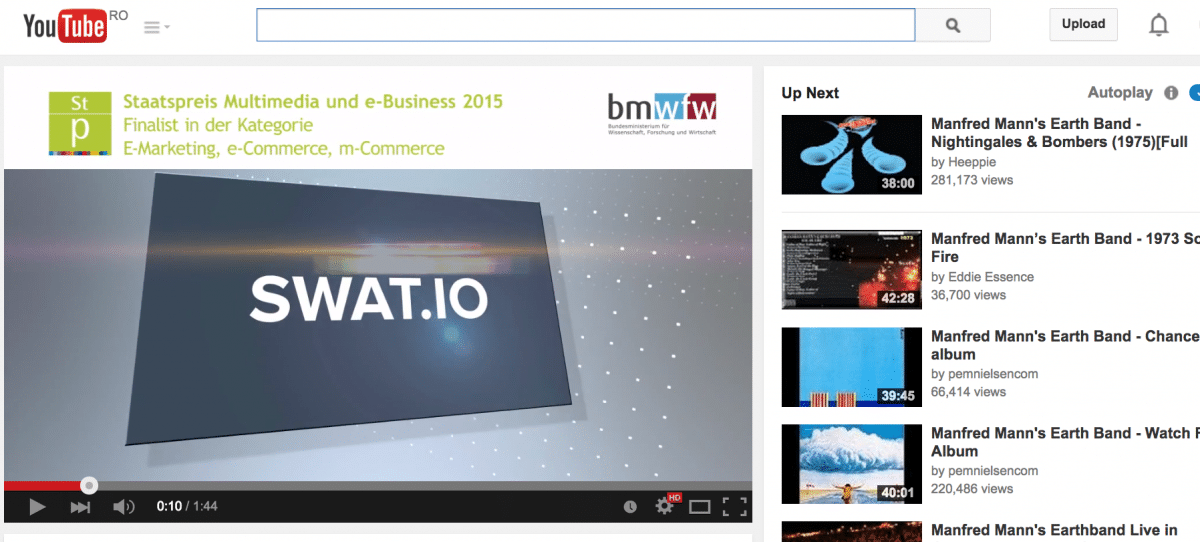 This still is the number one social video platform. According to YouTube statistics, more than 300 hours of video are uploaded to YouTube every minute by its user base of over 1 billion. Brands setting up their own native channel can use it as a home base for fans to upload their content. Brands can also upload, embed, and share their videos on a free, high-quality hosting platform.
However, while YouTube usually drives a large number of views, it oftentimes does little in terms of content discoverability and generating increased brand awareness.
According to Nielsen, YouTube reaches more US adults aged 18-34 than any cable network. Social video is an essential part of the network, which makes it a very effective way for businesses, big and small, to connect with their audience.
Keep It Short & Focus on Quality
Generally, shorter videos (under 3 minutes) are the preferred ones. When dealing with brands, YouTube visitors usually expect some production value, unlike social video platforms including Vine or Instagram where the focus is on creativity and less on quality.
Businesses can create YouTube videos for mass appeal or with educational purposes, teaching viewers about your products or services.
Facebook Videos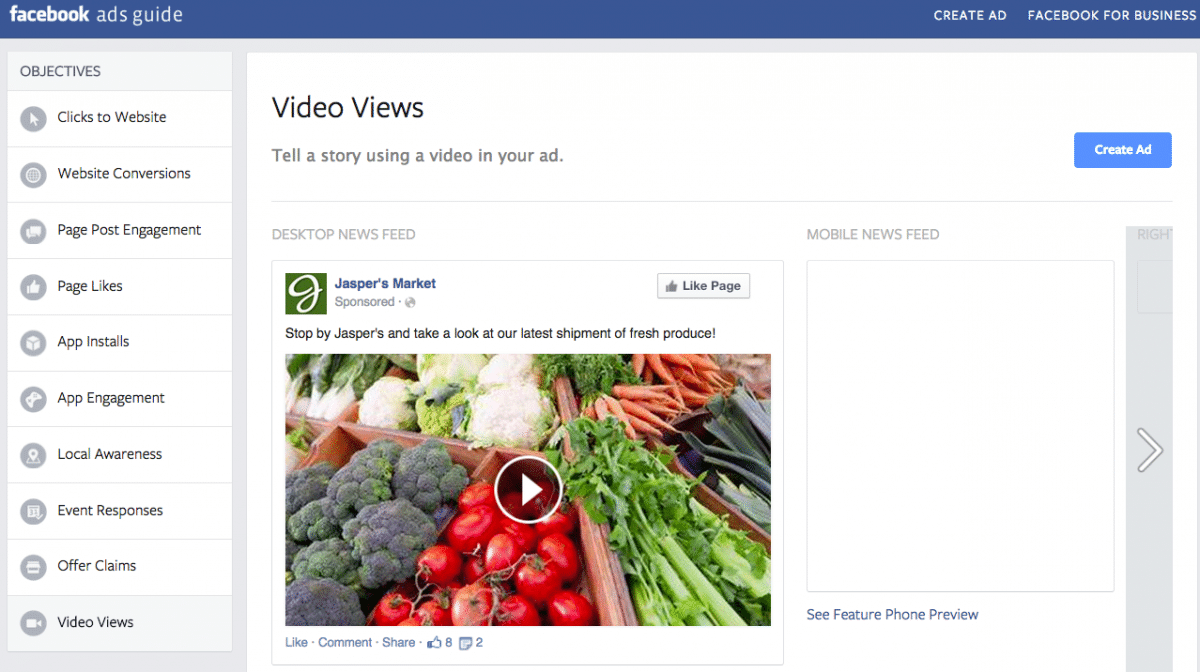 Although many don't think of Facebook as a video platform in the same way as YouTube or Vine, over the past 12 months it has become one of the most powerful social video platforms.
According to a new eMarketer report titled "Video Advertising: How Facebook, Twitter, Instagram, Tumblr and Snapchat Are Changing the Rules", Facebook in particular is coming on strong and has the potential to put pressure on YouTube, which, as eMarketer estimates, captures nearly 20% of US video advertising spending.
Some of Facebook's video features include view counts, similar to what we see on YouTube, as well as Autoplay for brand page videos, or the ability for videos from approved brands to start playing automatically in users' News Feeds.
Facebook's Own Media has Priority
Facebook's algorithm favors its native video platform, prioritizing their own media over others posted to the network. Furthermore, if many people watch your videos at least 95% through, it's more likely that Facebook's algorithm promotes your video content in people's newsfeeds in the future. In other words "videos that people choose to watch will reach a larger audience, while videos that people ignore will be shown to fewer people", as Facebook itself explains.
According to to a survey conducted in September 2014 by the Pew Research Center, 70% of Facebook users engage on the platform each day (45% engage multiple times a day). In 2014, Facebook reported their users viewed over 1 billion videos each day, with worldwide users posting 75 percent more videos to the platform than they had done in 2013.The average length of videos uploaded to the social network is 44 seconds, and some research indicates that videos of 21 seconds perform are watched in full most frequently. More than 65% of video views on Facebook come from mobile.
Facebook videos help businesses grow and reinforce their online communities. By adding videos to their timeline companies can also take advantage of the ability to include CTAs at the end of Facebook videos to drive traffic to a dedicated landing page.
Powerful Among All Age Groups
People aged between 25 and 34 are the most common demographic among Facebook users. However, they only represent about 30% of all users, leaving the other 70% in other age demographics. This clearly highlights the true power of Facebook regardless of companies' target audience.
Businesses usually use Facebook video to directly promote their products and services, encourage fans to share their best videos of their product, as well as send personal messages to fans.
Twitter Videos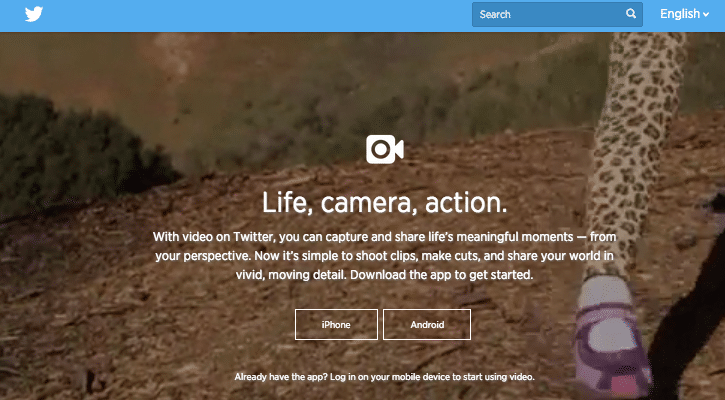 Twitter is perceived as a social platform for real-time content and breaking news. In 2014, the platform launched Twitter Cards which allowed users to load GIFs, photos, emojis, and media. For businesses, this represented a powerful new method of engaging users in promoted posts. Using video Twitter cards, companies can upload a video into a Tweet. The latter will then appear within a user's stream. According to Twitter, Tweets with native video usually generate more engagement and a larger number of video views.
Brands can also use the Promoted Videos feature to shoot, edit, and upload 30-second videos straight to their feed. This new feature expands on Twitter Amplify, which allows brands to measure the reach and effectiveness of their content. This comes as a paid opportunity for businesses. If, however, cost is an issue, companies can also choose to include Vine videos within Tweets and they will appear in-stream as well.
Twitter's 2014 Q3 results revealed that the social platform hosts 284 million active users per month, representing a 23% year-over-year increase. Furthermore, timeline views reached 181 billion, and that number is only expected to grow as more tweets incorporate video.
All You Need to Know about Periscope
At the end of March 2015, Twitter launched a video-streaming app called Periscope that allows the broadcasting of live video. Users can also save videos and watch them later.
TechCrunch explains how Periscope works: "When you open Periscope, you can see live broadcasts happening now or watch recently recorded ones. Periscope will allow both public and private broadcasts. You'll be able to blast out a link to your stream to Twitter and have it show up on the Periscope home screen, or alternatively privately invite a few friends to watch. You can post comments on streams, which pop up in front of the broadcaster and other viewers."
When Twitter launched Periscope a frenzy of comparisons to Meerkat emerged. The latter is an app built by the startup Life On Air. Meerkat doesn't allow users to watch recorded broadcasts or set up private streams, and its entire identity, communication, and distribution system is built on Twitter.
Instagram Video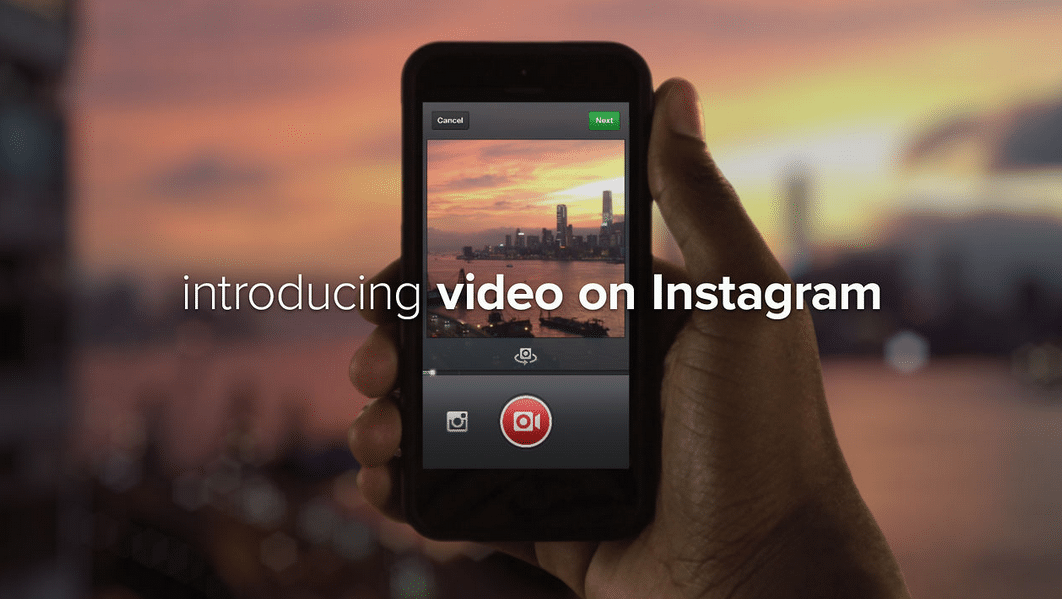 Instagram is Facebook's mobile photo giant that has tapped into the social video world in June 2013, as a direct competitor to Vine.
Users can apply unique filters to their Instagram videos which cannot be longer than 15 seconds. Actually, studies have found that 15 second videos prompt the highest click-throughs in social video, which means that Instagram videos will benefit from higher rates of sharability.
Instagram is used by a large number of individuals and companies for a wide range of purposes. It allows companies to tell stories, show off their brand, product, or service in ways that were impossible on Instagram before.
Similar to YouTube, companies have to create content for the group of people that they want to reach, and they can use hashtags (which are particularly powerful on Instagram) to do achieve their goals.
40% of Leading Brands are Active on Instagram
According to Simply Measured, 40% of leading brands are active on Instagram and over 25% are posting more than one photo or video per week. The app has 200 million monthly active users and is growing in popularity in all age groups.
Businesses can share Instagram posts beyond Facebook and Twitter to Tumblr, Flickr, email and Foursquare. It's also good to know that brand videos were at one time responsible for 40% of the top 1,000 performing Instagram videos.
Instagram is primarily a photo social network, with videos comprising only about 6% of total posts. Where Vine users use the app expecting video, Instagram users expect static images.
Vine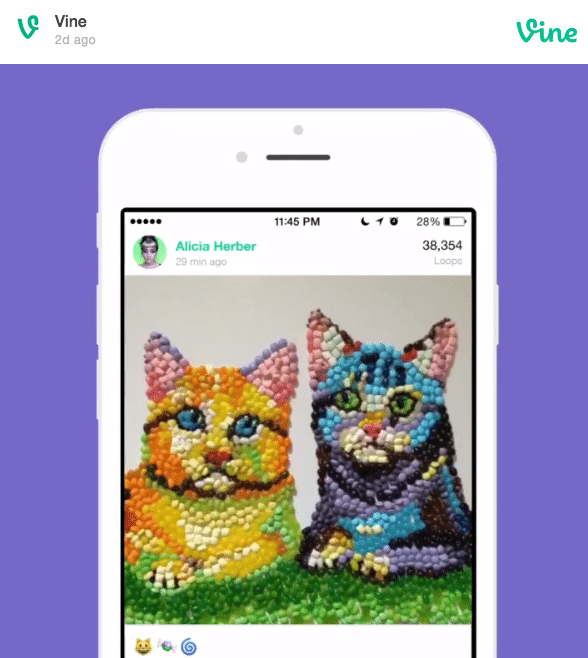 This Twitter-owned video app allows users to film, edit and share 6-second, looping videos.
Used for Creative, Short-Form Videos
Most businesses haven't yet grasped the full potential of Vine but for some, it's an ideal video platform. Vine is described by some as niche YouTube for creative, short-form videos. It is less about high video quality and more about the story you are telling. Most people head to Vine looking for interesting, innovative content. Therefore, companies telling their story in a creative manner can benefit from well-targeted success using Vine.
Statistics show that Vine had at least 40 million active users in August of 2013. Furthermore, 100 million people watch Vines every month and there are over 1 billion video loops occurring every day.
Given the fact that Vine's user base mostly made up of teenagers and millennials, make sure they are the ones you are trying to target. If not, the best solution would be to just skip Vine altogether.
In the beginning, Vine users could only use video they recorded within the app. Luckily, they later added functionality allowing users to upload external videos. Therefore, businesses can use this platform to post videos that are of a far greater quality and much more adjusted to their overall brand image.
Brands are using the platform to create mini-advertisements, behind-the-scenes tours, contests, and more. Vine videos can be viewed and shared from directly within Twitter and it's easy to capture your audience's attention.
Google+ Hangouts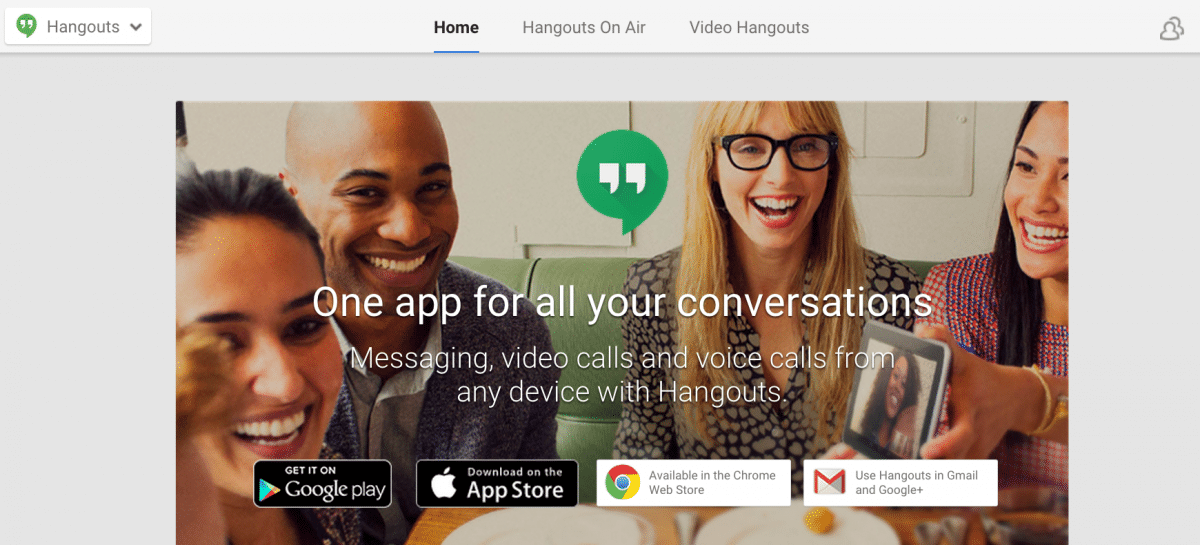 With Google+ Hangouts users can have up to 10 people (including the host) on webcam, with the possibility to share their screen, YouTube videos and other media during their Hangout.
Starting July 2014, anybody with a Google Apps account was allowed to start or join a meeting from their desktop or their dedicated Chromebox for Meetings device, without the imperative need of having a Google+ account.
Users can also share their Google+ Hangouts recorded to YouTube on other social networks. Plus, these videos can be saved to their YouTube profile for future use.
The Focus is on Information
Businesses can use Google+ Hangouts to: conduct webinars, carry out interviews, broadcast panel discussions, hold business meetings, etc.
With Hangouts it's more about the information and less about the quality of production. It's a great way to engage prospects or attract a new online audience with an engaging and at the same time valuable content.
Conclusion
To conclude, businesses should know that YouTube and Facebook currently rank first when it comes to social video networks and, therefore, they represent a must. Twitter works great especially when customers post videos with their own experience with brands while Instagram and Vine are suitable for more creative approaches. Use Google+ Hangouts to conduct webinars, business meetings, etc. Regardless of the platform you choose to promote your video content, make sure you investigate your target audience first!
Swat.io makes social media management and customer service easy. Start your free trial and find out how our tool can support you with your daily social media work!
Efficient Social Media Communications With Swat.io