Star Wars: The Force Awakens – Social Media Marketing from Another Galaxy
How can brands improve their social media marketing by learning from the Star Wars frenzy?
The Star Wars franchise is one of the most powerful brands which has built itself for almost four decades. The film series represented a turning point in the industry of Sci-Fi and changed the face of Hollywood. It became a cultural phenomenon inspiring generations of fans. A classic battle between good and evil become an icon and a lesson for marketers as the fans' affection towards the characters and the plot were brilliantly capitalized. Thousands of products impersonating Luke Skywalker, Princess Leia, Master Yoda, Darth Vader, collectibles, costumes, toys, dolls, plush and other crazy Star Wars related merchandise are being successfully sold throughout the world. Star Wars hit big in the offline sphere but its growth was amplified with the help of social media. Millions of fans formed communities on Facebook, Twitter, Instagram, Tumblr etc. and the rate of interaction with the brand is huge. No wonder that the seventh instalment of the series, Star Wars: The Force Awakens, triggered a frenzy across all social media channels.
With hundreds of movies released every year and a big competition, how did the last episode of Star Wars become the talk of social media? Here are some reasons.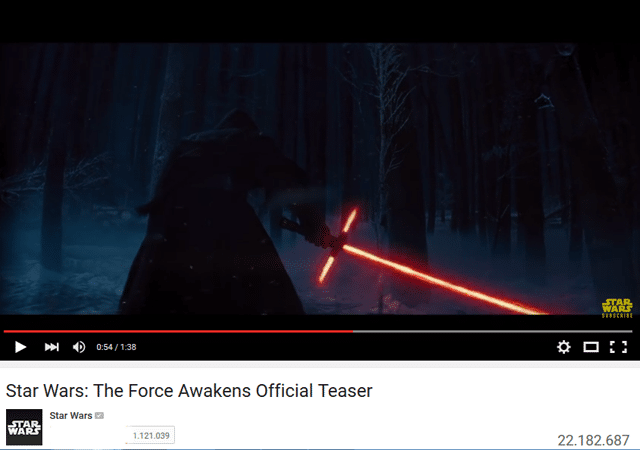 The Force Awakens is the new Star Wars movie in ten years. Fans were already heated and longing for it so when the first official teaser was released on November 28th, 2014, social media exploded as fans showed their reactions through posts, YouTube clips and memes. The Star Wars social media team knew how to handle it and answered inquiries, denied false teasers and thanked fans for their loyalty, without revealing too much or too quickly. Before and after the first teaser release, social media strategy was based on evoking emotions in order to build up anticipation. They posted old TV commercials for throwback Thursday in 2014, released new merchandise on "Force Friday" in 2015, "leaked" some inside information, reposted fan made The Force Awakens materials and communicated it across all social media channels.
The Art of Social Media Content Creation
Download our eBook and learn how to plan, create and distribute your social media content while measuring its effectiveness on your relevant social media channels. To ensure you don't miss out on any big social media content trend or best practice, we've also included interviews of 5 experts in this field. Find out how to master the art of social media content creation using the latest available tools and determine what type of content makes your audience tick!
Powerful brand ambassadors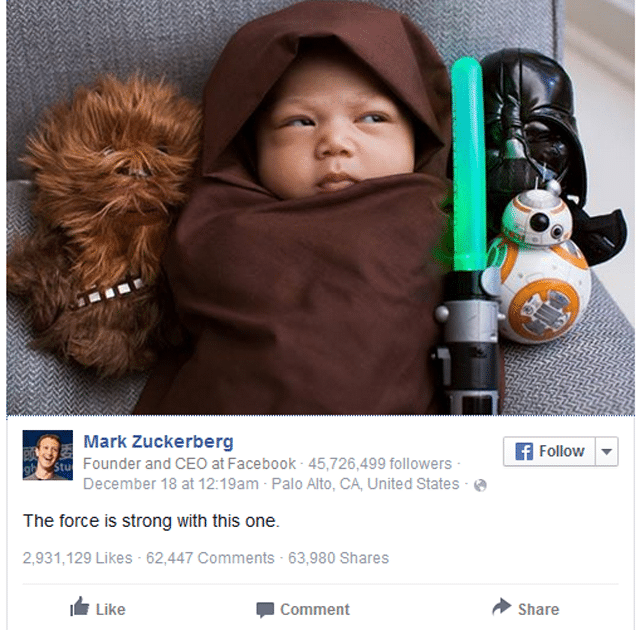 What is great about Star Wars series is that their casual or famous fans have transformed into brand ambassadors throughout the years. And with the help of social media, the latest movie received a lot of positive representation, whether through simple means like a Facebook personalized profile picture, Google themes or via fan communities which maintain a strong communication with theStar Wars social media team who is always there for them. Also, the latest movie created buzz with the help of key influencers like Seth MacFarlane, Mark Zuckerberg or Jimmy Fallon who expressed their love on their social media accounts, generating thousands of likes, shares, comments and views.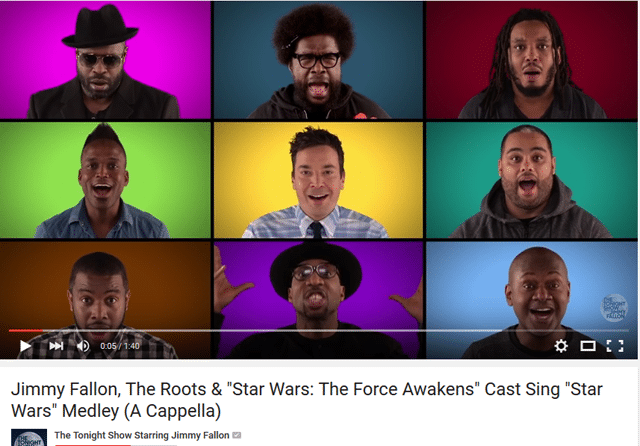 Innovative content
Star Wars is a strong brand, but managed to stay this way on social media due to the diversity of forms and shapes of the messages it generated, from fan art to memes. The latest Star Wars movie awakened multiple YouTube promotion videos, each of them revealing bits of fan craved information, launched #ChooseYourSide Google campaign, raised nostalgia on Instagram through retro Star Wars photos and rewarded fans by reposting their art and posts on the official Facebook page.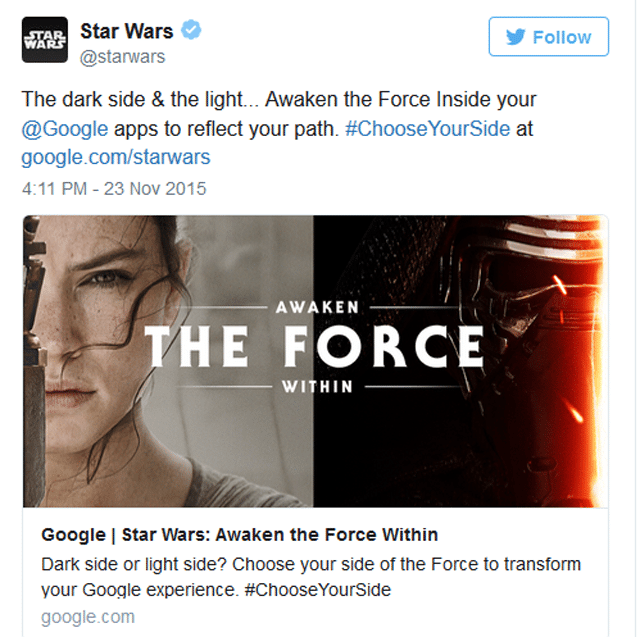 Communicating via multiple channels
Star Wars is everywhere – the communication around The Force Awakens is consistent and persistent on major social channels such as YouTube (more than one million subscribers), Instagram (2,7 million followers), Facebook (almost 16 million fans), Twitter (1,8 million followers) and also on blogs, podcasts, games and apps etc. The social communication was shaped according to the channel it was promoted through and due to the tremendous effort of nonstop social media work, it paid off. Days before the launch of the new Star Wars movie, 234 million social media interactions with the brand were reported.
Cross-promotion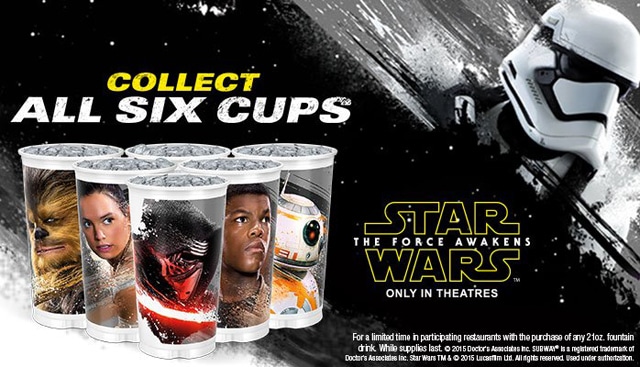 Star Wars itself generated huge impact through its own marketing channels. But that was not enough for the giant brand. It partnered with non-competing brands and the promotion of the 7th Star Wars movie amplified. Subway, Duracell, Covergirl, Google, All Nippon Airways, HP are only some big brand names which launched daring promotion campaigns that created even more buzz around the new movie.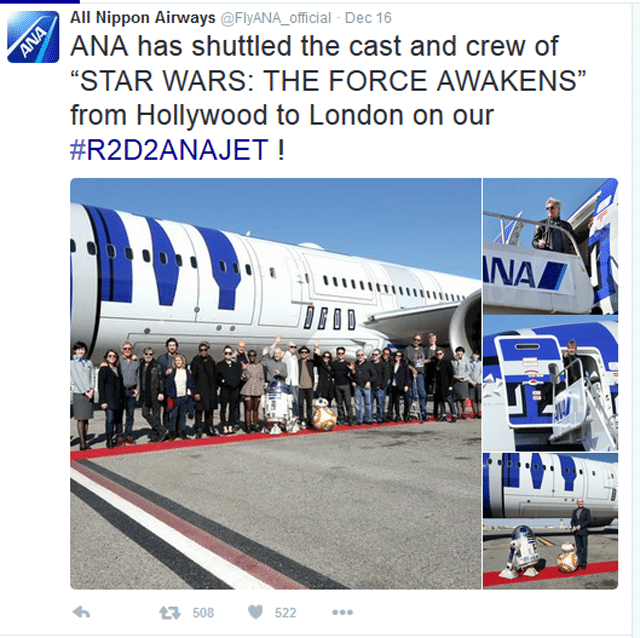 What companies can learn from Star Wars' campaign in terms of social media marketing
Invest time and effort into making emotional connections
Establishing strong emotional connections is like creating lasting friendships with your target audience and it will help you maintain relevance with consumers in the long run.
Build loyalty through consistency and continuity
The main characters in the Star Wars series have remained the same throughout the years (R2-D2, Luke, Princess Leia, Darth Vader) and this continuity has helped build a loyal fan following.
Create content through collaboration
People trust other people, that's a fact. They will believe what their peers say rather than what your brand tells them. That is why it is advisable for brands to find a way to partner with consumers and create content collaboratively.
Leverage brand partnerships
Partnering with other brands will help boost your visibility, build trust and acquire new customers. It's an opportunity worth investigating. Also, partner with key influencers who can help you increase awareness and promote your brand and your products to their respective fan bases.
Reuse/ repurpose content that converts or has converted
Disney bought the Star Wars franchise knowing that Star Wars was irreplaceable and that as a brand, they could use aspects of the Star Wars story countless times again. When it comes to social media marketing, if a story has performed well, companies should find ways to repurpose the story as part of their social media marketing strategies.
Communicating around a longtime brand has its perks, of course. Star Wars is easy to recognize and has a solid fan base it can rely upon when it comes about promotion. But to reach such a performance demands a huge amount of social media marketing strategy, work and skill, especially in such a competitive industry. And with the launch of its last movie, Star Wars definitively is a lesson to be learned. In order to provoke pure joy among generations of fans, one must appeal to emotions in a soft way, use thematic continuity, seize partnerships and be where their fans are. May the force of innovation be with you, social media marketers around the globe, and may you succeed in becoming the Jedi of your brand!
Efficient Social Media Communications With Swat.io