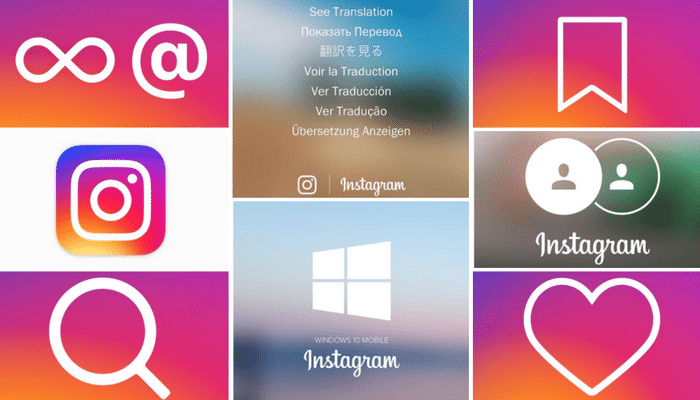 The 12 Best Instagram Features Launched in 2016
For Instagram, 2016 was quite a busy year that brought not only a revamped user interface but also a lot of new features. While some of these were original, others were "loosely" based on Instagram's arch-rival, Snapchat (a comparison of these two photo-sharing platforms is available here). All in all, Instagram's new features are meant to provide a better user experience to both individuals and businesses.
In this post, we're taking a look at the features that Instagram launched in 2016, in chronological order. We'll focus on how each of these has changed the way the platform is used, and what it all means to brands using Instagram.
The Psychology of Snapchat Marketing
Download our eBook and learn about the psychological principles that keep Snapchat's community going, and how this affects your marketing strategy. To ensure an in-depth and thorough approach, we've also included the interviews of 5 Snapchat experts. Find out why your brand should be on Snapchat, what content works best and which tools to use.
Instagram Started the Year with Easy Account Switching
Using both a personal and a professional account on the same device? Instagram started 2016 in force by enabling its users to quickly switch between accounts. The announcement was made on February 8, just in time for brand managers to set up Valentine Day campaigns across multiple accounts.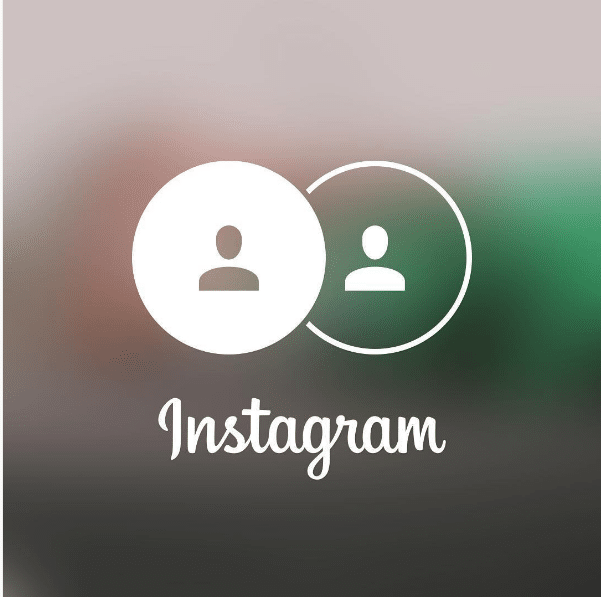 To switch from one account to another, go to Settings and tap on the profile that you'd like to use. Fortunately, the profile photo is displayed in various places, so you'll know at all times which account you're using.
Video on Instagram Went from a 15 to a 60-Second Time Limit
At the end of March 2016, Instagram announced that it would expand the maximum length of videos from 15 to 60 seconds.
This enabled individuals to capture more of their life on video, but more importantly, it allowed brands to say more about themselves. At first, the update was only available to brands and influencers, but it soon rolled out to the entire world.
This is really one of the updates that put Instagram ahead of Snapchat, as the latter still has a 10-second time limit. Product showcases, mini-documentaries, behind-the-scene videos make a lot more sense in a one-minute video.
Instagram for Windows 10 Mobile Helped Expand the Reach
While not a feature, Instagram's app for Windows 10 Mobile also signified a move in the right direction. Windows 10 Mobile only has a 1% market share, but neglecting the users of this mobile OS would have been a mistake.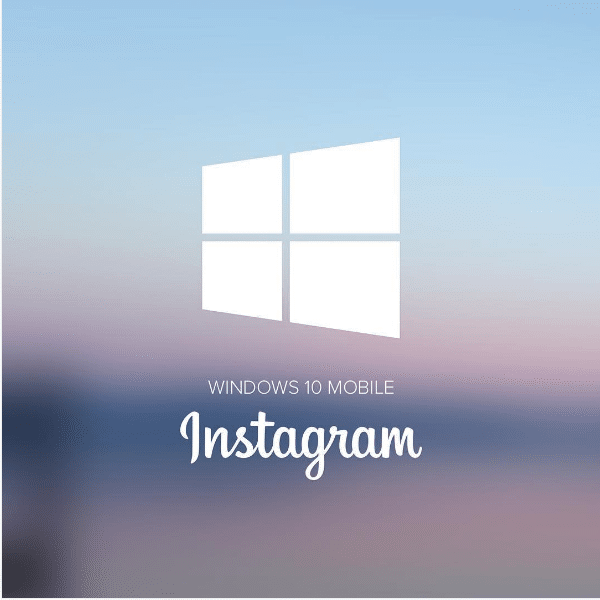 The app for Windows 10 Mobile rolled out on April 28 2016, with all of the community's favorite features. This meant that marketers could take advantage of Instagram Direct, Explore and video, among other features, to engage with their audience. Since the app supports Live Tiles, your audience will be able to see your updates right on the homescreen without having to open up the app.
Updated Icon and Mobile App Design
On May 10, Instagram showed the world its new look. The updated icon and app design breathed new life into the platform, yet retained enough to still feel familiar.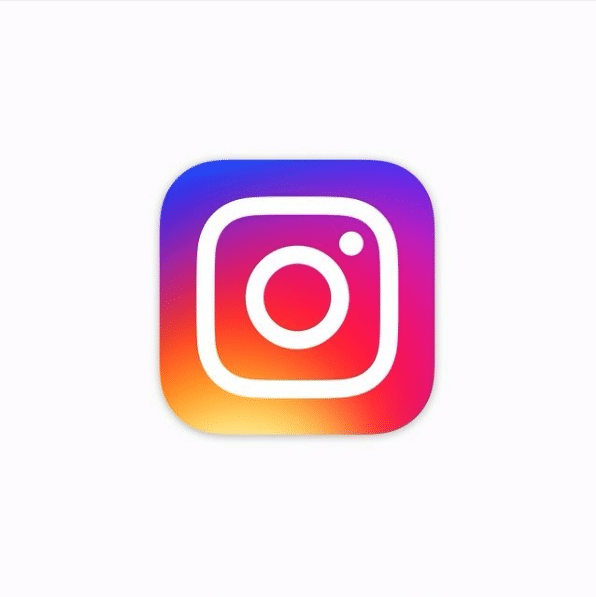 Both the icon and the mobile app design hint at the past versions, but are a lot more minimalistic. As for the mobile app, now it puts even more focus on the visual content. Instagram hopes that this will make it even easier for users to share their memorable moments. Seeing as how there are more than 80 million photos and videos shared everyday, doing so in a user-friendly interface should improve the experience.
Want to learn how Instagram's new look was inspired by the community? Check out this post authored by Ian Spalter, Head of Design at Instagram.
Translation Button Does Away with Language Barriers
The community of Instagrammers knows no geographical limits. However, communication might prove difficult after a certain point, especially if the parties don't speak the same language. With this in mind, Instagram announced on June 10 the introduction of a translation button in its interface.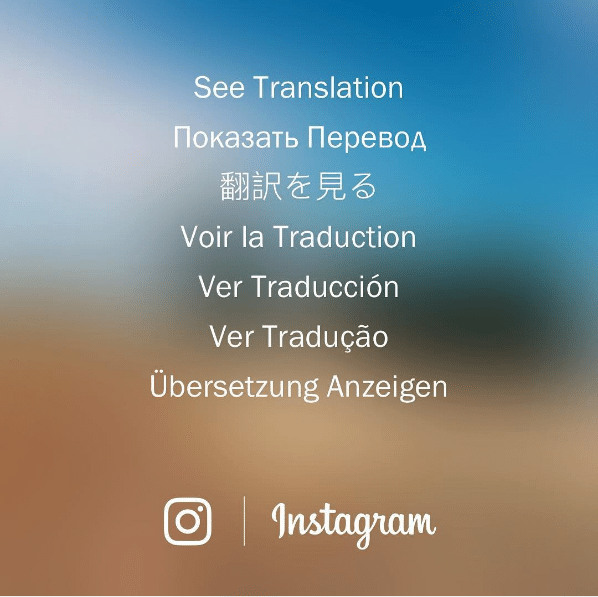 Both feed stories and profile bios can now be translated to and from languages that are different from your own. How does this help your brand? Instagrammers who are interested in your products or services can learn more about your brand if they understand the descriptions of your posts and profile.
Instagram Stories Took Visual Storytelling to the Next Level
Instagram Stories, the new update announced on August 1st, is uncannily similar to Snapchat's identically-named feature. And yet, it's probably the most important feature launched by Instagram in 2016.
Text and drawing tools can help you bring your brand's story to life in an original way. As you share multiple photos and videos throughout the day, your audience gets to see them as a slideshow that's basically your story. There's no limit to the number of photos or videos, so oversharing is not a problem. The industry you're in is also of little importance, as almost everything can be marketed using Instagram Stories.
In October, Instagram Stories started showing up on Explore. This update made it even easier for users to find on this platform stories from the brands they love.
Instagram Zoom Made Photos and Videos More Interactive
At the end of August, Instagram introduced pinch-to-zoom, a feature that adds flexibility to the content that brands can create. Pinching the screen causes the photo or video to expand in a lightbox that takes the whole screen. Check out the following video to get an idea about how easy it is to use this feature.
Instagram Zoom opens up new content opportunities for marketers as it pushes them to become more creative. As a result, the posts become more interactive and can drive more engagement. Brands can leverage this to create fun games and competitions.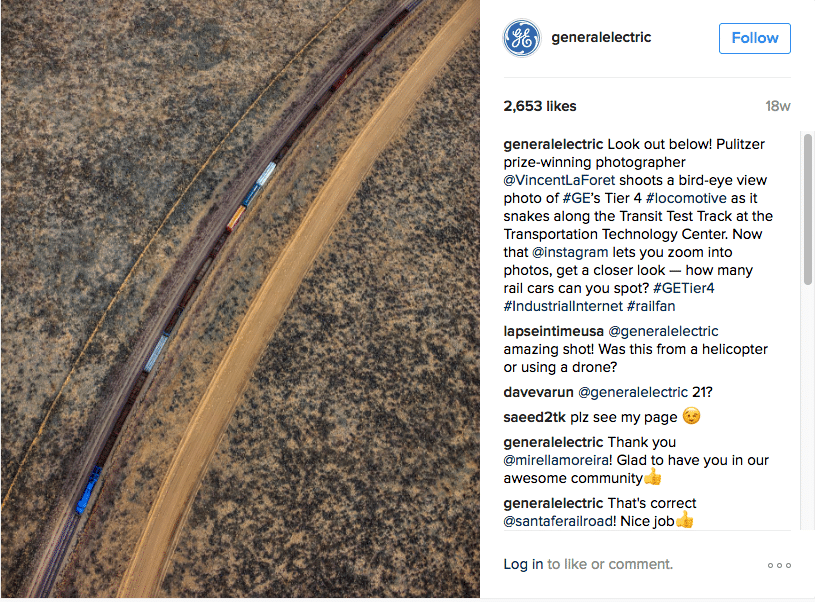 General Electric has found a great way of engaging its audience by sharing Pulitzer prize-winning photographer Vincent LaForet's bird-eye view of a GE Tier 4 locomotive. The company asked its followers how many rail cars they can spot. Answering this question without zooming in would've been impossible.
Keyword and Comment Moderation Made Instagram Safer
After noticing that some members of the community made unkind comments and didn't respect cultural diversity, Instagram introduced a couple of moderation tools. The first of them, simply called a keyword moderation tool, enabled account owners to filter comments. The moderation is based either on their own list of keywords, or on the default one provided by Instagram.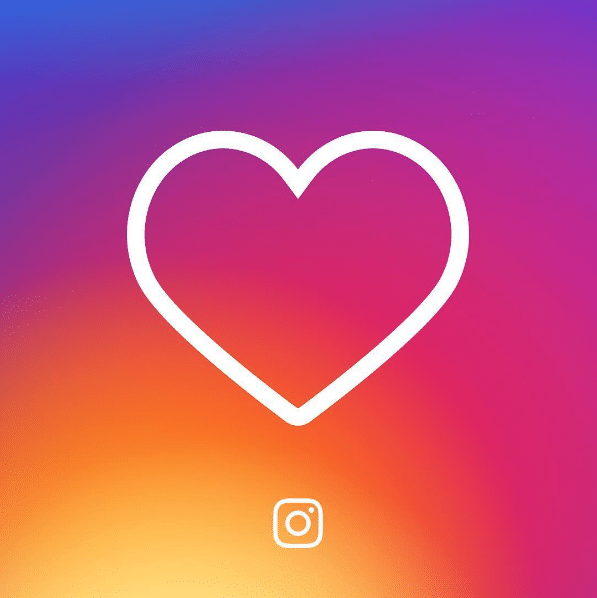 Following the keyword moderation tool that Instagram introduced in September, the ability to turn off comments altogether was meant to make the platform even more positive.
While this feature makes a lot of sense for individual users, for brands it's a bit unethical to block users wanting to express their opinion. And yet, when the feedback includes vulgar words or insults, it's no good to anyone.
Boomerang and Mentions Made Their Way to Instagram Stories
Originally announced on October 21st, 2015, Boomerang from Instagram has finally made its way to Stories on November 10th 2016. Boomerang and Mentions not only make posts more interactive but also improve the way users interact with one another.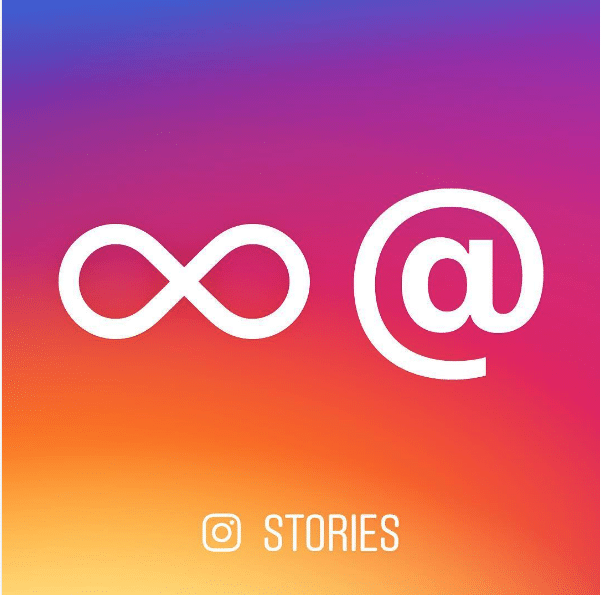 It's no secret that GIFs and short videos keep people glued to their chairs. The looping videos will entertain your audience and will drive them to share the visual content to more people.
Genuineness Increased with Live Video on Instagram Stories
There's an entire post on our blog on why Instagram's Live Video is such a great deal for marketers. Concomitantly, the photo-sharing platform launched disappearing photos and videos in stories.
Live Videos help brands build anticipation, boost brand awareness, provide sneak peeks and give their audiences a look into their organizational culture. Best of all, Instagram's Live Video enables you to act naturally, as there's no script to follow.
Saving Other People's Posts for Later
In mid-December, Instagram offered its users the ability to save other people's posts so that they watch them later.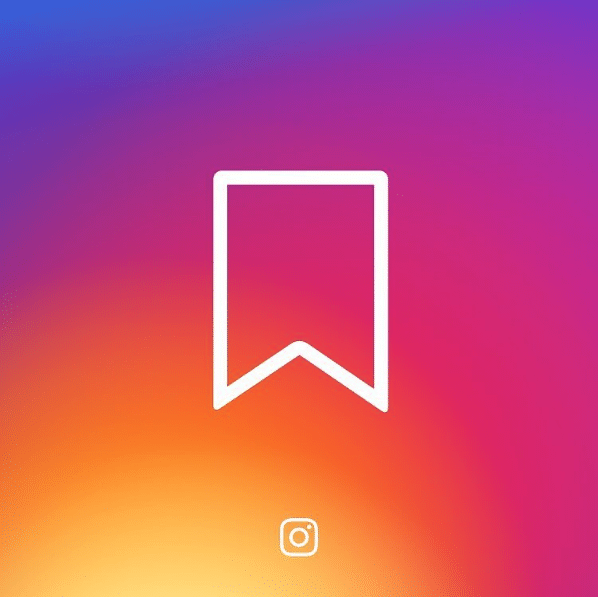 This feature may seem of little use to brands. Still, it enables marketers to save multiple sources of inspiration when they don't have the time to check each of them rigorously.
Holiday Stickers Made Instagram Feel More Festive
The holiday stickers announced by Instagram on December 20 definitely made the platform feel more festive. The update also sparked controversy, seeing as how Snapchat launched a similar feature 5 days prior.
More such stickers will undoubtedly follow for Valentine's Day, Easter and other such important holidays. If your audience celebrates these, trying to establish a connection this way wouldn't hurt.
Ending Thoughts
Facebook, Instagram's parent company, has been trying to buy, copy or kill Snapchat for a very long time. Whenever a new Instagram feature is launched, the world points at the competition and brings copying into discussion. However, Facebook has thinned the line between Messenger and the two photo-sharing platforms, as well. Messenger Day, as one of the new features is called, brings ephemeral content to this app, as well.
Efficient Social Media Communications With Swat.io
Which one of these Instagram features would you say had the most impact on the world in 2016? Have you used all of them in your visual marketing campaigns? If not, it's time to reconsider your strategy.