A New Login for Swat.io!
When we first started to work on Swat.io in 2012, the app was planned to be an in-house, Facebook-only monitoring tool for ourselves and some select partners. Given our agency's background in the development of Facebook Marketing apps, it was pretty obvious to choose Facebook Login (then "Connect") as the method of authorization for Swat.io users. Fast-forward 2 years and Swat.io has become a cross-platform social media management tool that is widely used among a wide range of companies – startups, agencies, and enterprises. It soon was pretty clear something had to be changed about login…

Why we are changing the Swat.io-Login:
Currently, an active Facebook Account is the only way to login to Swat.io. While this is fine for most of us, there are still companies or industries where the use of Facebook in the workplace is strictly limited. Some users simply might not like to use their private Facebook accounts for work. Also, our current login depends on the Facebook API – if Facebook or the Facebook API is unavailable (yeah, it happened before), your ability to login to Swat.io might be affected.
How you'll set your initial password:
1. Email invitations to reset your passwords will be sent out to all Swat.io users in the morning of Tuesday, November 4th!
The email (pictured below) contains a unique link for each user and will be sent to the email address set in your current Swat.io account.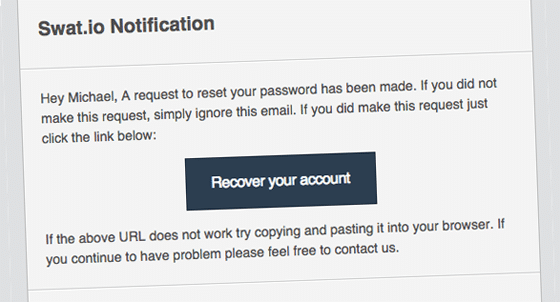 2. To set your password, just click the button "Recover your account"! You'll be redirected to Swat.io and are asked to enter your password. Please enter a secure password (min. 8 characters in length, with at least one alphabetic & numeric character each) and confirm!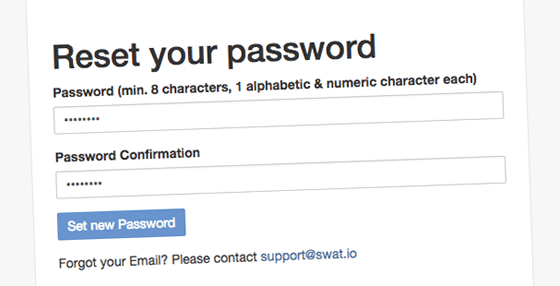 3. Done! You are now able to login with your email/password!
Summary:
Facebook Login will be discontinued & replaced by email/password login coming
Tuesday, November 4th. All existing Swat.io users will receive an invitation email to reset their passwords – after resetting, you can immediately start logging in with your email/password!