February's Best Social Media Management Tips
February was a very interesting month in terms of social media. In the first half, companies put all their efforts into creating social media campaigns for Valentine's Day. The other half was dedicated to analysing those campaigns and finding new ways of improving the art of social media management. In this sense, we've made a list with our personal picks in terms of social media management tips given by the pros.
Monitor Trending Hashtags, by Entrepreneur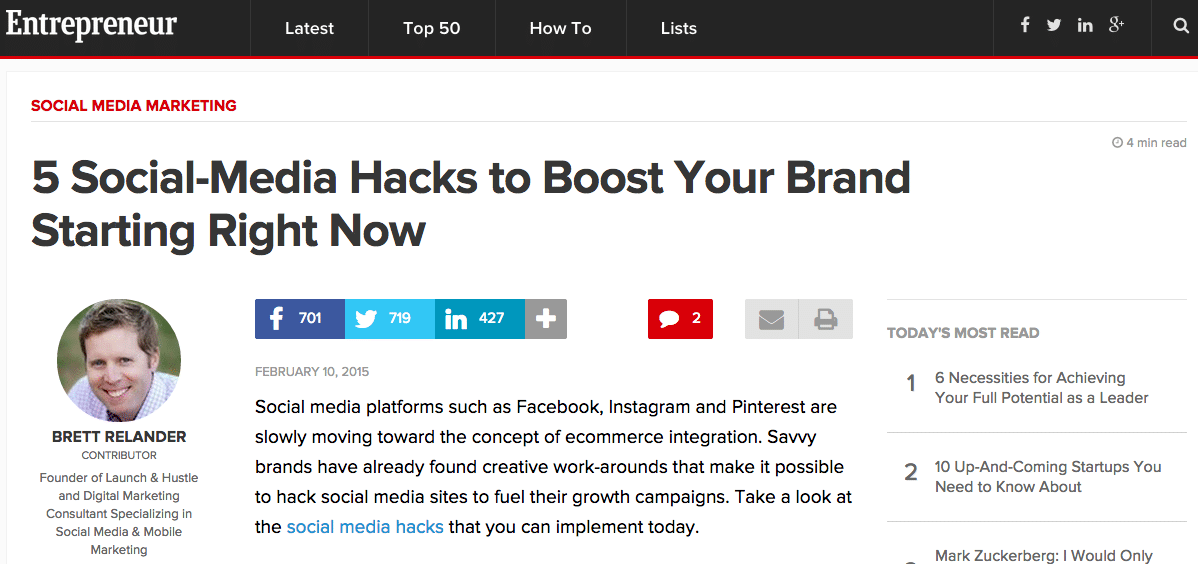 Despite being a daunting task, carefully monitoring trending hashtags can actually provide a gold mine of opportunity. One way of making sure that your social media handle is visible when users search tweets or other posts related to certain topics, is to connect those hashtags with your brand. This move will ultimately enable you to acquire new users. The only condition is to be sure you actually understand what the hashtag is about in order to provide relevancy. Access other social media hacks on Entrepreneur's website.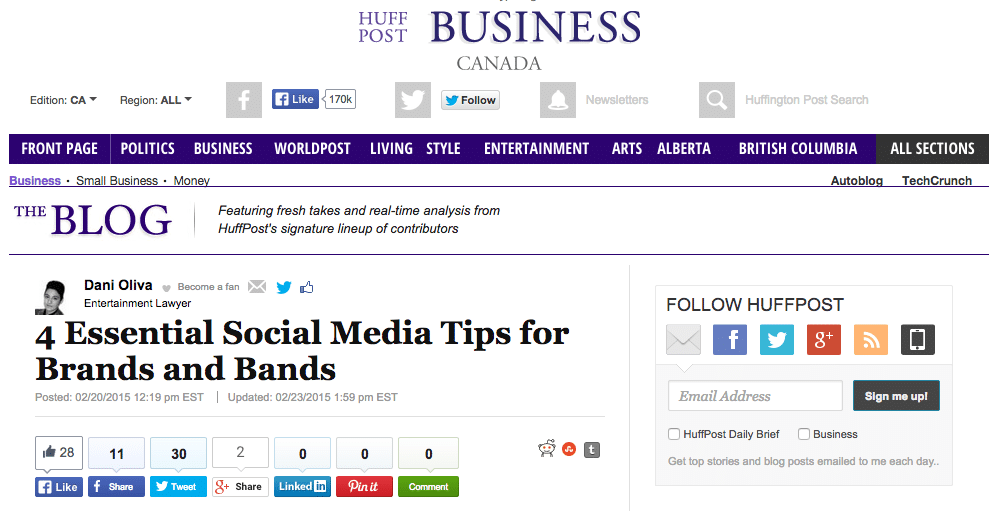 Invest time and resources into creating quality content on a regular basis to keep existing fans interested and make new fans. To make things a bit easier for you, follow this list of Don'ts suggested by Huffington Post:
Don't be the boring status updater.
Don't be the confrontational or the whiny status updater.
Don't be a cyber-troll!
As a final remark, always remember that what matters the most on social media is creating long-term relationships with fans. It's not all about the "Likes". Visit Huff Post's website for other social media tips.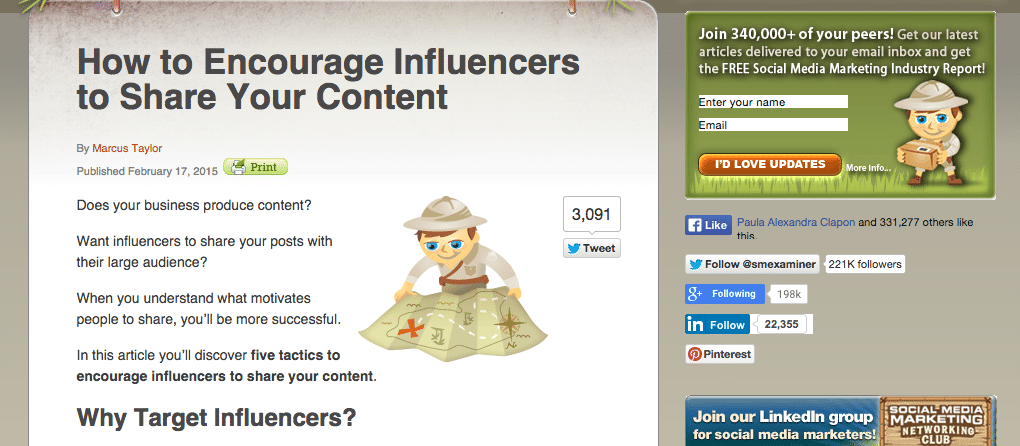 It's been proved that people feel more motivated to share those posts that say good things about them or highlight a positive trait.
That is why creating content that gives a highly regarded brand or influencer free publicity has higher chances of being shared by them and/or their marketing people.
Make sure that influencers know when you have included them in a post. Send them a message through their website or social media network, such as Facebook, Google+ or LinkedIn. Don't forget to also mention their Twitter handle in your tweets.
Since complimentary posts from unbiased sources are likely to get shared, invest time into creating content that inspires brands and influencers to do just that. Want to know of any other tips on how you can encourage influencers to share your content? Read the rest here.
Don't Buy Followers, Likes, or +1s, by Guy Kawasaki

Guy Kawasaki makes it perfectly clear that "only losers and charlatans buy followers, likes, and +1s."
It's true that many people believe that the larger the number of followers, the better. However, a large number of followers is not always a sign of goodness. In many cases, it's pure cheating.
When your followers, likes, and +1s are not "real", be prepared for your social media efforts to fail at delivering relevant results. The act of buying followers, likes, and +1s has no long-term benefits whatsoever. Those followers don't really interact with your content and are not interested in your posts. Read other valuable tips from Guy Kawasaki here.
Forget about B2B and B2C. Replace them with H2H! By Swat.io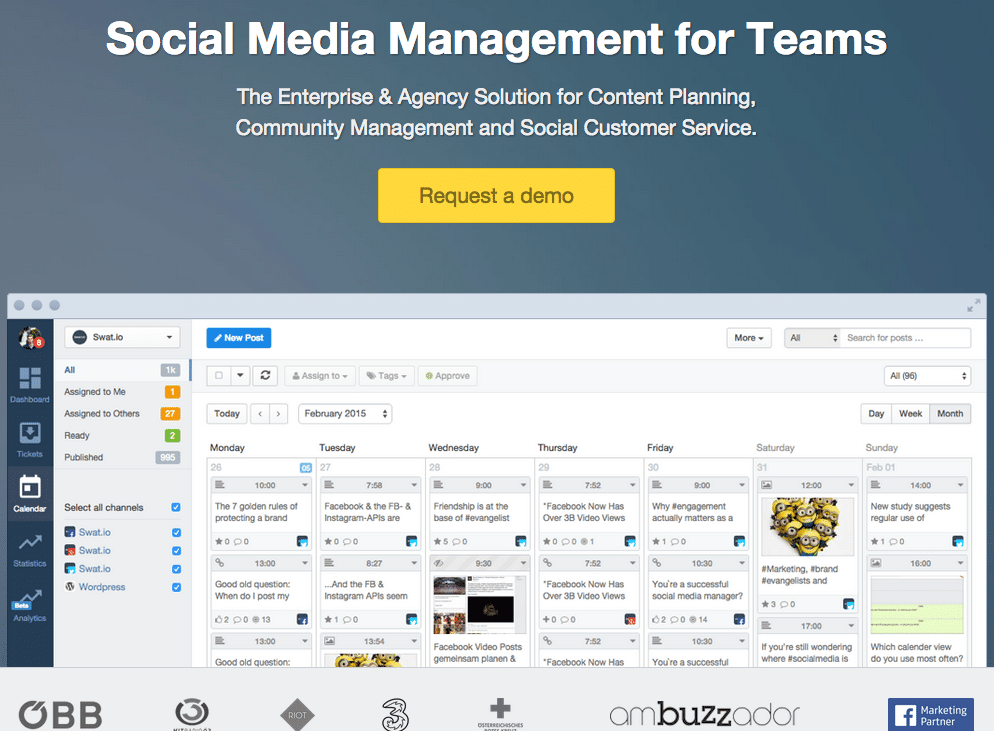 What makes marketing campaigns go viral is the humanizing factor. B2B and B2C are slowly being replaced by H2H (human 2 human). Humanizing is increasingly becoming the main focus of businesses as they begin to understand that nothing can be done without people. At the opposite pole, everything can be done also with people.
In this context, empathy plays a great role. The ability to put yourself in the readers' shoes, identify their needs and expectations and then provide a valuable piece of content that they find helpful and inspiring, are very important steps in any successful marketing strategy.
Start your free Swat.io trial now!
Efficient Social Media Communications With Swat.io
Being interested in the clients has to deal with knowing them and making sure that their needs and expectations are met in the shortest amount of time. In order for your team to achieve this goal, try using a social media community management tool with a ticket inbox that aggregates all community activity, customer requests, complaints etc. in one place and across all your social media channels, with a simple way to forward/assign tickets to members of the team. Read more tips on perfecting your social media community management on Swat.io's website.

If you're aiming to make an impact on social media, originality is your most powerful asset. If you like a certain quote and find it interesting, make sure you add your own comments after posting it on social media. This move is the best way of enriching the content and demonstrating your expertise on the topic. It helps you stand out from the crowd.
Furthermore, if you find another user's posts interesting, don't refrain from starting a conversation with them, reach out and connect! Read more social media management tips on their website.
Get Personal, by Inc.

It takes time and energy but this might actually be the only way to gain real followers. The trick here is that there is no trick. You really need to do your best and provide personal replies, avoid canned responses and put your heart into it. Regard your followers as real people and you will gain more followers simply because you are setting a good example. It's very important for people visiting your feed to see that you are interacting in a real way. Remember to thank people for sharing your posts, send personal messages and invest time in order to find out more about each follower. They will reward you for this! Access Inc.'s website to read more tips on how to gain followers on social media.
And that's about it for this month! Can you think of any other social media management tips you've read about recently? Please share them with us in the comments!