Better Customer Support with our Ticket Inbox 2.1
Just after relaunching the Ticket Inbox – Swat.io's social customer support hub – a few months ago, we immediately started to think about further improvements to this crucial part of our product. We tracked your clicks & did in-depth interviews to get a better understanding of how our users are actually doing customer service on Facebook, Twitter etc. With those learnings we went back to the drawing boards / keyboards. After endless experiments, several rejected UI-iterations & a few broken dreams, we're happy & excited to launch Inbox 2.1 today! Here's what we've changed…
Improving Inbox-Readability : In August we've added lots of data to the inbox – name & profile-photo of sender, tags, no. of comments, channel, timestamp, post-type – everything is responsively displayed in the inbox. While we got great feedback on adding metadata, we also found that certain elements of the inbox were not clearly structured and therefor hard to locate when quickly skimming the screen. Today, after experimenting with countless layouts, we finally believe to have hit the sweetspot: we've switched from 2- to 1-lines-of-text per ticket and vertically adjusted all columns. The result feels much "lighter" and easier to grasp. Of course, the inbox is still fully responsive for mobile consumption!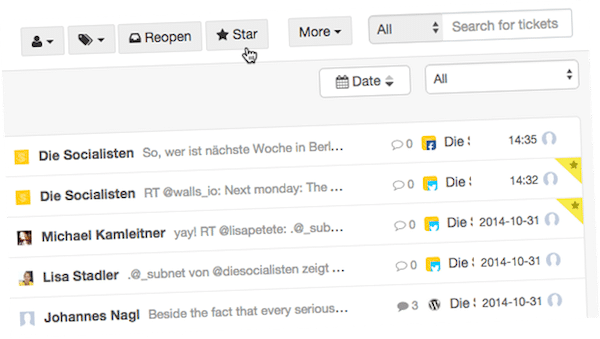 Filter & Sort Tickets: In our customer-interviews we've learned that for some of you, handling private messages can be a quite different beast compared to public posts, comments etc. Private messages tend to be posted by existing and potential customers and therfore deserve special attention (either by prioritising them or by assigning them to a dedicated team member). Knowing this, it was obvious that a filter for public / private messages made sense. And since we were working on that code anyway, we've also added the option to sort tickets by the time of their last activity ascending/descending.
"Starring" your most important Tickets: Not all tickets are generated equally! By "starring" a ticket you can now mark your most important customer requests for yourself and other team members. That customer complaining for the third time in a week? Let's grant her special treatment or assign our most charming customer rep!
Social media is a game changer in how businesses manage customer relationships. Prepare for this challenge with our eBook!
Social Customer Service – The Essentials
Social customer care is quickly becoming a company-wide approach that involves all departments and a common social media engagement strategy. Is your business up for the challenge? Download our eBook today to find out!
That's it with Inbox 2.1! If you think "well nice, but hardly revolutionary" – you're absolutely right! Since Inbox 2.0 was such a solid foundation, we can now implement incremental improvements to make a good thing even better. But, don't take my word on it – instead listen to our customers… 🙂
Not only do we love our customers – they love us too! Thx for the big shout-out, @3oesterreich! pic.twitter.com/JHsbqnpFxP

— Swat.io (@swat_io) October 24, 2014