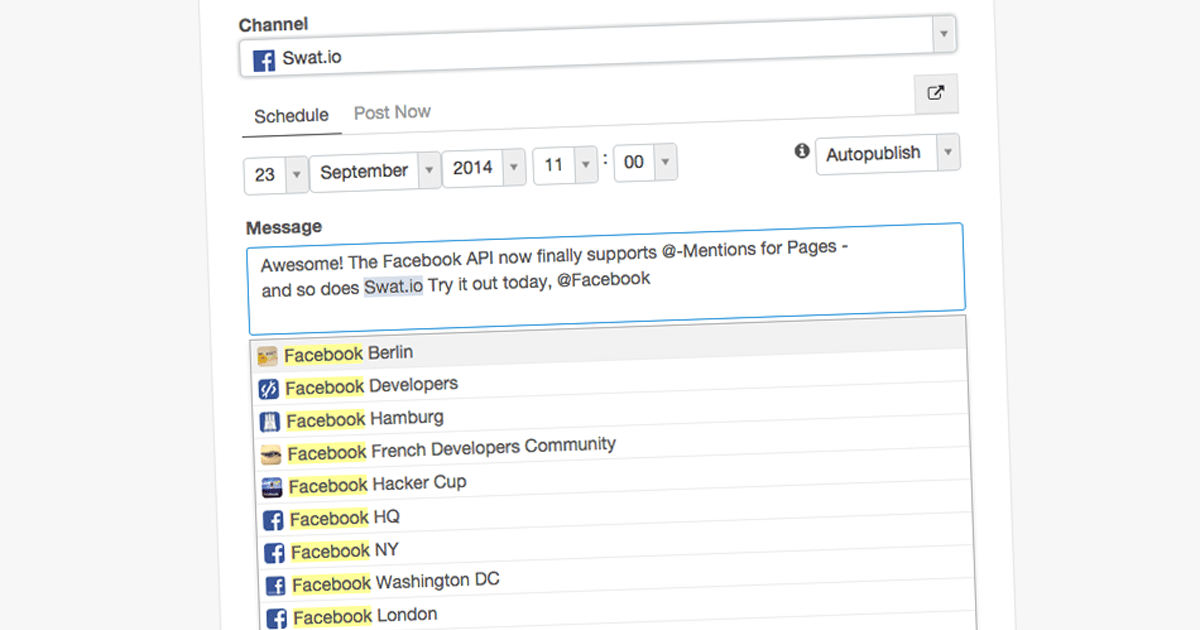 Facebook @-Mentions + Auto-Complete for Twitter/Instagram
@-Mentions. Easily the no. 1 feature requested by our existing user base. For – no exaggeration – years. So when Facebook finally announced their API V2.1 support for @-mentions in August, a collective gasp of relief could be heard among users of professional social media management tools like ours.
Okay, maybe that is exaggerated, but with Swat.io we strive to reach "feature parity" with Facebook.com and other social platforms each and every day. "Feature parity" meaning: you don't have to leave our tool for any kind of social interaction (making your day-to-day life as a social media manager that more convenient). @-Mentions have been a long-time obstacle in reaching feature parity, as it just makes sense for Facebook Page managers to tag/mention other pages (whether they belong to your own brand or not).
@-Mentions for Everyone (on Swat.io)!
So, without further ado: We're happy to announce that as of today, @-Mentions are available to all users of Swat.io! 🙂 Time to pop the champagne everyone! 😉 So, how does it work? Basically we've implemented @-Mentions the same way as you're used to on Facebook.com: when creating a new post on a Facebook channel, just hit the "@"-key to start searching for tag-able Facebook Pages.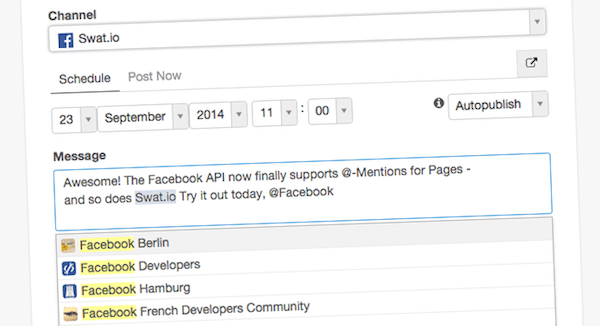 When tagging Facebook Pages, please note that…
Facebook Pages can currently only tag other Pages (not personal profiles)
You don't have to "like" a Page before you can tag it!
Searching for tag-able Pages can be tricky – it definitely helps to know the leading characters of the page's name
@-Mentions for Facebook Pages of course work for posts, but also in comments!

But… What about Twitter & Instagram?
So, Facebook @-Mentions are not your thing at all? Rejoice, we've got something for you Twitter- & Instagram-lovers as well today 🙂 It's called Auto-Complete and it basically works like this: when creating a post, comment or reply, just hit the "@"-key and start searching for the username you want to mention. Simple as that!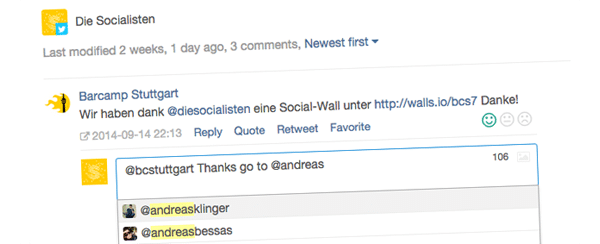 Auto-Complete considers all the people you follow on Twitter or Instagram, plus those already participating in the current conversation. Super-easy, super-convenient 🙂
So. that's @-Mentions and Auto-Complete. We hope, no, we are damn sure that these features will ease your daily social media life 🙂 Have fun mentioning Pages and tagging users – and make sure to give us your feedback on our implementation of these great features – as always, we're happy to get the conversation started!