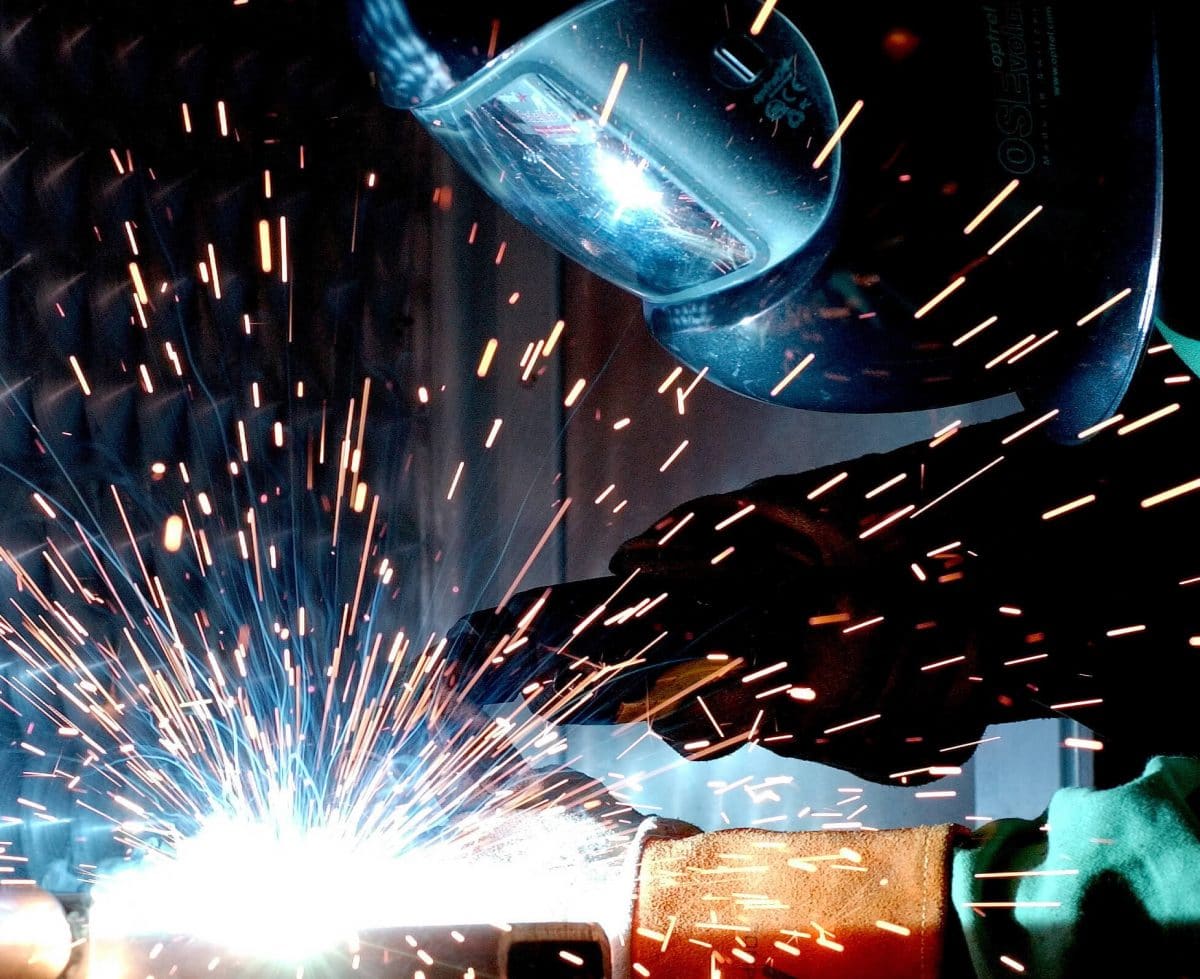 Feature Roundup June 2018 – Swat.io ❤️ Instagram
It's hard to believe – June is over, and with it the first half of 2018! About time for a new feature update, which I have the pleasure to present to you this time instead of Julia (who is enjoying her well-deserved vacation – best regards!). After upgrading the ticket inbox with real-time updates in May, Instagram was once again the focus of our development team's efforts last month!
Since we first launched Instagram support in Swat.io in 2014 (back then only in the ticket inbox – we all had to wait "a few more years" for the Publishing API), Instagram has become the second most popular social media marketing channel after Facebook in our product. Over a thousand Instagram profiles are currently managed in Swat.io – which makes us sure, that many of our users will be happy about the following new features:
Ticket inbox: Terms that should be hidden
Ticket inbox: Moderation filter for comments
Ticket inbox: Reply to comments
Analytics: Reach of your Instagram channel and your posts
Profound knowledge combined with the right tool are the very best prerequisites for success! Check out the new Instagram features on Swat.io and familiarize yourself with your tool in detail!
Ticket Inbox: Moderation Filter for Comments
Yeah, trolls are everywhere. Especially on the internet and social media platforms. Almost on every channel, one or the other feels called upon to leave inappropriate or even abusive comments. Besides just empty messages like *nice*, *awesome* or *love it*, you can also find spam and abuse on Instagram.
Is it boredom, resentment or envy of competitors that motivates users to post content like this? It doesn't matter! The only important thing is, that you have a way to define in advance which content is unwanted in the comments on your profile.
As with Facebook channels, you can now define moderation filters for Instagram channels. With these filters, you specify that comments containing certain keywords should be automatically deleted or hidden. Alternatively, you can be notified of matching comments separately.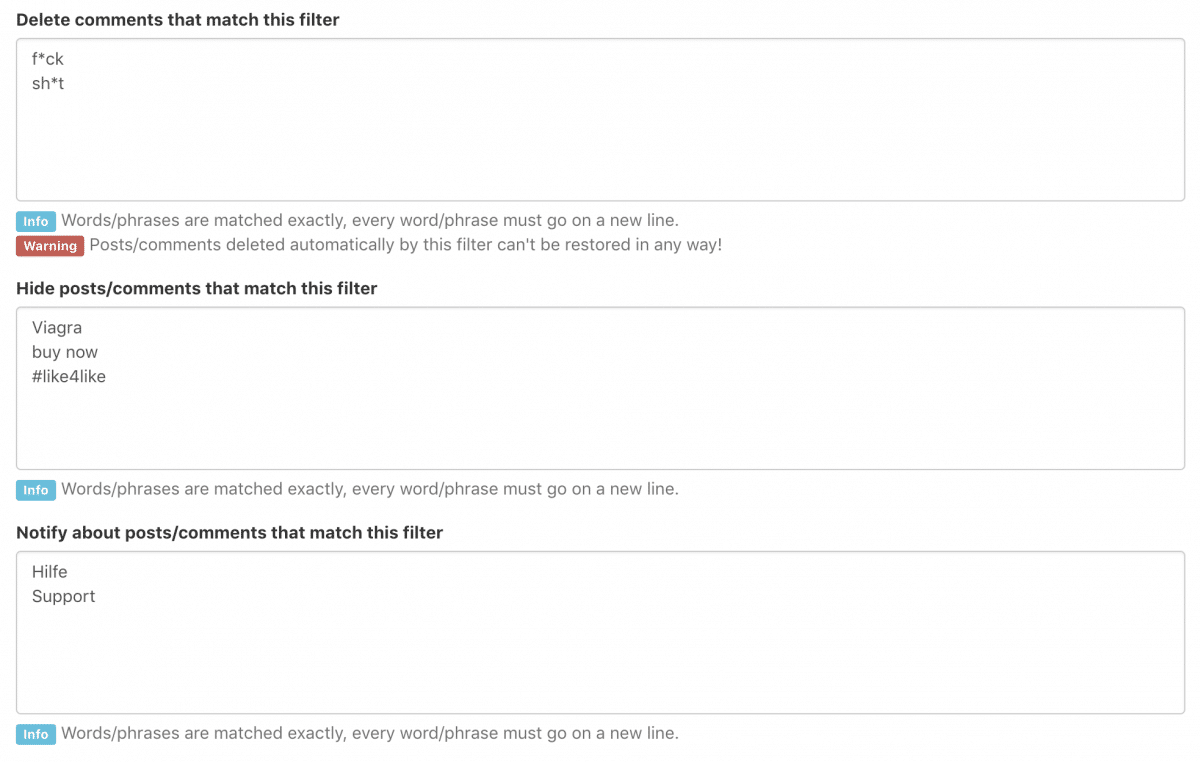 The moderation filters are processed from top to bottom! This means that if a comment contains keywords that occur in several filters, the top filter is effective. In the above example, the comment "f*ck Viagra" is deleted, not just hidden!
Ticket Inbox: Hide Instagram comments
Trolls are creative! No matter how many keywords you put in the moderation filter, it can still happen that some unwanted comment slips through. That's why you can now hide comments manually in the ticket inbox! If you change your mind, there is also the option to undo it.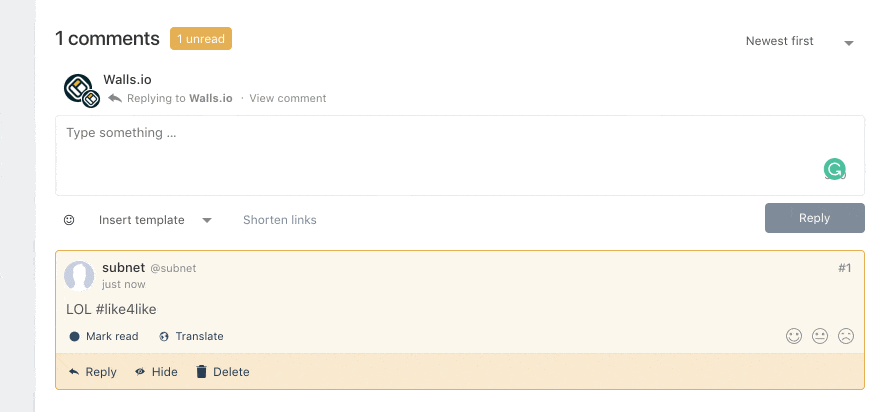 Note: Wondering why this is necessary? After all, you could delete the comment. The ingenious thing about it is that the user does not realize that his comment is no longer visible to others. Consequently, no complaint awaits you and the user may keep their thoughts to themselves the next time around if they realize that there are no reactions from other users.
Ticket Inbox: Reply to Comments
This has been possible on Instagram for some time – and thanks to a recent extension of the Instagram API now also in your Swat.io Inbox: replying to comments ("second-level-comments")! This makes Instagram conversations easier to understand and read. This GIF shows you how it works!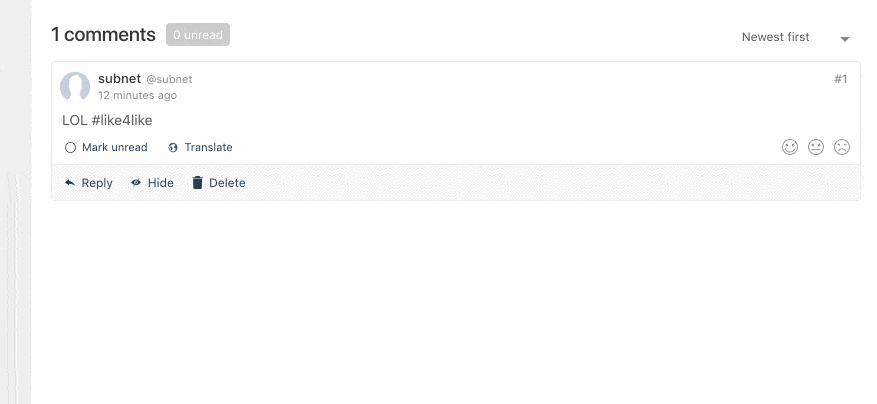 Note: Unfortunately, Instagram does not allow replies to comments if you were tagged because of a mention. So if you miss the "Reply" link on individual Instagram posts, it's probably because of that!
Analytics: Reach of your Instagram Channel and Posts
The reach of your published content is rightfully one of the most important KPIs for measuring the success of your social media strategy. Up until now, you had to laboriously explore these numbers through the Instagram app. Thanks to another API extension (yes, the developers at Instagram have been busy! ????) we can now show you the reach of your content in Swat.io – at both post and channel level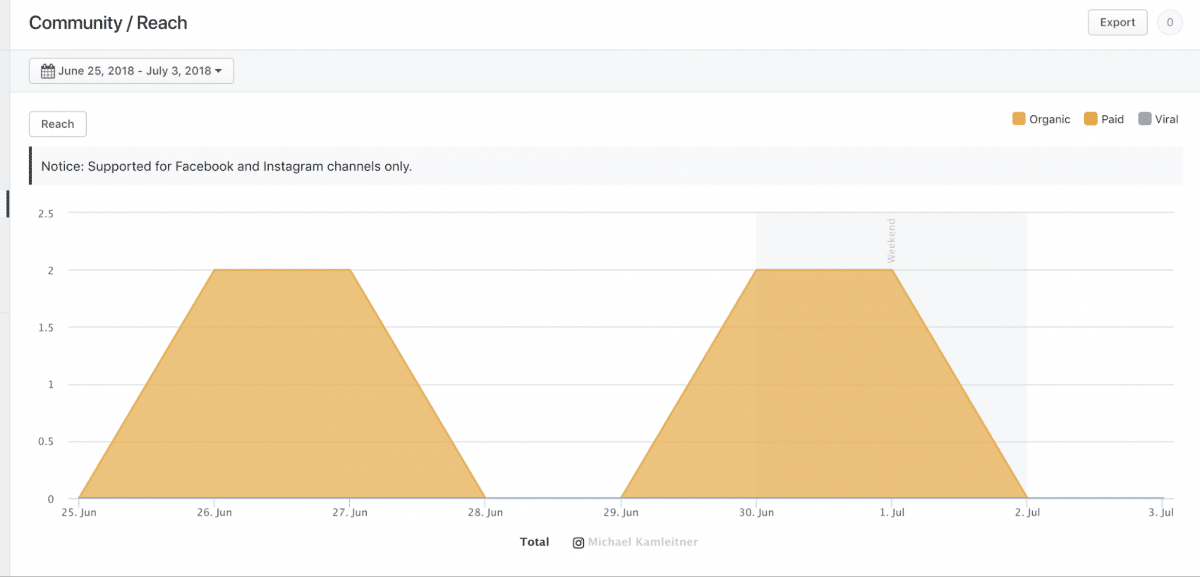 Conclusion
So that was it, June at Swat.io! We hope that our Instagram focus will make your work on this social media platform easier! As always we are happy about feedback and feature requests of all kinds! This is all the more true as this is already the sixth edition of our feature roundup – halfway through 2018, so to speak! We wish you a cool, exciting, relaxing summer ☀️and hope that you are already looking forward to our next update!
Efficient Social Media Communications With Swat.io