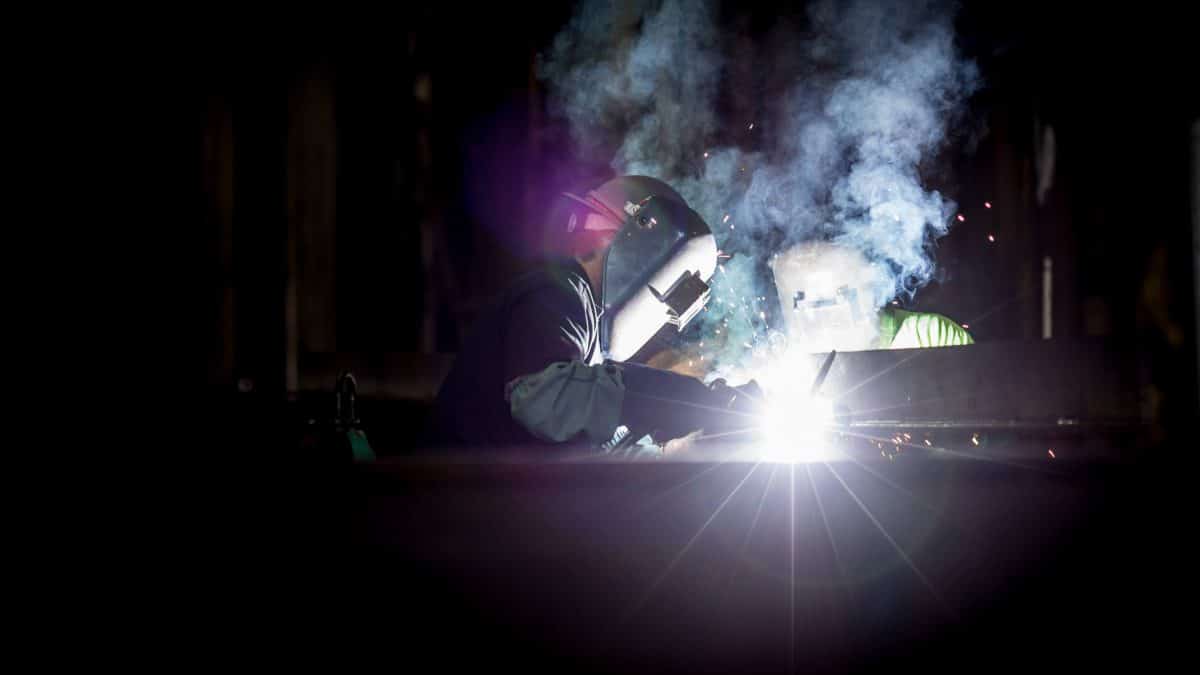 Feature Update April 2018 – Keyboard Shortcuts and Post Hover Cards in the Content Calendar
It's time again: also this month I am back with the latest Swat.io product news! In March, we were pleased to receive the profile hover card, geotagging on Instagram posts, adding tags when planning posts and photo-posts on LinkedIn. This month our team was not only busy with new developments but also invested a lot of time and energy in existing features due to numerous changes to the interfaces (APIs) of Facebook and Instagram.
April at Swat.io holds the following updates for you:
keyboard shortcuts,
and post hover cards on the calendar.
We also want to update you on our GDPR readiness and the impact of the Facebook and Instagram API changes.
Keyboard shortcuts in Swat.io – Faster than the mouse allows
I personally am a huge fan of shortcuts – navigating through a web application with just a few key combinations simply saves time! That's why we're so happy to introduce you to the new feature. Shortcuts allow you to perform common mouse activities faster and without clicking.
Don't worry, you don't have to know the shortcuts by heart. Just press "Shift + ?" on your keyboard and the following cheat sheet with the Swat.io shortcuts opens. You can close the shortcut overview with the escape key.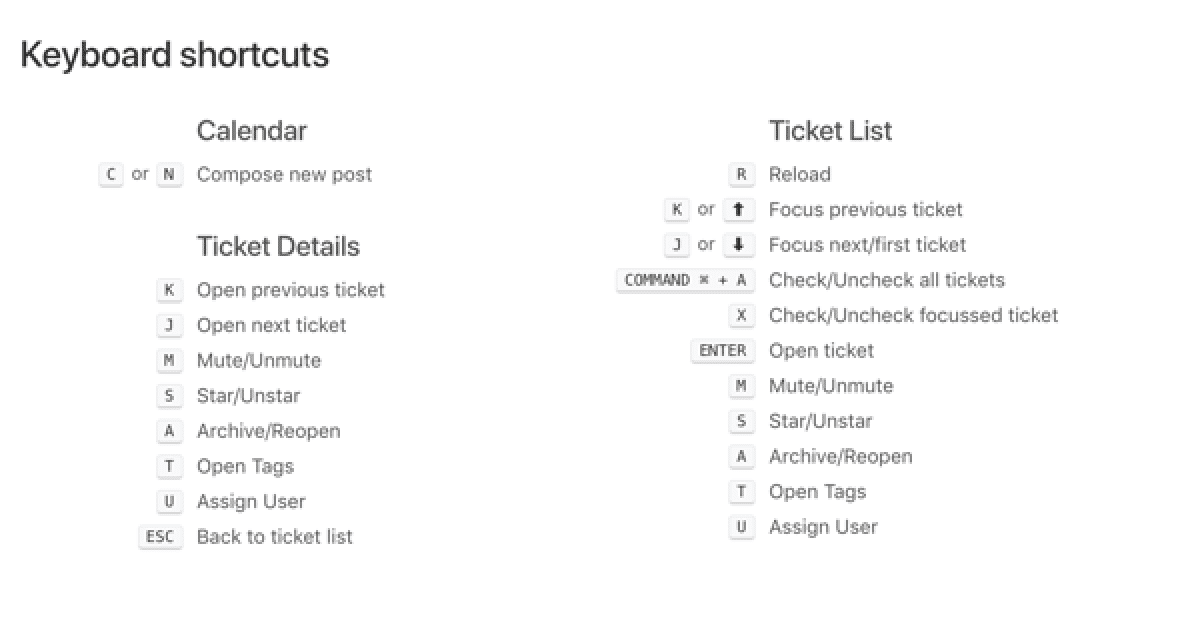 For the start we have added shortcuts to the calendar, the ticket inbox and the ticket detail view.
Begin with this in the ticket inbox and select tickets with the "arrow down key" or the "J – key". From this point, you can easily navigate through the list using the arrow keys or "J/K".
With the "X – key" you can mark the selected ticket or undo the selection. In this way, you can also select several tickets and archive them in groups, for example.
Note: For Windows users, other shortcuts apply. However, these also open with the key combination "Shift +?".
These links work both in the ticket inbox and in the detailed view:
"S" Star/Unstar
"M" Mute/Unmute
"A" Archive/Re-open
"T" Open Tags
"U" Assign User
"C" and N" Compose new post (in the calendar)
Note: While entering a text in a text field, the shortcuts in Swat.io do not work. By the way, the key combinations "X", "Enter", "J/K", "Arrows" etc. are reminiscent of those used by Gmail. Gmail users, therefore, have a clear advantage here! 🙂
Bonus: Do you miss a shortcut for a feature you use 1,000 times a day? Let us know at support@swat.io.
Post Hover Cards
Post hover cards appear when you move your mouse cursor over a scheduled or published post in the content calendar. Shortly afterwards, the post hover card opens, which contains important statistics and – if your screen has at least 1200 pixels window width – a complete post preview. The preview includes picture, text, time, publication status and more, just as you are used to from the detailed view in the post since last month.
That's not all! We've also added more Facebook statistics. Once a Facebook post is published, the number of comments and reactions (Love, Like, Wow, Haha, Sad, Angry) also appears.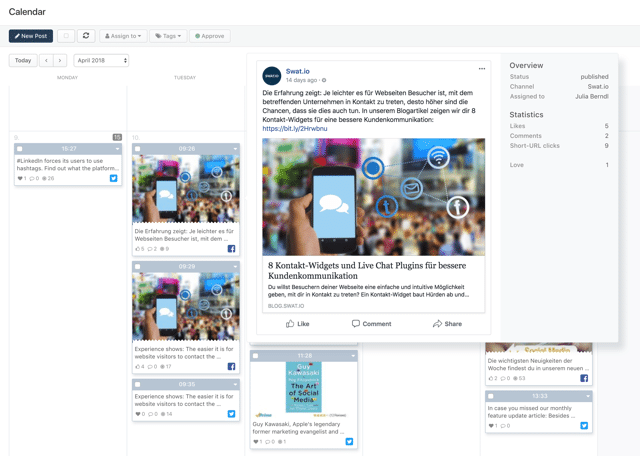 How Swat.io prepares for the GDPR
25.05.2018 is approaching and with it the entry into force of the GDPR. Since we have been working on this topic since 2017 with the support of our external consulting company and its lawyers, we have fortunately already been able to fulfill all points concerning our social media management software and the personal data processed there. Including, among other things:
Adaptation of our application with regard to the principles of the GDPR: We have analyzed all data streams within our app, shortened retention periods for log files, and of course implemented the essential rights granted by the GDPR to individuals. This includes, for example, the right to cancellation and the right to information. These adjustments are particularly important to you, as you are obliged to provide these rights to your community.
We have checked our service providers: As planned, we have concluded order data processing contracts with all relevant sub-data processors (from hosting, via e-mail dispatch, support helpdesk, etc.). The hosting of Swat.io data will, of course, continue to take place exclusively in Europe!
Provision of the DPA contract: We also offer our customers a standard contract for order data processing (DPA), which regulates our cooperation in the sense of the GDPR. You can request this contract by e-mail to privacy@swat.io.
Of course, there are still a few remaining points that are still being worked on, such as the English translation of the DPA. Anyway, we will be ready for 25.05.2018!
These are the effects of the changes to the Instagram & Facebook APIs on Swat.io
As you probably know, social media tools are always dependent on the interfaces of the platforms. Our development team is always striving to make your work with Swat.io as smooth as possible despite the acute changes on the platform side. On our blog, we try to keep you informed about any changes. Last month we published a blog article about the Facebook and Instagram API changes.
The following is a list of the status quo:
Facebook Real-Time Updates are back! Yay! This will provide you with tickets to new posts and comments almost in real time!
Facebook profile images are displayed again. Facebook profile images were not displayed in the Swat.io tickets for a short time.
Facebook profile links no longer work. It is no longer possible to get links to person profiles via the Facebook API, therefore it is no longer possible to link directly to them via 3rd party tools. A workaround for this is to use the link to a Facebook post or comment via Swat.io and then navigate to the desired profile on Facebook.
Page tagging in Composer: Previously it was possible to tag Facebook pages by typing an @ sign plus the name of a page in Composer. At the moment there is a small change: After entering the @-sign in the composer, a pop-up opens automatically. There you can enter the link to a Facebook page and tag it in the text.
Facebook targeting capabilities in Composer will soon be limited:

The maximum age will no longer be selectable. The minimum age will be limited to 13, 17, 18, 19 or 21 years (selection of e.g. 14 or 22 years is no longer allowed).
Gender targeting will be removed.
Targeting by language will be removed.
As you can read here, the changes will take effect in about 90 days.

Due to changes in the Instagram API, we now get fewer monitoring results.
Conclusion
April was an exciting month with various API changes on Facebook and Instagram, but also the new feature announcements at the annual Facebook Developer Conference. At Swat.io, of course, we were also concerned about these adjustments. Nevertheless, our developers have also released new features. We can be very proud of this! 🙂
Have fun with the new features. If you have any questions about the GDPR regulation or the Facebook & Instagram API changes, our support team will be happy to help you.
We look eagerly towards May.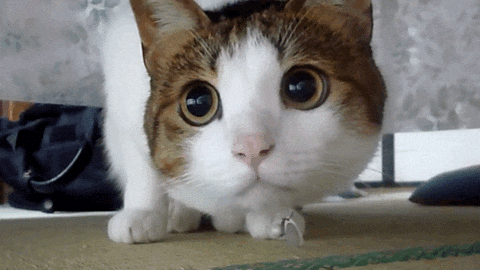 Efficient Social Media Communications With Swat.io