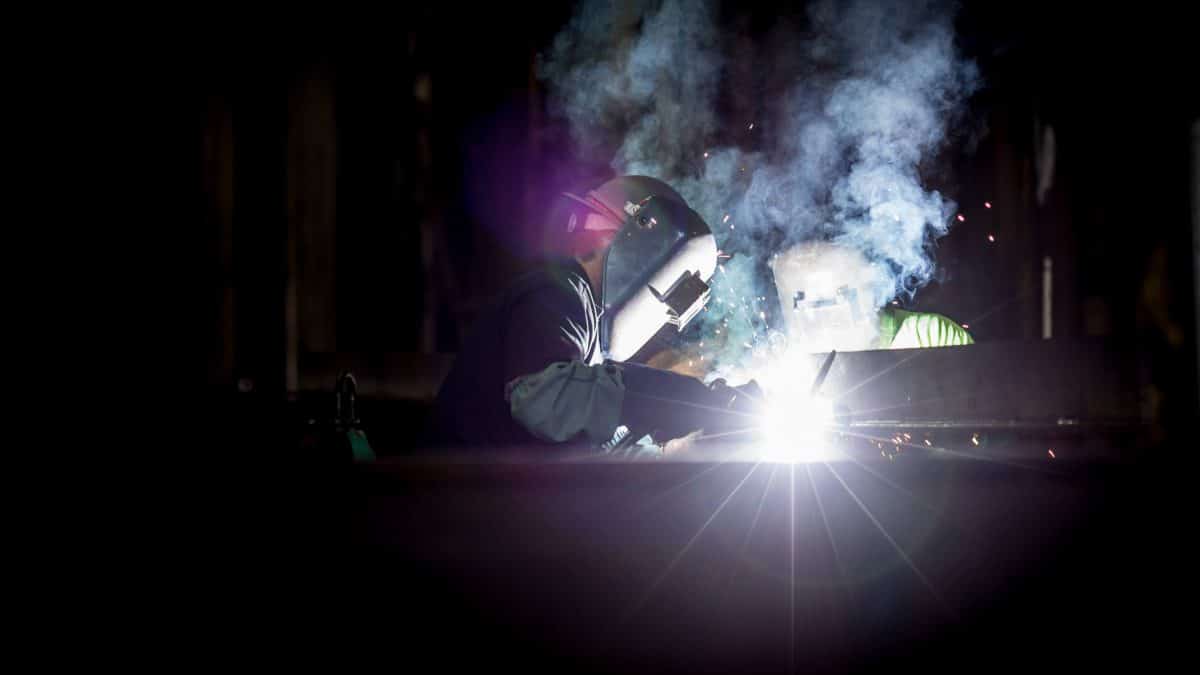 Feature Update August 2018 – Swat.io ❤️ LinkedIn
Last month you could already notice a trace of it when I was able to present the implementation of the new Twitter Enterprise API, Facebook @-Tagging, Facebook video preview in Composer and more. In August it's obvious now: the challenges of API adaptations by Facebook and Instagram are over, so our development team is fully focused on developing new features for you. The result is a multitude of cool features that sweeten your daily work routine.
The feature sweeties in August:
Meet us at Dmexco and get a little surprise!
Swat.io loves LinkedIn, because from now on we support:

Comments in Tickets
Post import to the Swat.io calendar
The possibility to mark pages

Facebooks reviews of company pages have been adjusted.
Publish 360° Facebook videos with Swat.io.
Use the new filter "mark as read".
September preview: Reviews for Google Locations. Add Google as a new channel in Swat.io and get & respond to Google reviews.
Swat.io goes to DMEXCO
DMEXCO (Digital Marketing Expo and Conference) is the largest European trade fair for digital marketing and advertising. With 40,000 visitors, over 550 speakers sharing their know-how on 18 stages, it is the one event no online marketing manager should be missing.
Since DMEXCO is the best opportunity of the year for us to meet existing customers, users and all other "Friends of Swat.io", we have thought of something special for 2018.
We have designed a new Swat.io T-shirt collection for the most typical social media characters. At https://swat.io/dmexco we ask the question "Which social media manager are you?" – find out and pick up your shirt at our booth A54 in hall 7 at DMEXCO!
Register for one of the limited appointments with our team now and benefit from the exclusive advantages!
We also have some exciting new features in our luggage, e.g. we will be happy to tell you which social media platforms Swat.io will support from autumn on!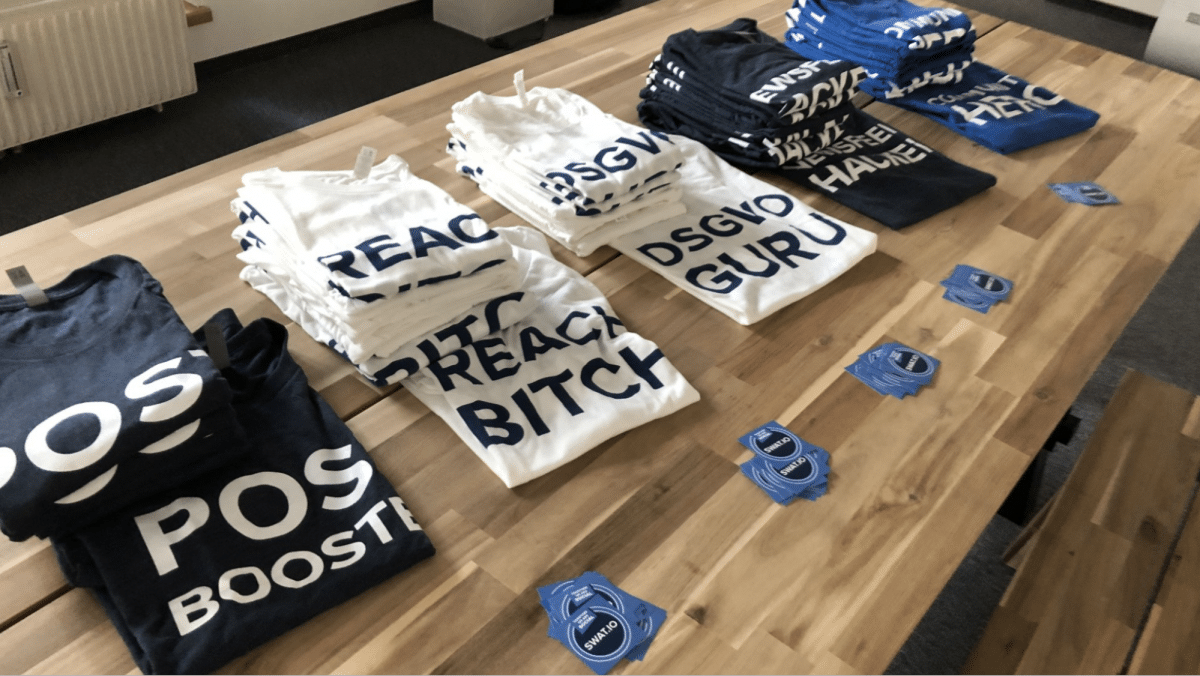 My colleagues Michael, Patrizia, Florian, Lisa and Simon are looking forward to showing you our tool in a live demo and to meeting you personally.
Swat.io <3 LinkedIn
Faithful Swat.io blog readers and eBook consumers may have already suspected it since the publication of our last eBook "B2B Marketing in the LinkedIn Universe. The Comprehensive Guide for Ambitious Companies". Swat.io sees the potential of LinkedIn and the possibilities of social media marketing on this platform. Therefore I am all the more pleased to introduce you the following new Swat.io Features.
B2B Marketing in the LinkedIn Universe – The Comprehensive Guide for Ambitious Companies
Download your free copy of the comprehensive guide for ambitious companies who want to master B2B marketing in the LinkedIn universe. Learn the DNA of LinkedIn's marketing potentials and all the features it provides for businesses, employers and employees. This guide will give you everything you need to setup your B2B marketing strategy on LinkedIn and get results that outperform you competition.
LinkedIn Ticketing
Yes, you can believe it! From now on you will receive LinkedIn tickets in your ticket inbox.
That means in detail:
You will receive comments and answers to your posts.
You can write and publish comments and answers.
You can like and un-like comments.
Importing the LinkedIn posts into the Swat.io calendar
If you don't use our Swat.io tool and publish a post directly on LinkedIn, you still keep track of things thanks to our new feature. We import your LinkedIn posts into the Swat.io calendar. This is how colleagues and your future self who might have forgotten about it otherwise can see that the LinkedIn post planned for Monday has already been published.
@-Mentions
You can now also mention LinkedIn company pages with an @-Mention in your LinkedIn posts, as you are used to from Facebook posts.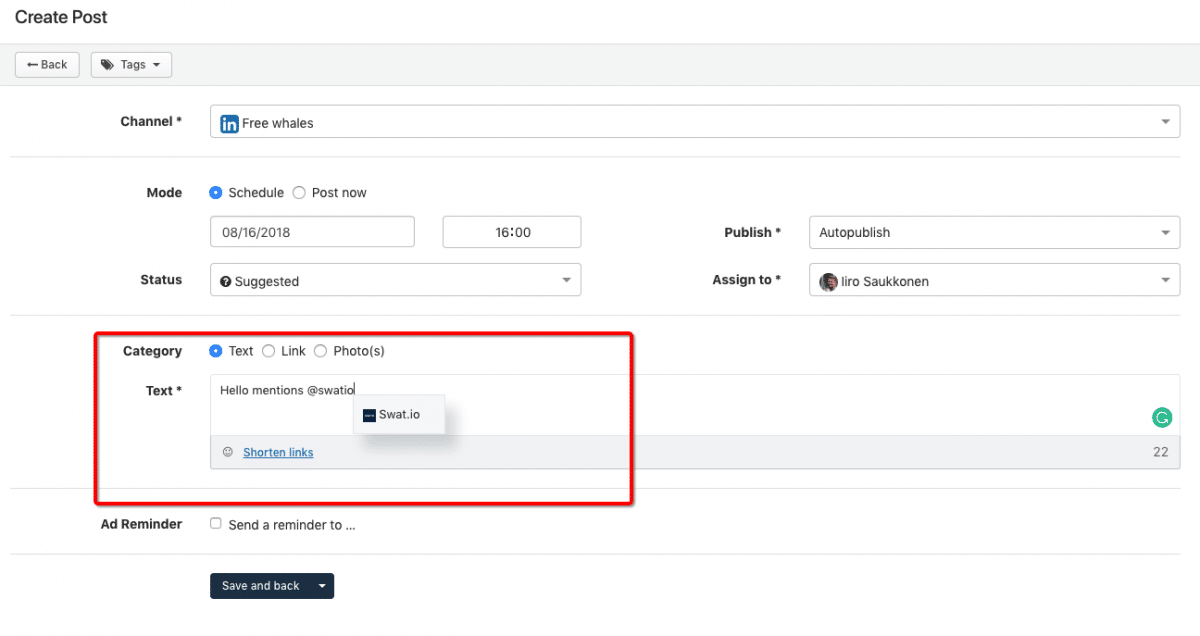 Facebook changes the rating stars on your page
As announced by Facebook in early August, they will rename Facebook Ratings (1-5 stars) into Recommendations (positive, negative). Here you can find the official announcement.
For Swat.io this means:
From now on, we won't be showing 1-5 stars.
We now only display "positive" or "negative".
We migrated all old ratings to the new system (1-3: negative, 4-5: positive).
And this is what it looks like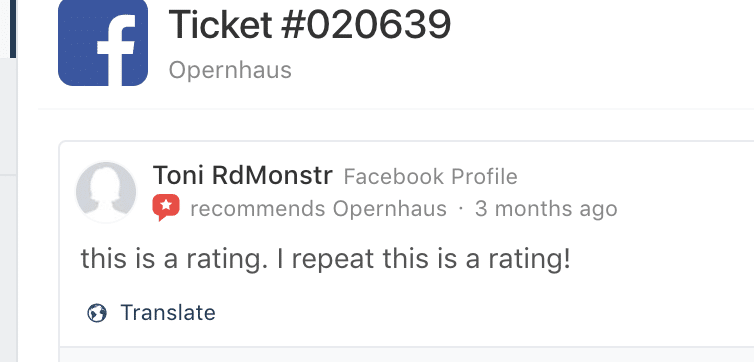 Note: Unfortunately we are not allowed to link Swat.io tickets to reviews with their Facebook pendant. If you click on the time stamp, you will be directed to the rating overview and not to a specific rating. This restriction originates from Facebook itself due to privacy protection concerns.
Publish 360° Facebook videos with Swat.io
Want a new post format? Add a little variety to your content plan with 360° Facebook videos!
Make sure that your video is recorded in 360° mode. The further steps in Swat.io are then simple:
Create a Facebook post.
Select the video post format.
Upload the file with the video recorded in 360° mode.
Check the checkbox "360° Video".
Finally, you can choose the text and title and schedule or publish your video.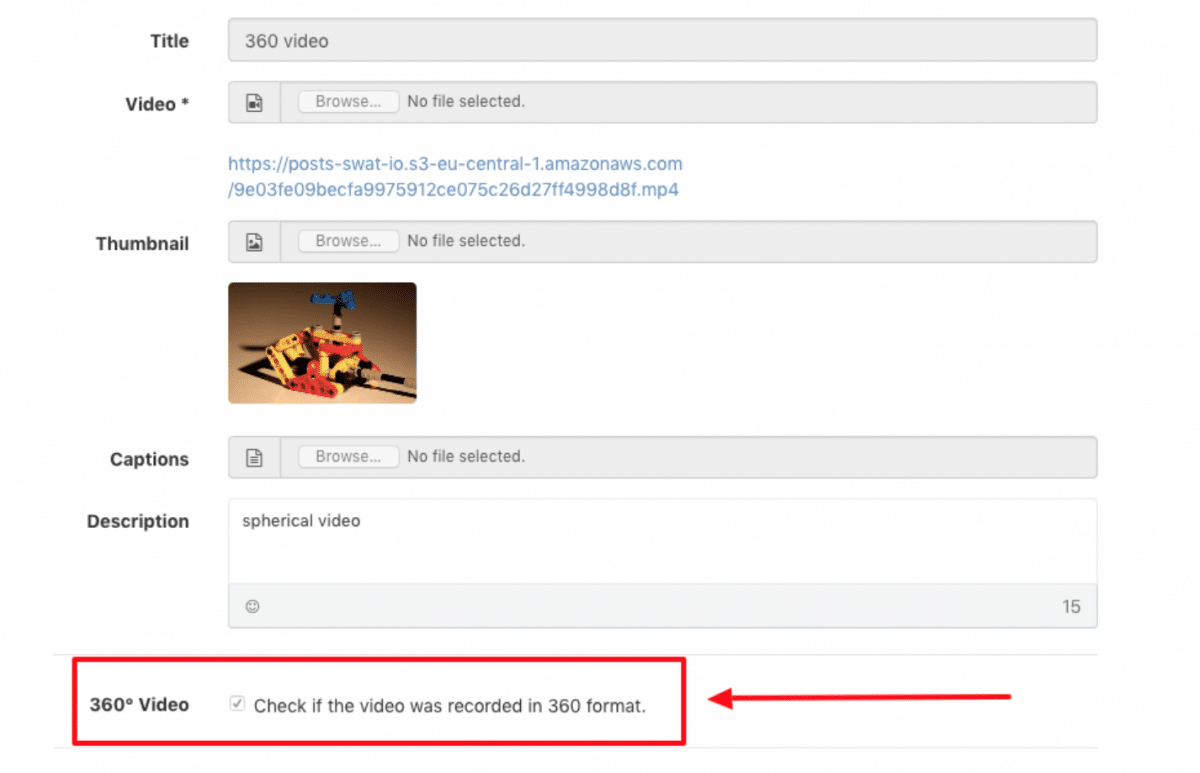 Use the new filter "mark as read"
Filters like "Delete Posts/Comments that match this filter", "Hide Posts/Comments that match this filter" and "Notification of Posts/Comments that match this filter" are already known to us.
The option "Mark comments that match this filter as read" is new.
Like all other filters, you will find this setting option in the settings of the respective channels. Mark as read can be used to mark comments in all types of channels where you can also receive comments, i.e. tickets. Sounds logical, doesn't it? 🙂
If a comment is marked as read due to this filter, the ticket remains archived if there are no other unread comments.
Now you might ask yourself why you could use such a filter? After all, for all marketing experts, community management and interaction with their fans and followers are key to success! This may be true, but there are also cases in which the "mark as read" filter proves to be useful.
For example, the filter can be useful for interaction posts or for comments with topics that are not answered for company policy reasons.
Something for everyone
Whether you're a convinced LinkedIn user or love to get creative when posting new formats, there are features for all Social Media Marketing Managers this month. In September Google fans will be satisfied, because we are expanding Swat.io with a new channel type. Starting next month you can also use Swat.io Ticketing for Google reviews of your company page and answer to those reviews directly via the Ticket Inbox. You will find out in our next feature update which other new features you can expect in September. Stay tuned!
Efficient Social Media Communications With Swat.io