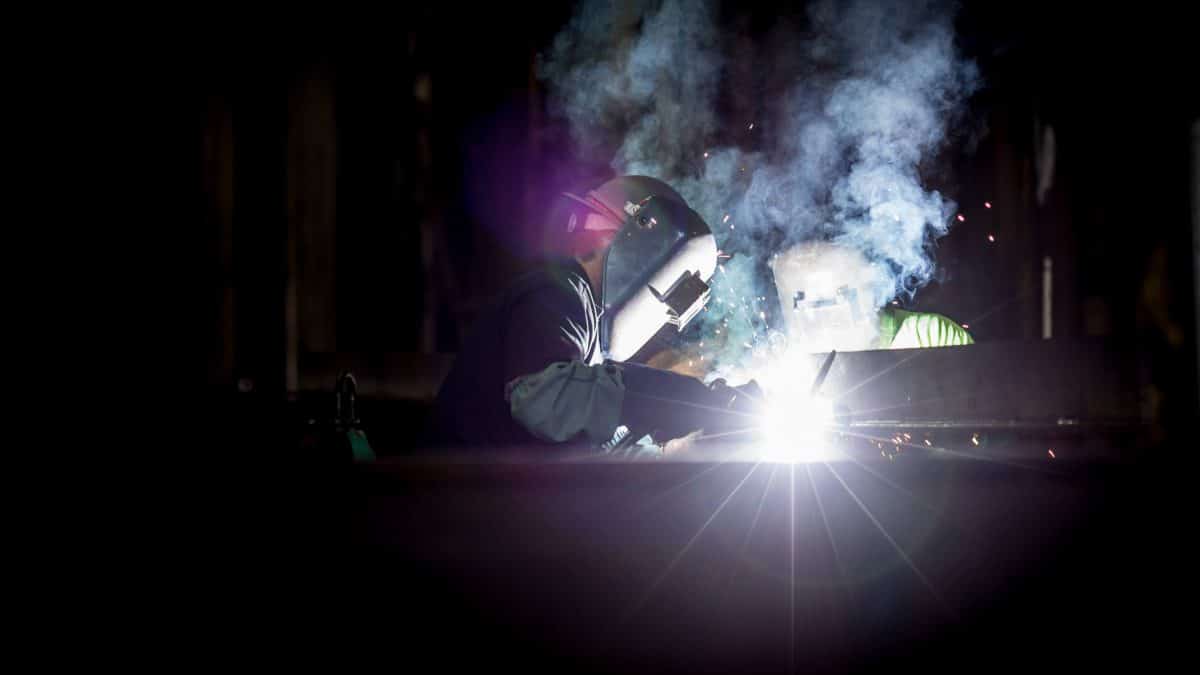 Feature Update February 2018 – LinkedIn Publishing and Improved Monitoring
After the exciting feature updates in January, you're probably already curious about the latest Swat.io features that February has to offer. Last month we were pleased with Instagram Publishing, the Post Preview, Facebook Multi-Picture-Posts and a few new features such as the condensed ticket view and real-time ticket changes.
The Swat.io developer team was very busy in February and has integrated the following features for a better social media management:
Planning and publishing LinkedIn posts for company profiles
Monitoring of web results
Facebook real-time updates
In addition to the new features in February, we also have a little surprise, which we are very happy about! 🙂
Plan and publish on LinkedIn Company Pages with Swat.io
Yeah, you read right! From now on you can plan and publish posts for your LinkedIn company page with Swat.io. We are very happy about this long-awaited feature.
In concrete terms, this means that you can use Swat.io to plan, publish and analyze text and link posts. Published posts will then also appear in the analytics area and you can find there some information about your posts and the growth of your community with historical data.
You're probably itching your fingers already. Start right away and follow these simple steps to integrate your LinkedIn company page:
Go to your Swat.io settings and add channels.
Select LinkedIn and press "Authorize".
You will then be directed to LinkedIn, where you must authenticate Swat.io to allow access your LinkedIn corporate page.
When you do that, you will be led back to Swat.io again.
In the last step, you will see a list of pages from which you can select and add your desired pages.
There is one limitation at the moment: the LinkedIn API does not allow photo postings or managing comments on posts in the ticket inbox.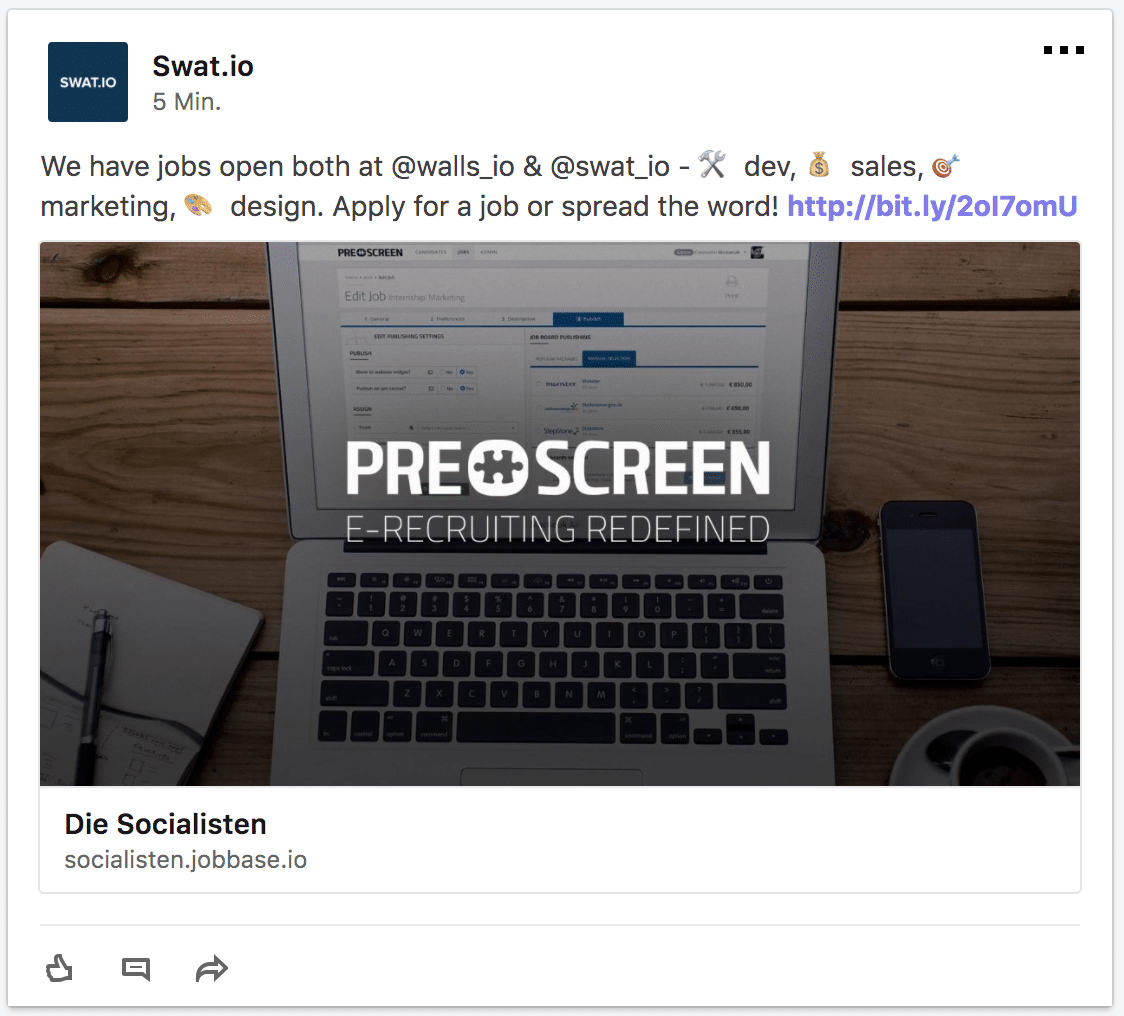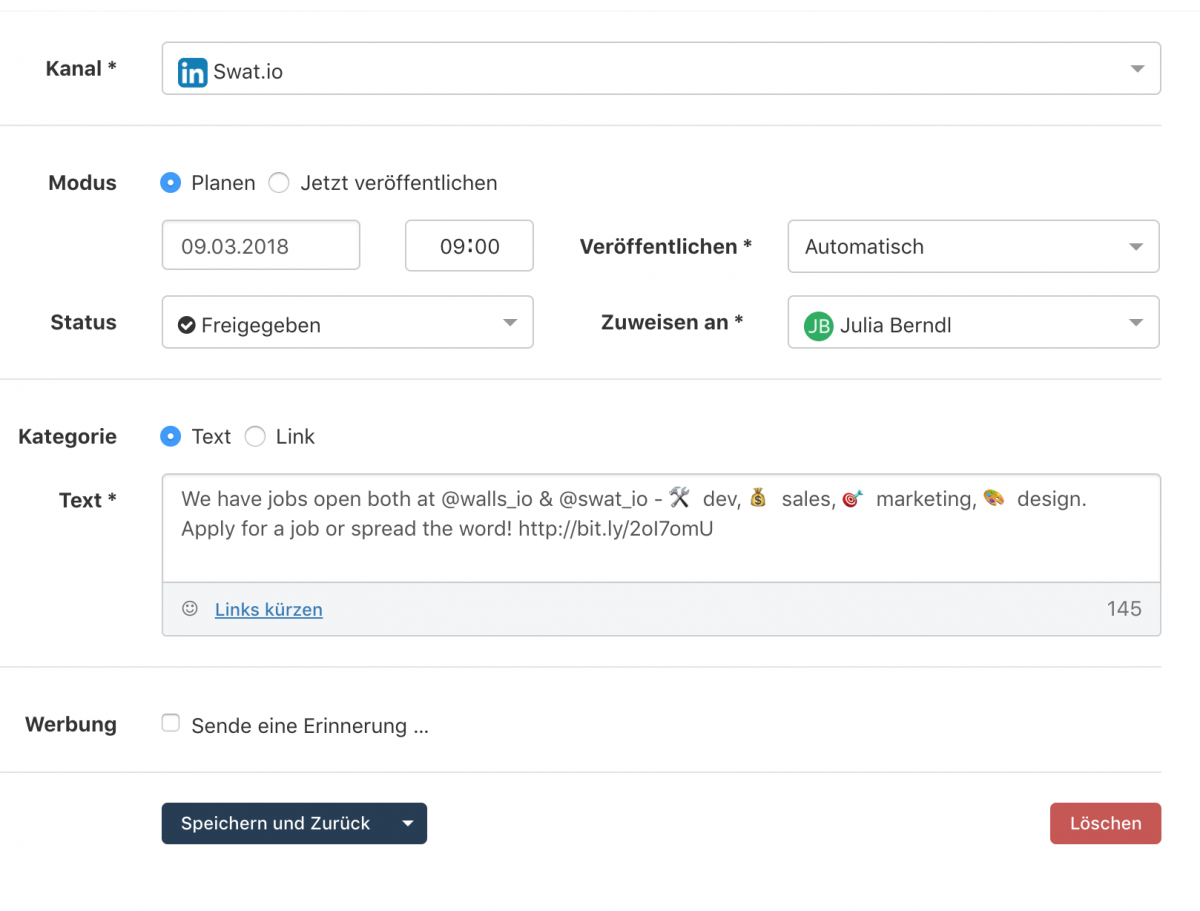 The joy of this new feature that Markus and our Finnish colleague Iiro have developed is great. Many thanks for that or rather: Paljon kiitoksia!
By the way: LinkedIn is steadily gaining users in Germany, Austria and Switzerland and has already caught up its competitor Xing when it comes to user registrations.
Find mentions on the Internet with Swat.io
Since 2017 Swat.io offers Social Media Monitoring. It gives you insights into relevant conversations on Facebook, Twitter, Instagram, Google+ and Youtube. We will now go one step further and let you follow mentions that take place throughout the web.
You will not only receive mentions of your brand or product and company-relevant monitoring keywords in your ticket inbox. It is also possible to actively observe mentions on online magazines, blogs, portals and all other web content and to become active in relevant conversations with the Swat.io Ticket Inbox. All you have to do is check another checkbox and add "Web" as a monitoring channel in your settings.

The settings are identical to the other monitoring channels. Add the channel to your account and define keywords to be found in blog posts, news pages and various other sites. The following example shows you how Web Monitoring works with Swat.io:
If Swat.io finds a page with one of your specified monitoring keywords, you will receive a ticket in your ticket inbox, as in this example with "Rankweil" as keyword.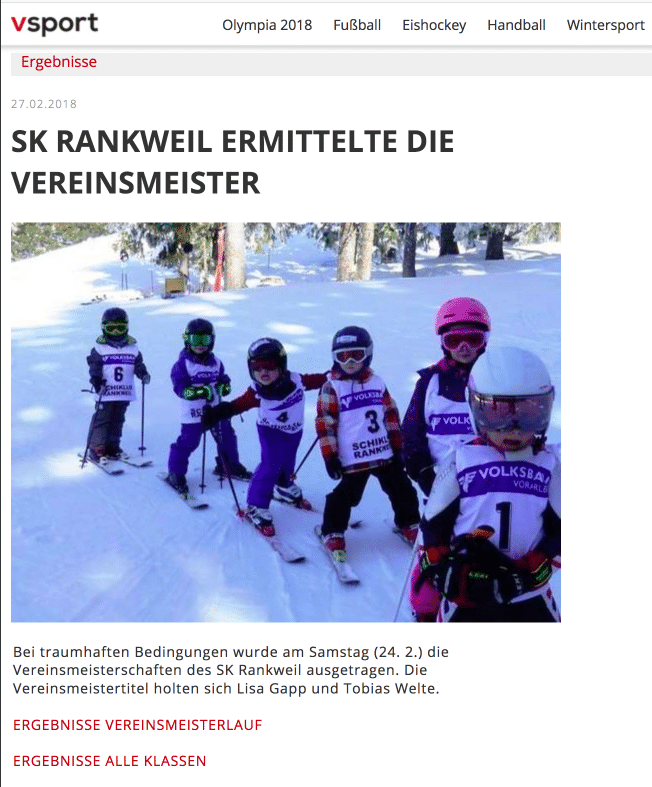 Tip: Try to find specific keywords that match your conversations to the point. Use so-called Long Tail Keywords, which consist of several terms, so that your ticket inbox does not override undesired results (For example, not Apple, but Apple Laptop or Apple PC).
See your Facebook page's mentions in real-time
The new real-time update mainly concerns comments about your site. So far you could only see mentions in posts, with the new update you can also see mentions in posts and comments. And in real-time!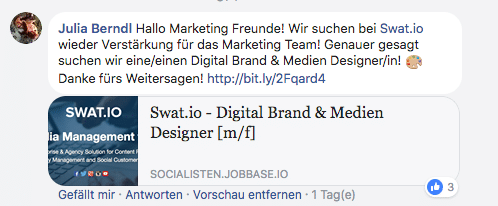 Mentions are then displayed in your ticket inbox as usual with an additional intro text:"This ticket was created because the page got mentioned in comments. Only replies related to those comments are additionally shown.".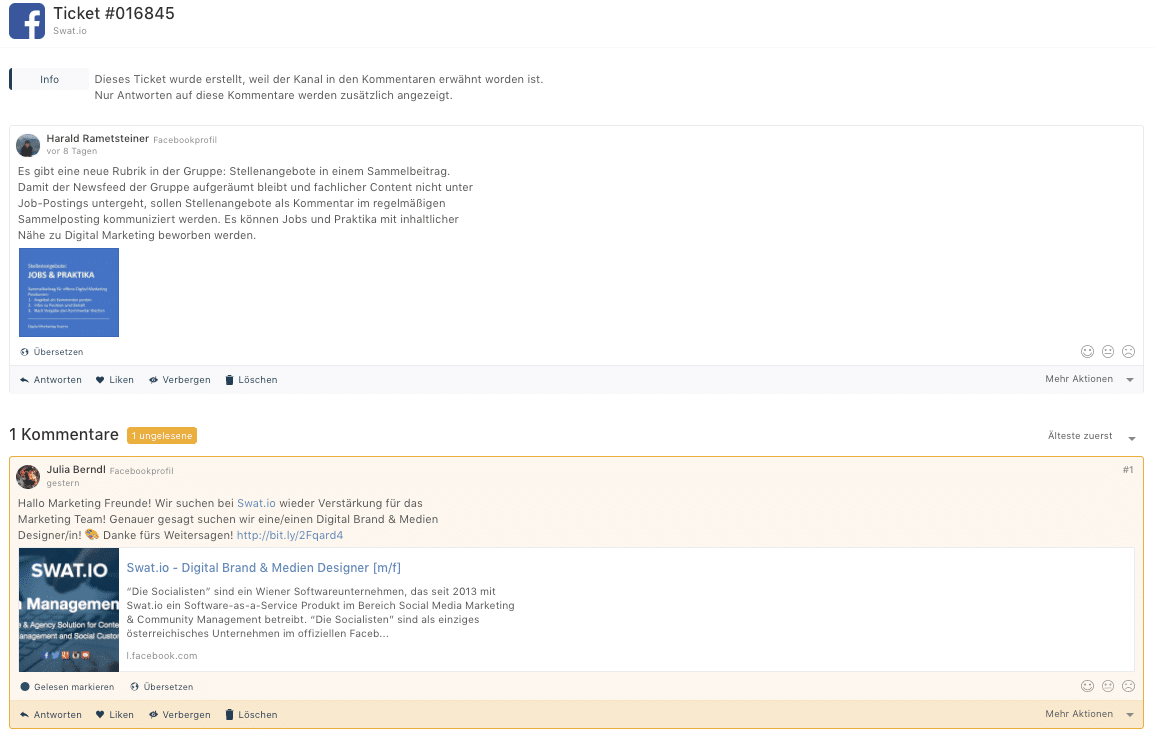 Swat.io is now an official Instagram Partner for Community Management
As already announced in the intro of the blog article we have another reason to celebrate: Swat.io is not only a Facebook Marketing Partner but now also an official Instagram Partner for community management! What does that mean to you? As an Instagram Partner we are informed about the latest best practices, product updates, developer tools and much more. We are convinced that with that we can help you to understand and interact with your community even more efficiently now.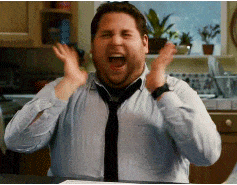 These were the new features in February at Swat.io
At Swat.io we aim to meet the needs of you, our customers. From the very heart of our product to lightning-fast support. That's why your opinion is particularly important to us. Leave us a comment with your feedback. And most importantly: spread the word on Facebook, Twitter, Instagram, and now also on LinkedIn. 😉
Are you not yet a Swat.io customer and would like to become one? Start your free trial now!
As you can see, a lot can change in a month. We never rest on our laurels. On the contrary, we have a lot to do this year. Stay tuned, we'll meet again in April!
Efficient Social Media Communications With Swat.io