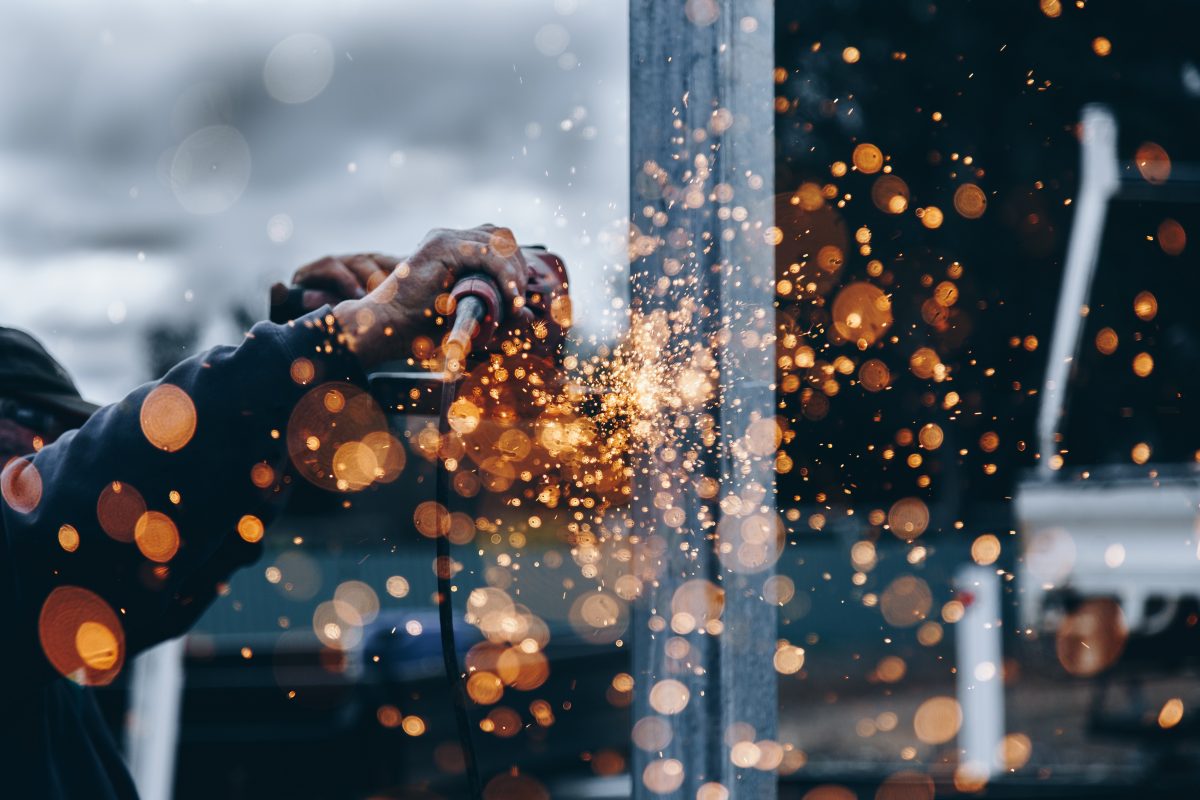 Feature Update February: Here Comes the New Calendar!
Good news from the Swat.io development team: The new calendar is ready for rollout. In today's blog post I can give you all the information about the implementation. In addition to numerous improvements to the calendar, some feature requests from Swat.io customers were implemented as well. Find out which new features will support you with your social media management in the future!
Introduction of the new calendar
After an extensive beta phase, the time has come: We are ready to start the introduction of the new calendar! In order to make your content planning with Swat.io even more easy, the new calendar is set up to be very fast and well arranged. You'll notice some visual and functional differences that will significantly improve your calendar workflow:
tidy design
stacked view of duplicated posts
show and hide weekends
faster duplication of posts
improved release processes
lightning-fast interface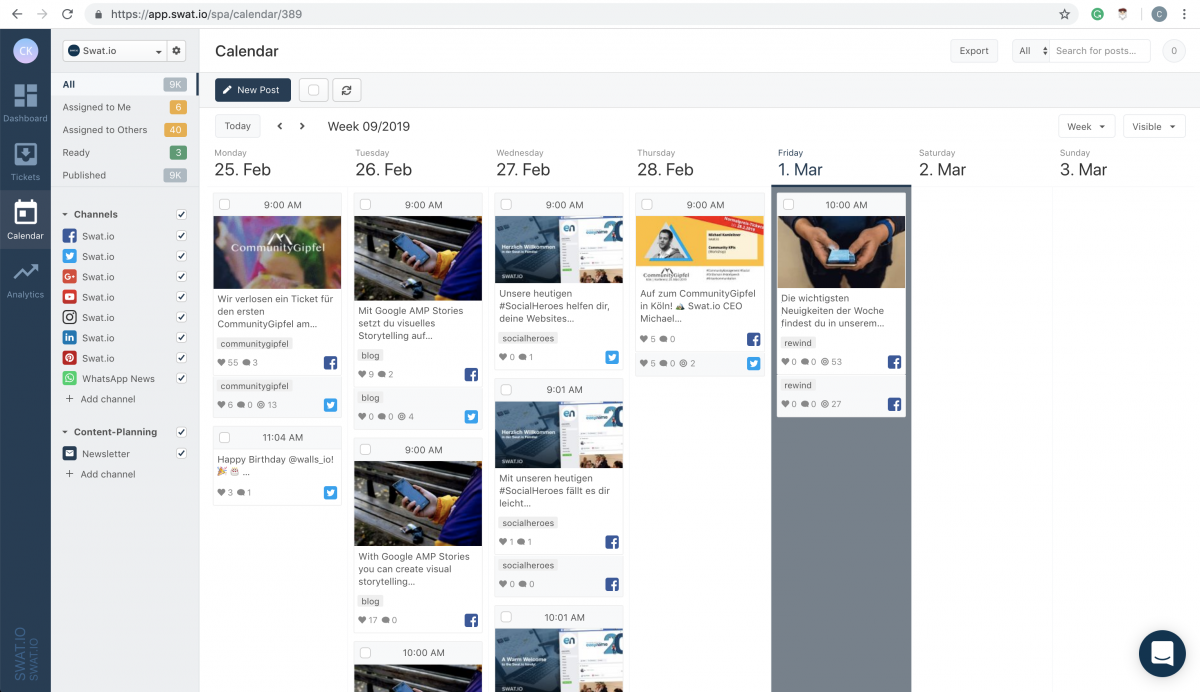 You can read a detailed description of the new features in the Feature Update November Blog Post. But these features are by no means all. In the coming weeks and months, we will gradually add more useful functionality, which we don't want to reveal yet 😉 Stay tuned!
New users who are invited to Swat.io by their team members will now automatically see the new calendar. Existing users will be upgraded step by step, so that within the next two weeks everyone will be switched over to the new calendar. Of course I can understand if you don't want to wait any longer and want to start using the improved calendar right away: You can activate the calendar manually by checking "Enable Calendar Preview" in your account settings.
Our team has put a lot of work into the calendar over the past few months. We're all very excited to see how you like it! If you have feedback for us or happen to stumble across a bug, just contact our support team via the chat icon in the Swat.io app.
A big thank you goes out to all users who have put the calendar through its paces in the past months! With your support we were able to fix some bugs and improve many features.
Highlighting of internal comments on users
We are happy every time we get feedback and wishes about Swat.io. Last month we were again able to implement two of these customer wishes. Even if they are only small details, they will certainly make your social media management with our tool even easier.
The first new feature is the ticket detail view. When a new comment appears, it is often interesting to know whether someone from your team has already written an internal note about this user. Until now, you had to click on the user's name, leave the ticket and check the log manually. From now on, you will see a small icon next to the name if there are internal notes about the user. This will save you some unnecessary clicks!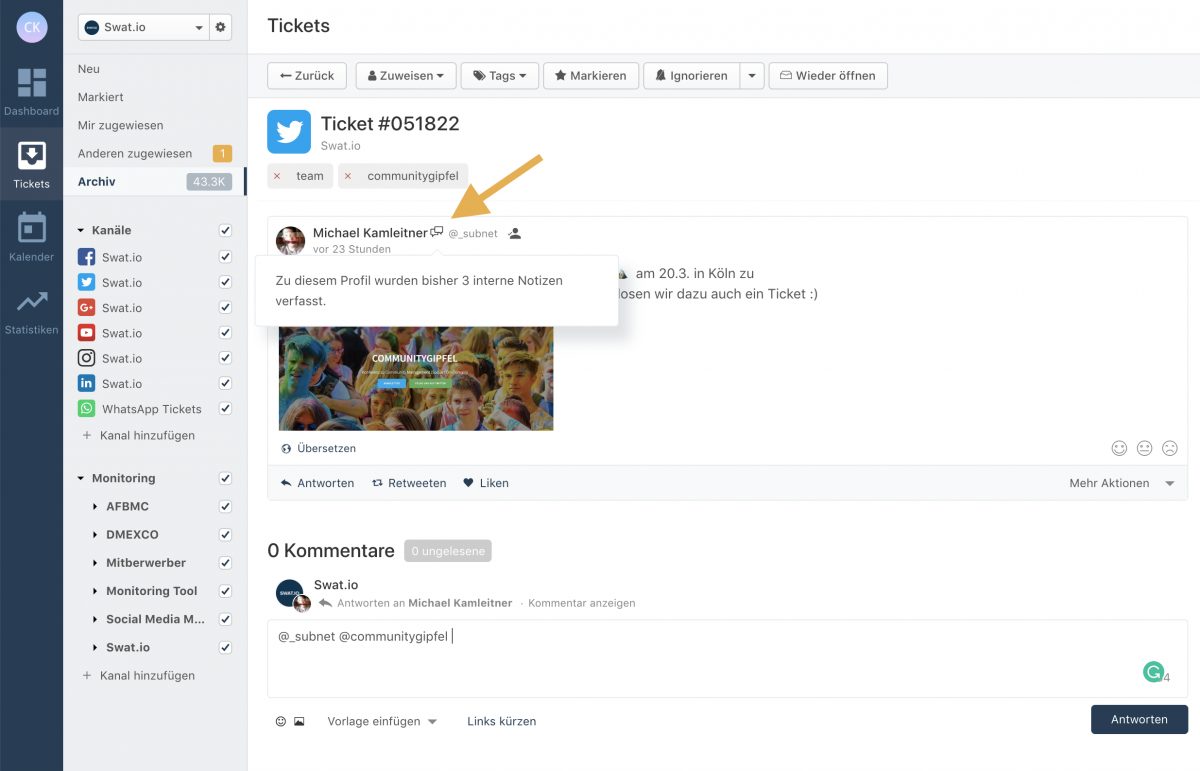 Filter by profile tags
The second small feature, which we implemented in February at the request of our customers: In the Analytics section under Community/People it is now possible to filter by profile tags. If you navigate to the drop-down with "Tags" in this section, the available tags will be displayed.
This is especially useful if you use tags to divide your users into different segments, such as "VIP customer", "Lead", "former customer", "Troll". With the filter you can, for example, display all leads in a clear list. You will then find all people whose profiles have been tagged with "Lead" or who have commented in a ticket tagged with "Lead" in a tidy list of search results.
Let's say you get a direct message from a customer whom you want to add to your lead segment. You can now either tag the customer's profile directly or simply tag the ticket with the direct message et voilà: You can now find the customer in Analytics using the tag filter "Lead".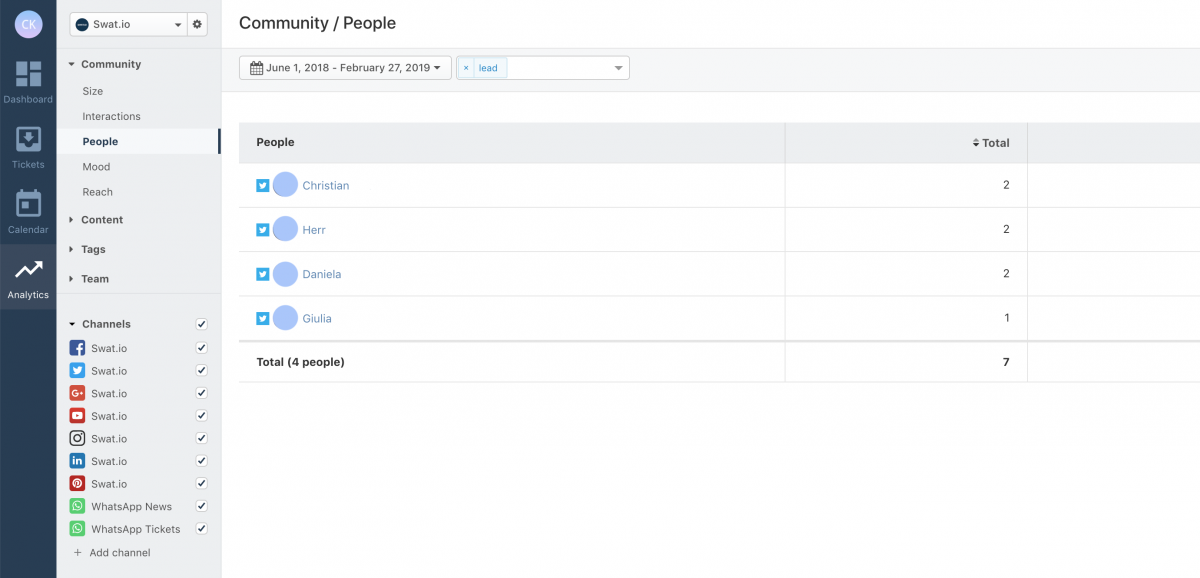 Spoiler Alert: Something big is coming!
Over the past few months, our developers have been busy putting their heads together and developing an extensive feature that we will finally be able to present to you in the next update. So you can look forward to big news from our dev-team soon 🙂 That much can be revealed: As always, our goal is to make your daily work in social media management even easier and more efficient. Look forward to more time saving and improved workflows!
Efficient Social Media Communications With Swat.io