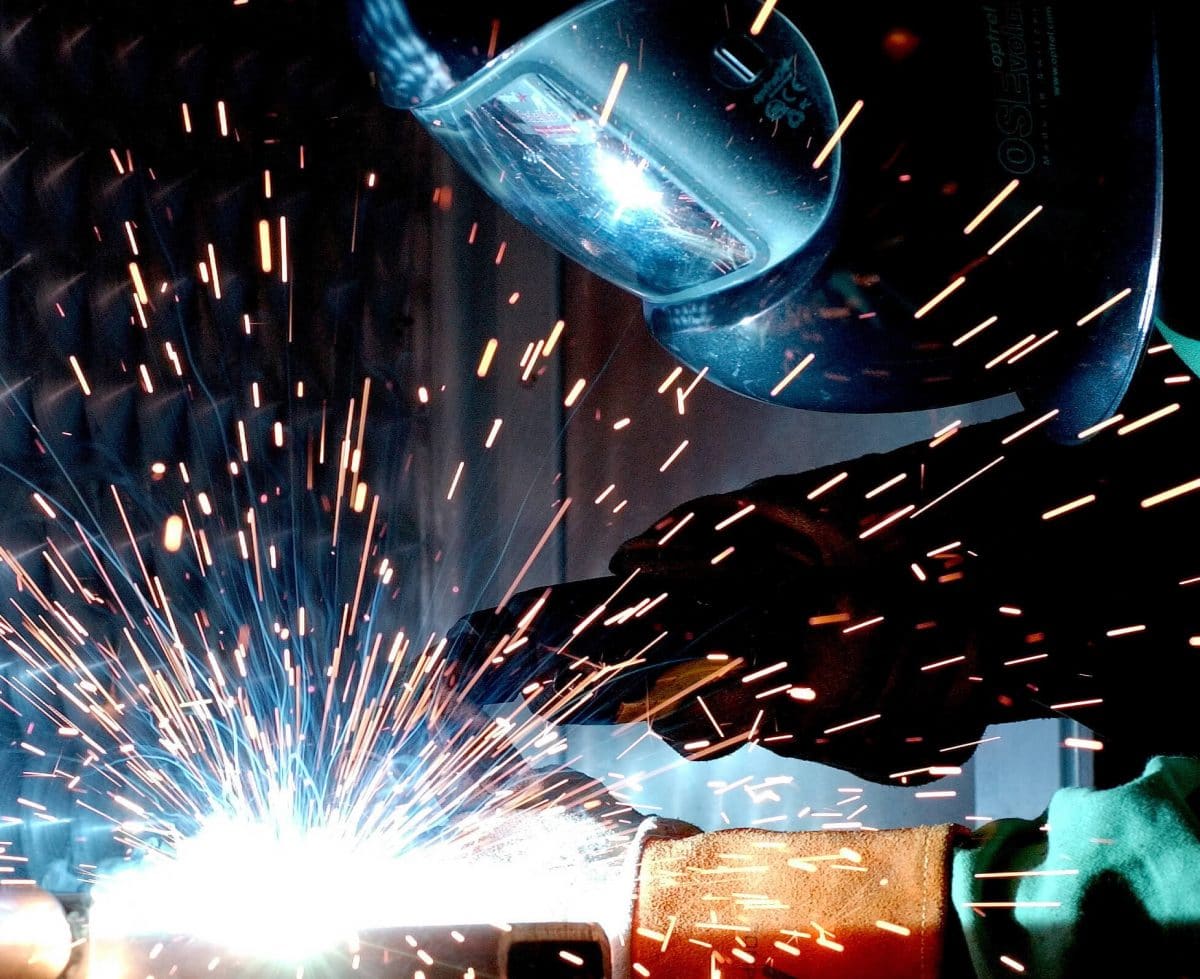 Feature Update January: New Options in the Channel Settings and Farewell to Google+
Swat.io has started into an exciting year 2019. Our developer team is currently working intensively on the new content calendar and some other interesting features, which we will be happy to present to you in the coming months. Until then, I'd like to introduce you to some minor changes in the current feature update, which will certainly be helpful for your work with Swat.io. Also, we have to say goodbye to two Google features.
Automatically Mark Posts as "Read" Using Filters
If you spend too much time archiving spam tickets in your inbox, you will be happy to receive this update. In the channel settings, it was already possible to mark comments as read automatically if they contain a certain keyword. This functionality is now also available for posts. If a post contains one of the keywords that you have defined, it will immediately be marked as read in the background. It will not be opened as a ticket and you will not have to edit it. This feature is also useful for monitoring channels so that you get as many relevant tickets as possible into your inbox.
In the settings of the respective channel, you will find the possibility to define corresponding keywords in the subsection "Filters".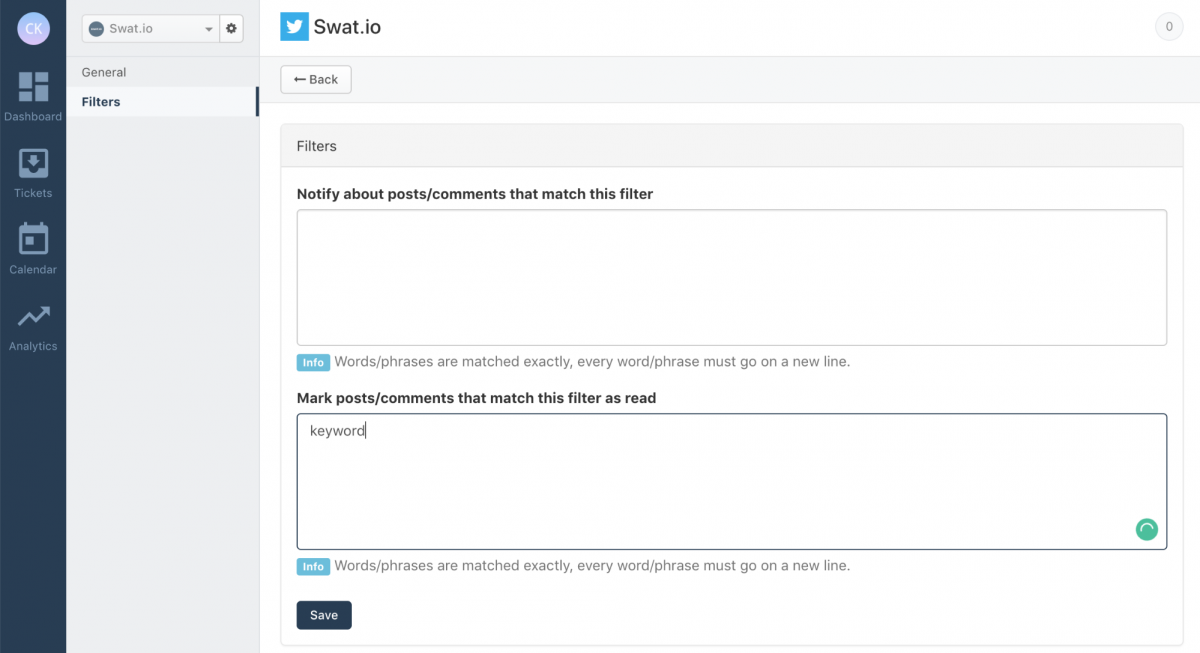 New Submenu When Opening the Channel Settings
A smaller update provides clearer navigation within the channel settings. To make the long page easier to view, it has been divided into several subsections. With the update, the following items are now available:
General: Here you can still find most of the settings, as well as the command "Reset Token", which is needed from time to time.
Filters: This menu item can be found for all channels that allow the "Blacklists" feature.
Monitoring: This menu item can be found for all monitoring channels.
Thanks to this improved navigation, you will find your way around faster and get to the settings you are looking for more easily. In addition, our product team can integrate future settings options more clearly by creating new menu items.
The new submenu can be found in the settings page of each channel. You will not see any changes in the channel overview: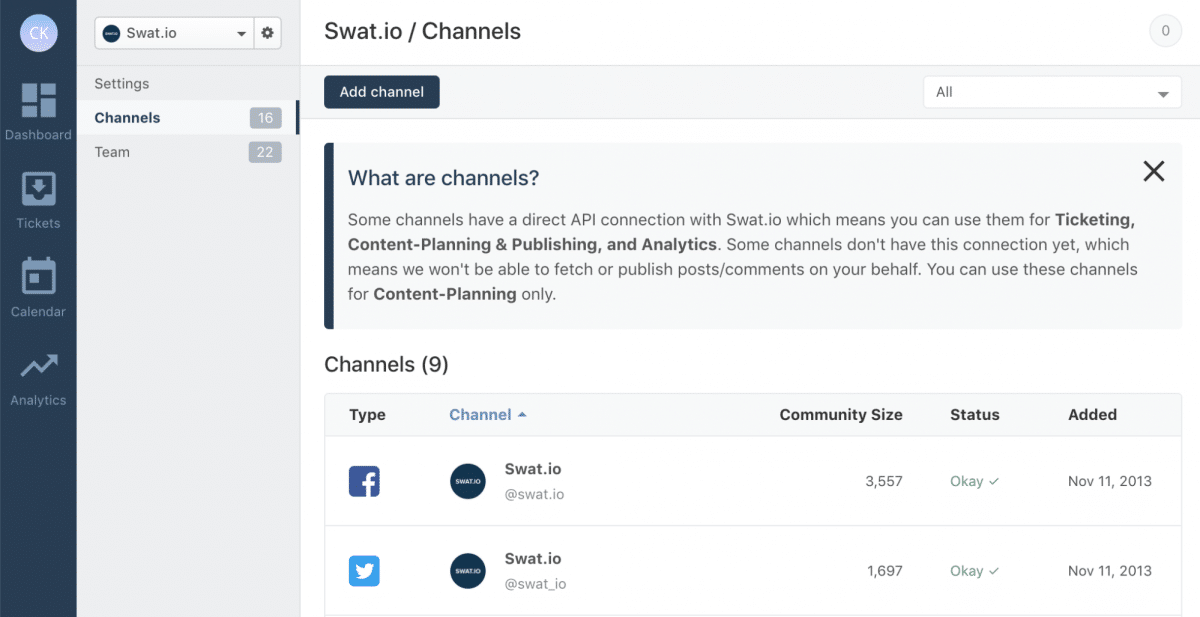 However, if you open a channel, you will find the new menu: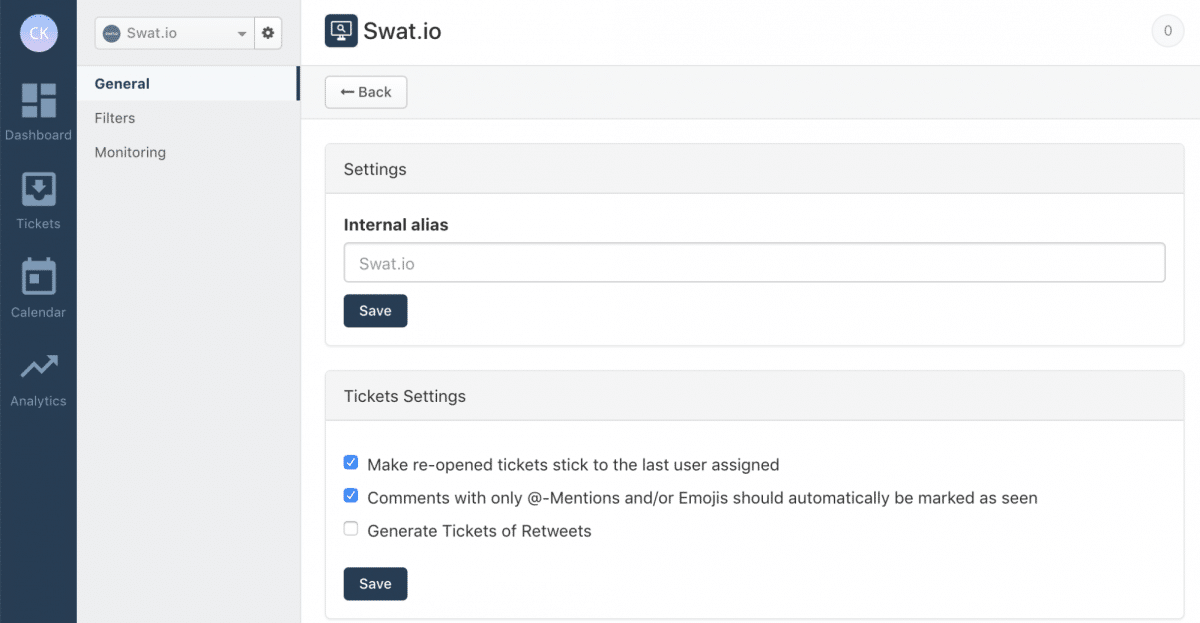 Complete Deactivation of URL Shortening
This new setting could be interesting for you if you are particularly careful with data handling ever since GDPR became effective. Now it is possible to deactivate the shortening of links in Swat.io completely.
To do this, go to the settings page of your client. If you select the option "None" for "URL Shortener", it is no longer possible to shorten links at the push of a button. All users of your account will then no longer see the "Shorten links" button when creating posts or editing tickets. Also, no analytics data will be collected, so that the key figure "Short URL Link Clicks" is no longer evaluated.

By the way: If you are still using the "Goo.gl URL Shortener", you have probably already learned that it will be discontinued soon. Therefore we will automatically change your account to bit.ly at the end of March. However, Swat.io will show you a warning about this – maybe you have already seen it. It is up to you whether you want to use the URL shortening with Swat.io's bit.ly account or with your own. Of course, you can also disable the functionality completely as described above.
Time to say Goodbye to Google+!
In addition to the end of the Goo.gl URL Shortener, Google also decided to discontinue its social network Google+ last year. Some of our customers enjoyed using the network, which is why we would like to briefly explain what to consider in the wake of Google+'s farewell.
The programming interface of Google+ will be discontinued on March 7th. This means that no third party tools will be able to access the platform from this time on. Google has also announced that some features may already cease to work properly even before that date.
Your Google+ channels will remain in read-only mode in Swat.io until the end of the year. If you want to keep Google+ content beyond this period, you must export it directly from Swat.io by 31 December 2019. Alternatively, you can download it directly from Google+ before March 7th. This blog post from Google shows you how to do it.
Summary
We hope that our new features will help to make your social media work even more efficient and easier. In the next feature update, we can give you more details about the rollout of the new calendar and tell you more about which new features will enrich Swat.io in the coming months. Unfortunately, we also have to say goodbye to Google+ and the Goo.gl URL Shortener in March. If you have any further questions regarding this topic, please contact our support team in Swat.io via the chat icon.
Schedule your personal Demo.