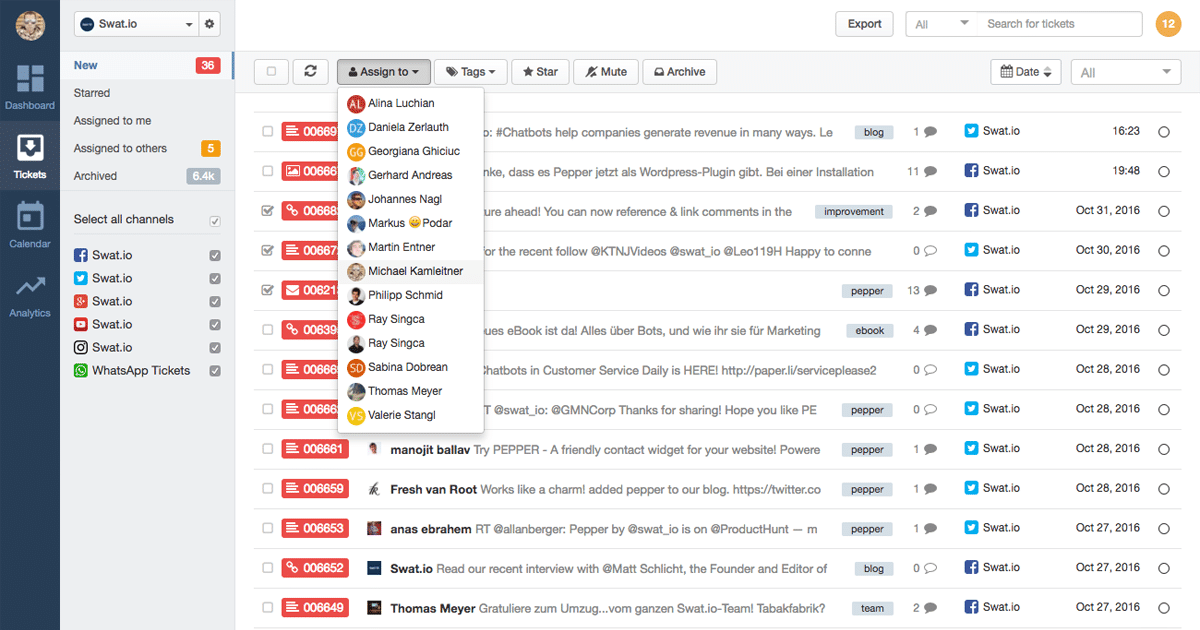 Launching this Autumn: Improved Collaboration & Community Management with Ticket Inbox!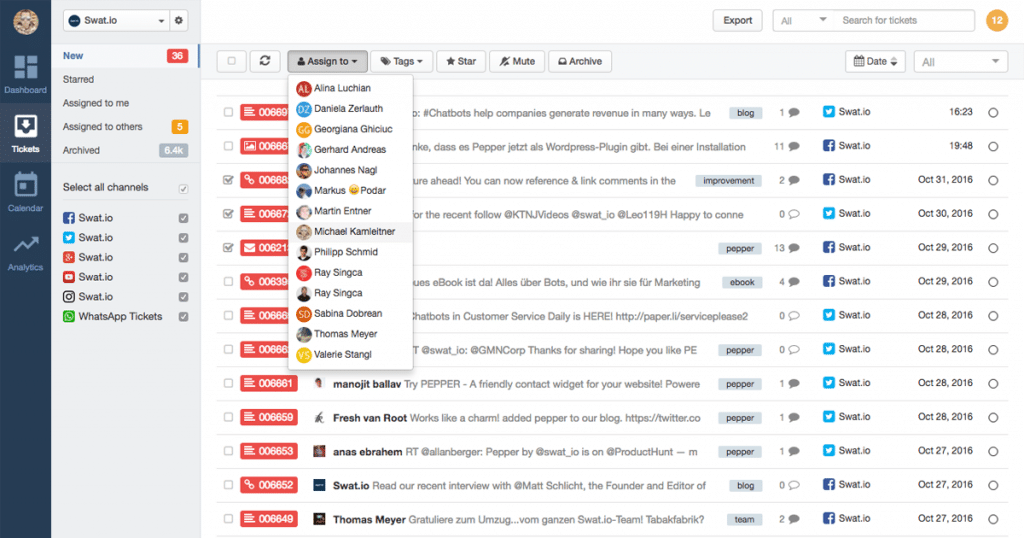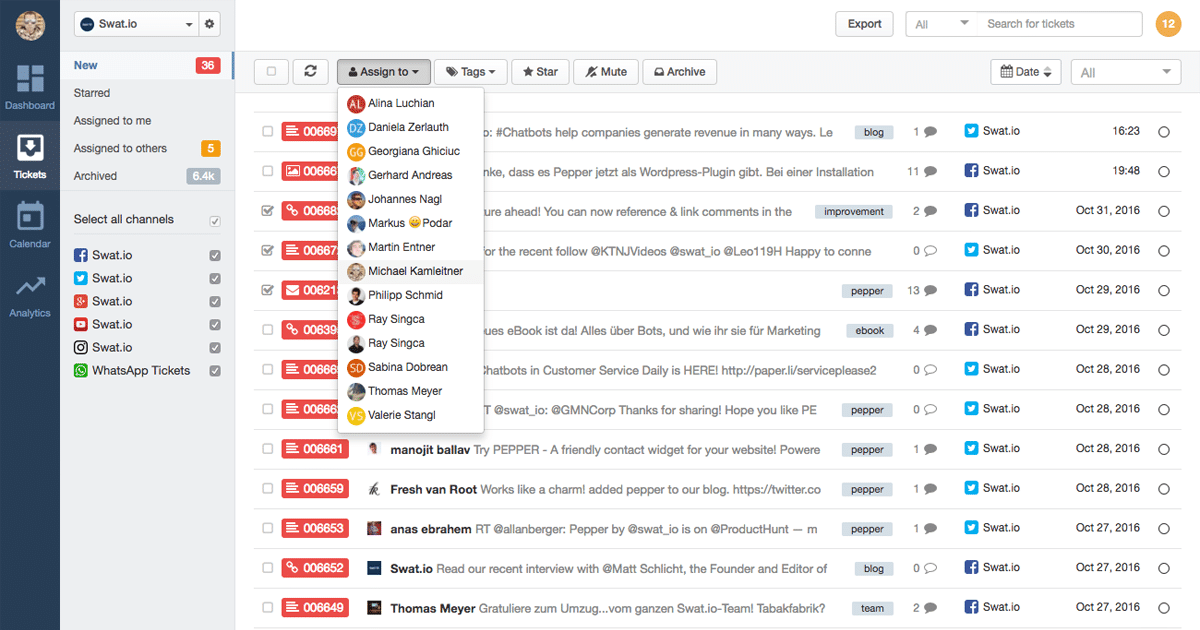 "Time flies by when you're having fun (developing new Swat.io features)!" That's what I keep hearing from our development team after an exceptionally busy autumn, focusing on various significant improvements on the Swat.io Ticket Inbox, which I have the pleasure introducing to you today! All features have been launched during the past few weeks, so you might have discovered some of them already. In case you didn't, here's a complete guide on how Swat.io will improve your community management and make collaboration more efficient this autumn – come take a ride with me!
Better Team Collaboration with Team Mentions!
Sometimes there's a need to nudge a colleague toward a certain task in a kind but clear way… 😉 Whether a comment that has not been replied to yet or a suggested post that has to be approved in time for publishing. Especially in larger teams, the Activity Log may simply become too crowded to notice each and every comment – reminders here might go unnoticed by the person addressed at times.
With Team Mentions this is a thing of the past! You can now mention team members by typing "@" followed by the colleague's name. Auto-complete included, just as you're used to from Facebook & Co! Here's how it works: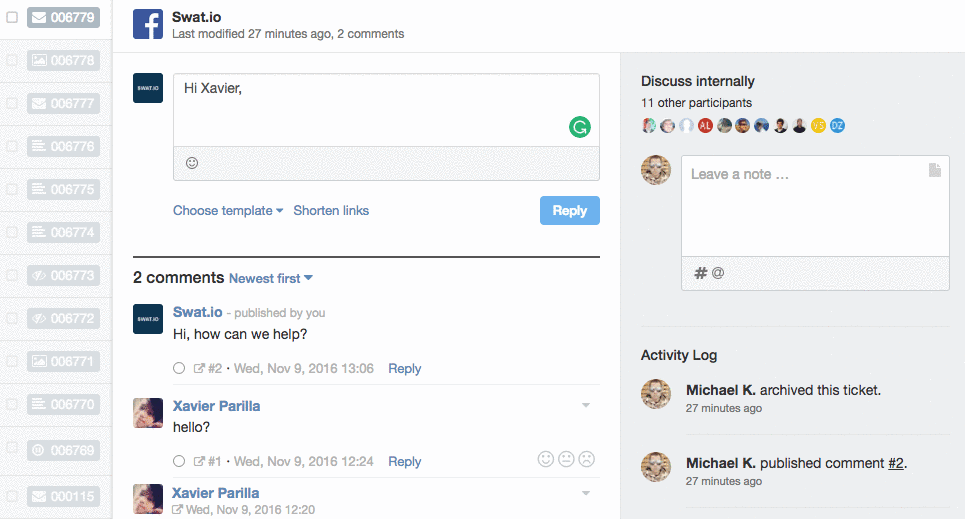 Swat.io will send mentioned team members a notification through email or in-app, even if they've de-activated notifications for all usual Activity Log interactions.
Tip: Team members can fine-tune how they want to be notified of team mentions on a Client- or even Channel-level. Go to "My Settings" / "Notifications" and choose whether you want to receive in-app notifications, emails, or both!
Mentions are now available to all our customers within the Ticket Inbox, but of course also in the Calendar! Just press "@" and watch the magic unfold!
Finding Relevant Comments with a Single Click!
Swat.io's Activity Log is a great place to collaborate on tickets with other team members. However, the longer a conversation or thread becomes, the harder it is to point out specific comments to colleagues. By assigning consecutive IDs to all comments ("#2" or "#2.3"), Swat.io users already had a tool to clearly reference a particular comment manually: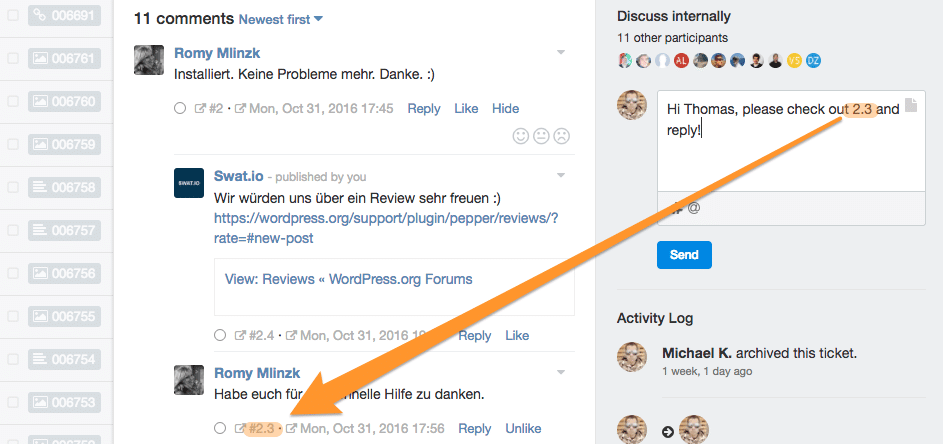 However, actually finding this comment, especially in conversations spanning hundreds or even thousands of comments was another thing – until today! With Comment linking, it is now possible to link a specific comment in the activity log, making it easily accessible with a single click. How? Just type "#" followed by the comment ID ("2.3") and you're good to go. Clicking on a comment link not only jumps to the right part of the conversation, it even highlights the linked comment for better visibility: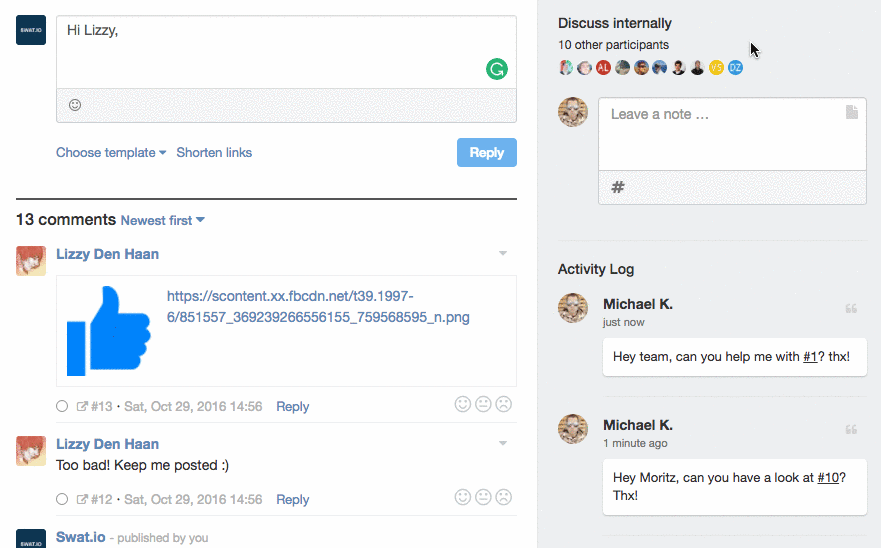 Tip: Linked comments can also be used as permalinks! Just right-click a comment link ("#2.3"), and copy the link address. This can be pasted to email, your group chat or anywhere else, enabling other team members to find relevant comments with a single click!
Level Up your Team Collaboration!
We believe that when combined, Team Mentions & Comment Linking have the potential to really level up how your team collaborates in Swat.io! If you ever wanted to "assign" specific comments to a colleague, you can now do so!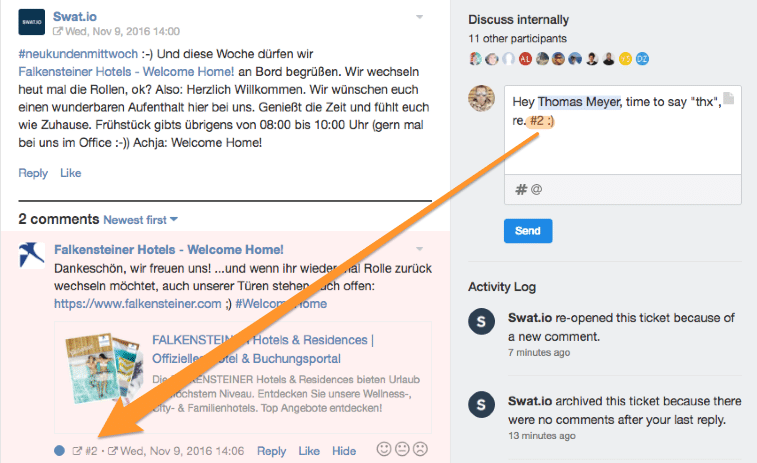 Efficient Community Management with Ticket Filters!
The bigger your communities get on Facebook, Twitter etc., the more time you'll spend moderating posts and comments – it just comes with your success on social media! 🙂 For many brands, publishers and media channels this means thousands of comments that need to be reviewed. It's an unfortunate fact, that some of those comments are of spammy or even abusive nature, so community managers will naturally hide or even delete them according to their community guidelines (you have those, right? ;)).
With Ticket Filters, Swat.io will now save you a tremendous amount of time moderating your communities! By setting up channel-specific Filters, you can now decide which posts, comments or private messages the Ticket Inbox should handle automatically: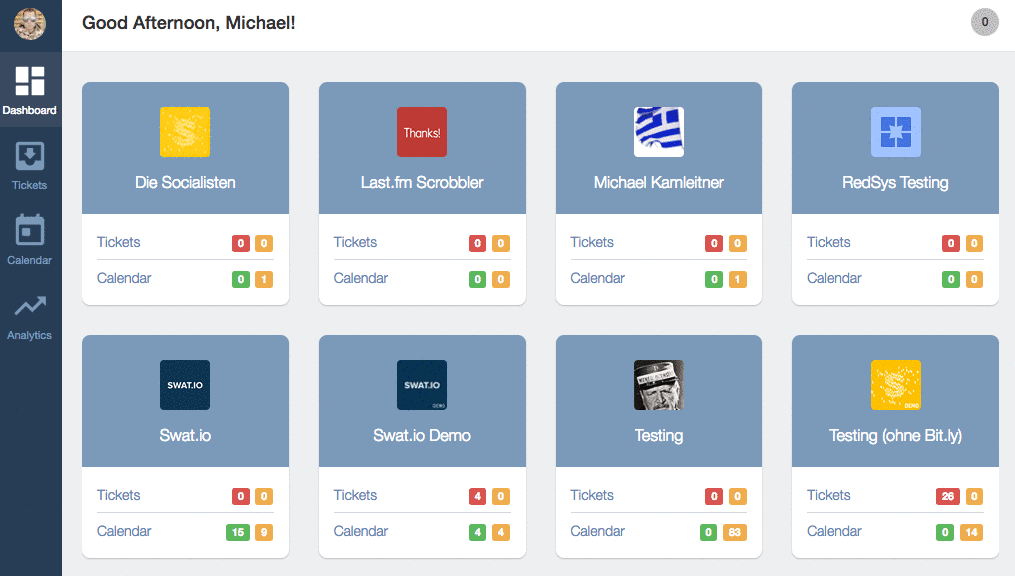 Ticket Filters are fairly easy to setup. Each filter can include any number of keywords or phrases that trigger automatic actions. Each keyword or phrase should go on a new line and is matched case insensitive. For now, we offer three basic filters:
Notify Filter: If you just want to receive an extra notification (in-app or through email) when a post, comment or private message includes a certain keyword, the notify filter is the right choice. Other than sending a notification, it won't touch the ticket or the original post/comment so it's an absolutely safe way to try out filters!
This filter is available on all channel types.

Tip: When starting with Ticket Filters, we recommend using only a few unique keywords/phrases first to get a feeling how many private messages, posts or comments actually match. It also makes sense to try keywords first with the Notify Filter, since this one doesn't affect the original source item!
Hide Filter: A post or comment that matches this filter will be immediately hidden by Swat.io. If you later find out, that your filter matched a post/comment, that should not be hidden, you can undo this action at any time.
This filter is available on Facebook and YouTube, however it doesn't work for private messages.

Delete: A post or comment that matches this filter will be immediately deleted by Swat.io. Remember: Since we delete the original post or comment, there's no Undo – use this filter with extra care!
This filter is available on Facebook, Google+ and Instagram channels only and doesn't work for private messages.
Tip: Filters also work for names! You can either enter the real name or the username (@… on Twitter) to filter for people. Just remember that most real names are not unique – so use with care!
How Filtered Tickets Are Displayed
Setting up Ticket Filters is only the beginning! Once in place, Swat.io will indicate filtered items in various ways. First, you'll receive email and in-app notifications according to your notification settings whenever an item has been filtered:

All filtered items are also logged in the Activity Log, with additional highlighting of all matching keywords or phrases in the actual item:
Finally, the Ticket Inbox marks tickets containing filtered items with an exclamation mark inside the comments speech bubble. Hover your mouse on the bubble to see how many items have been filtered!

We believe Ticket Filters will be a very powerful tool, especially for moderating high traffic communities! However, with great power comes great responsibility, as Uncle Ben used to say 😉 Please keep in mind: your brand should have solid community guidelines in place, before deleting or hiding user generated content (whether automated or not)! Community guidelines define, what is considered spam or abuse and allow you, as community managers, to give clear reasoning for your (automated) moderation efforts.
And there's even more…
Besides these major enhancements, our team has been improving the Ticket Inbox on several other aspects recently. We've introduced a new button to "Reply, archive & move to next" ticket, all in one click. We've also caught on regarding Twitter's recent relaxation of the 140 character limit. Visit our status page or follow us on Facebook or Twitter to stay in the loop with these smaller improvements!
Efficient Social Media Communications With Swat.io