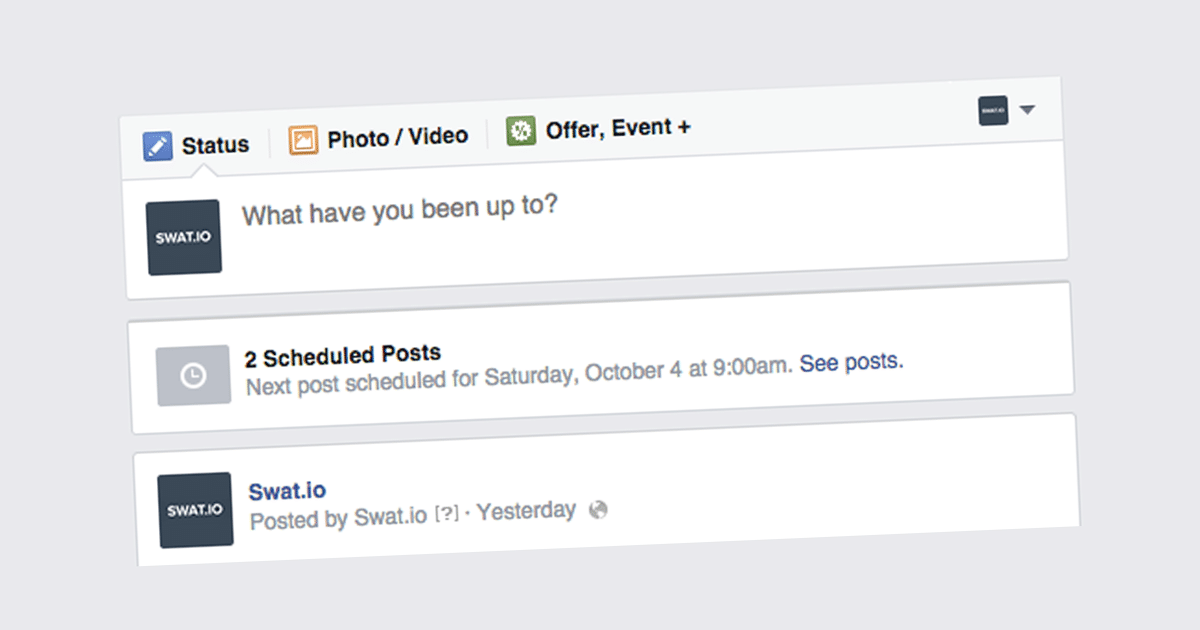 Native Scheduling on Facebook!
If you are doing serious advertising on Facebook you surely have encountered this catch: to pre-schedule the promotion of a particular post, you first have to (dark-)publish it to your Page, because naturally only then you're able to make the post the subject of your ads. If you're scheduling through Swat.io though, there has been no way to setup advertising until the post actually is published – bummer! Today we're solving this by adding support for Native Scheduling on Facebook!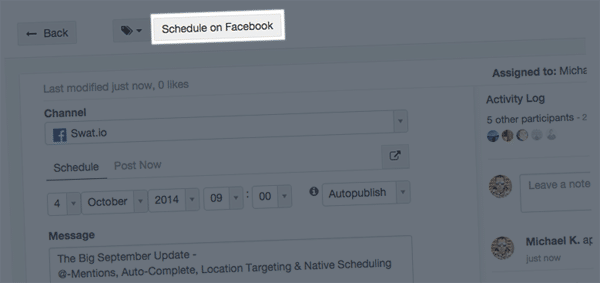 So How Does it Work?
If your post is ready to go, just hit the "Schedule on Facebook" button in the top action-bar to natively schedule it on Facebook! Check your Facebook Page – you'll find your "Scheduled Post" right on the top of your timeline:

All natively scheduled posts can also be found in the "Activity" section of your pages' settings – there you can also edit posts already scheduled on Facebook:

Now head to the Facebook Advertising tool of your choice (http://facebook.com/ads, PowerEditor etc.) and start promoting the scheduled post!
When using Native Scheduling, please be aware that…
Only posts "Approved" on Swat.io can be scheduled on Facebook natively
Posts that have been scheduled on Facebook natively can't be edited on Swat.io anymore (this is due to API limitations – you can edit the posts over on Facebook.com, however)
Posts that have been scheduled on Facebook natively can be "Unscheduled" on Swat.io (and than also be edited again).
Excited about Native Scheduling content on Facebook? Start your free trial and find out how it works!
Efficient Social Media Communications With Swat.io
We've started to rollout this feature to all Swat.io customers slowly until the end of this week – if you can't wait to start scheduling natively (which I can understand ;)), just give us a ping at support@swat.io for fast lane-access! 🙂