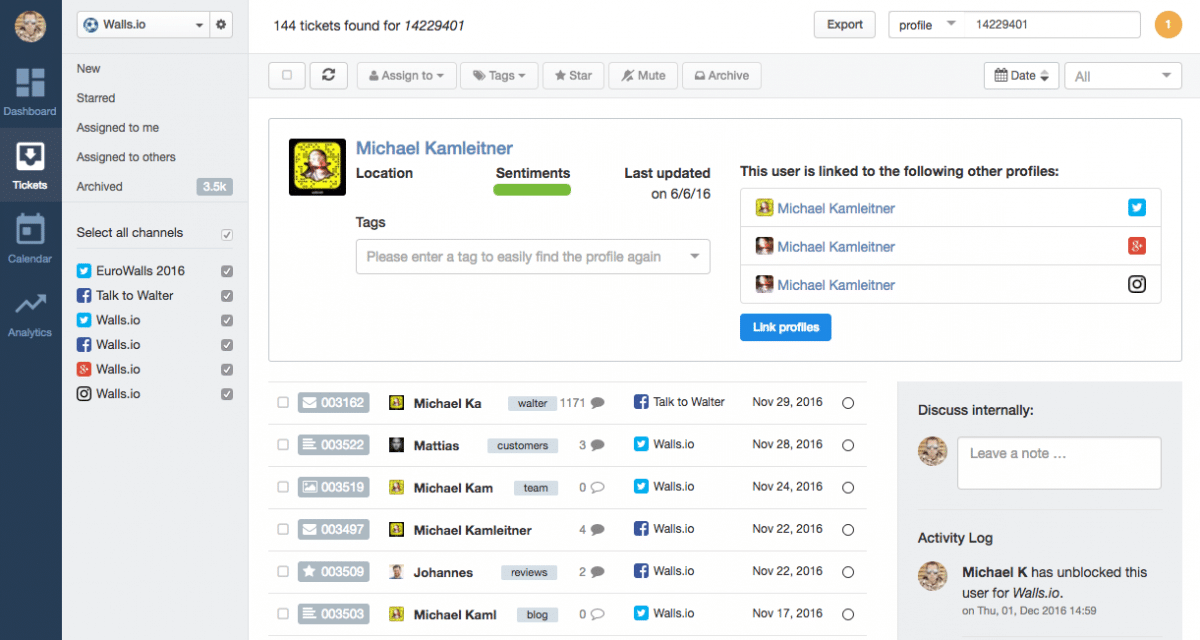 Launching: People, not Profiles! Tagging & Linking of User Profiles
Wow! My last announcement covering our recent improvements of the Swat.io Ticket Inbox is only two weeks old, yet I'm following up with more happy news for community managers today! And it's not even Christmas, guys!
This time, we've been focussing on another central piece of Swat.io's Ticket Box – user profiles! For those not familiar, Swat.io offers complete profiles for all community members interacting on your channels. Browsing a history of all past comments, posts and private messages of a Facebook user, is always just a click way:
To make user profiles even better, we're introducing a bunch of new features today:
Linking User Profiles
Managing social media marketing and customer service always involved a strong "cross channel" aspect. While a particular customer might send a support request on Twitter today, that same person will comment your posts on Facebook or Instagram tomorrow. The challenge for brands and companies obviously is to merge the different profiles of a human being into one, comprehensive persona (hence: "People, not Profiles"…clever, right? ????). With Swat.io, you can now achieve this by linking user profiles:
Visit a user profile and click the "Link profiles" button.
Search for the profile you would like to link. Searching for the real name of a person is a good starting point. You can, however, search for any username you know to be connected to this person!
Pick all profiles you want to connect from the search result and hit the "Link" button – and that's it!
If you want to unlink a specific profile, that's easy too: just hover on the profile and click the "x".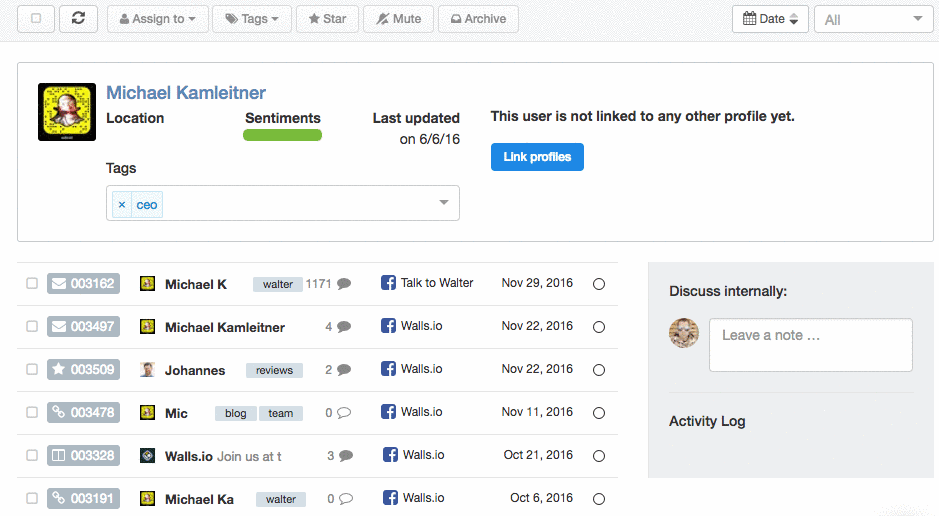 Tip: A linked profile collects all the tickets, sentiments and activity logs (more on that later) from all connected profiles! This makes it easy to see all interactions of a person, no matter what channel they've been using, in one place!
Tagging User Profiles
This one was a no-brainer: we've extended Swat.io's tagging functionality to user profiles! Use this feature to mark and categorise profiles, for example as "Customers", "VIPs" or "Troublemakers". By searching the ticket inbox for tags, you are able to easily retrieve all tickets involving users from certain groups or categories.
Discussing User Profiles
To round things up, all user profiles now include the familiar Activity Log you're already using for tickets and posts! Use it to drop other team members a note about a community, or check the log to see who has (un)blocked a user in the past.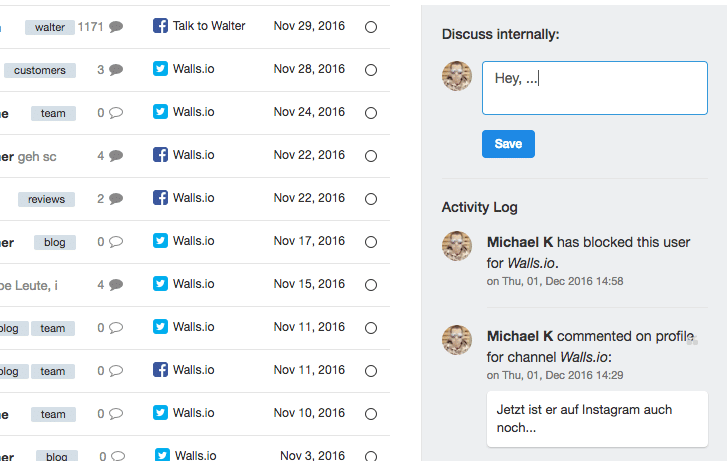 Linking, tagging, discussing – we really hope these three additional features will make user profiles a central part of your daily community management! Because in the end, social media is all about the people, not profiles! 🙂
Efficient Social Media Communications With Swat.io