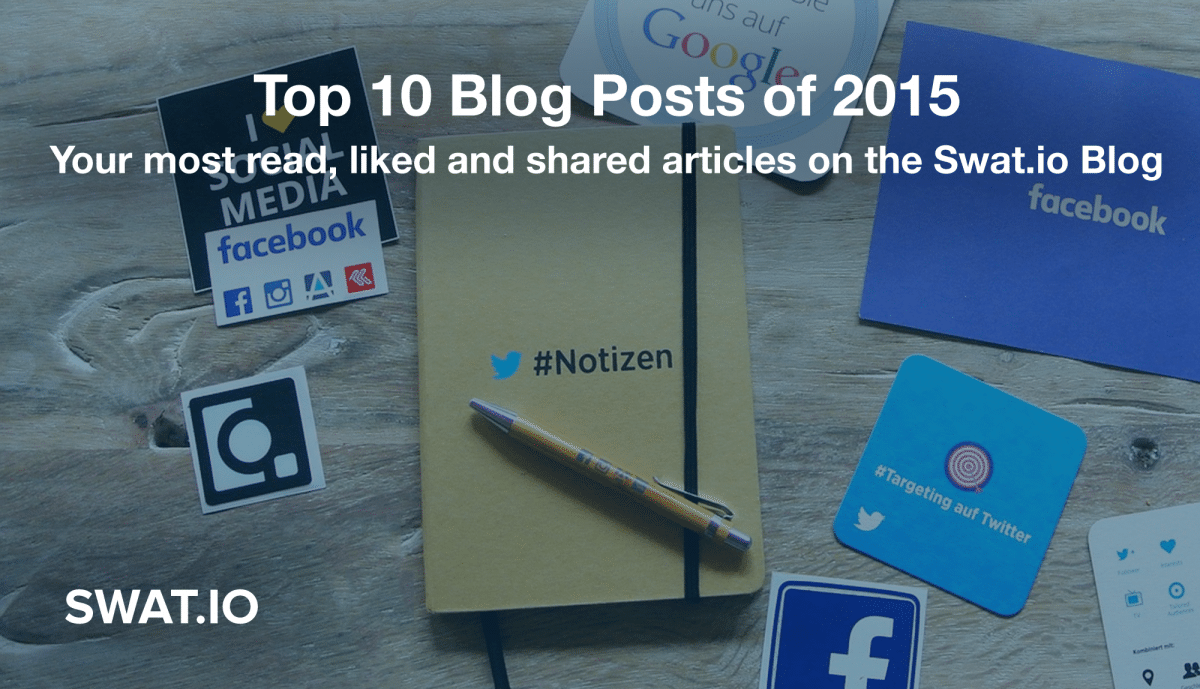 Your Top 10 Blog Posts of 2015
Wow, it's the last week of the year already! To me it feels like the Swat.io blog in its current, weekly form was just established yesterday – when in fact it has been almost a year ago, in December 2014. 58 blog posts have been published since, 34 have been translated to German and 3 posts are already up on our latest, the Portuguese edition (more to come!). Time to step back and crunch the numbers – what posts have been most popular among you, our readers? Which ones have been shared, commented or liked the most on social media? Follow my Top 10 countdown to find the answer!

Starting at 10th place is what was probably our biggest feature release of 2015. When we announced WhatsApp support for Swat.io content planning & ticketing back in October, it was already crystal clear that this messaging platform is the hottest new-comer in business' social media and customer service. The fact that all this happened without any official API support in place, just made it that more exciting… Read more…

How can brands improve their social media marketing by learning from the Star Wars frenzy? Ranked 9th, this relatively new but popular article distilled 5 learnings for your everyday social media marketing efforts – from creating anticipation, to having great brand ambassadors and doing effective cross promotion. May the force be with you! Read more…

Okay, each customer service query is unique and should be dealt with accordingly. But some of them are just too funny, not to be shared! 🙂 No surprise this roundup on absurd customer interactions came in ranked 6th! My personal favourite:
Support: "How can I help you today?"
Customer: "I've got my 22-gauge pointed at my desktop. Do you think that's going to be a better solution than what you got?" Read more…

Social Media supercharges the word-of-mouth conversation as it has the potential of reaching many more people in a shorter amount of time compared to traditional newspapers. This article explains how a social media marketing management system can help turn your customers into brand evangelists. Read more…

One of my personal favourites, this post tracks the roots of modern customer support back to Alexander Graham Bell's invention of the telephone. Relive the history of modern callcenters and online support, and learn how social media might just overtake all those service channels in the near future. Read more…

Humour is an essential component in brands' interactions on social media – and it also should be an integral part of our day-to-day work as social media professionals! It makes me smile 🙂 that this post has come in 5th, featuring the best funny practices of McDonalds, Bank of America, Oreo and others. Read more and be inspired…

"Become super organised and learn to live in a super dynamic environment" – that's Shaneel Simpson's (CGR, Jamaica) advise for fellow social media managers. We've featured 5 agencies in our interview series over the course of the year, all of which were quite popular with you, dear reader – but Shaneel outdid them all 🙂 Thanks for the interview! Read more…

Only 3d place?! Come on, we've collected some of the biggest corporate social media fails and this is all you, dear readers, come up with? 😉 Seriously, this post has some of the absolutely worst. Things social media manager's nightmares are made of. Laugh about it, but never forget, it can happen to the best of us! Read more…

Following our WhatsApp launch, we've continued exploring the potential of WhatsApp for social customer service in this article, coming in at 2nd place. Learn why WhatsApp and other personal messenger apps just might be the preferred support channels of the future! Read more…

And finally, *drumroll* for the most popular blog post of 2015 – where we've answered the question most of you professional social media guys (including us!) have been asking day after day: "How do Celebrities Manage their Twitter Account"?! Weither they outsource social media to their management or do it on their own, our article offers a peak behind the curtain! 😉 Read more…
And that's about it! We're happy that our blend of topics – reaching from our own feature releases, to industry news, showcases and the odd funny listicle – matches your taste! I'd like to take the chance to say "thank you" for reading our blog in 2015! If you have any feedback, criticism or suggestions for future topics, let us know in the comments or email us at blog@swat.io!
Efficient Social Media Communications With Swat.io