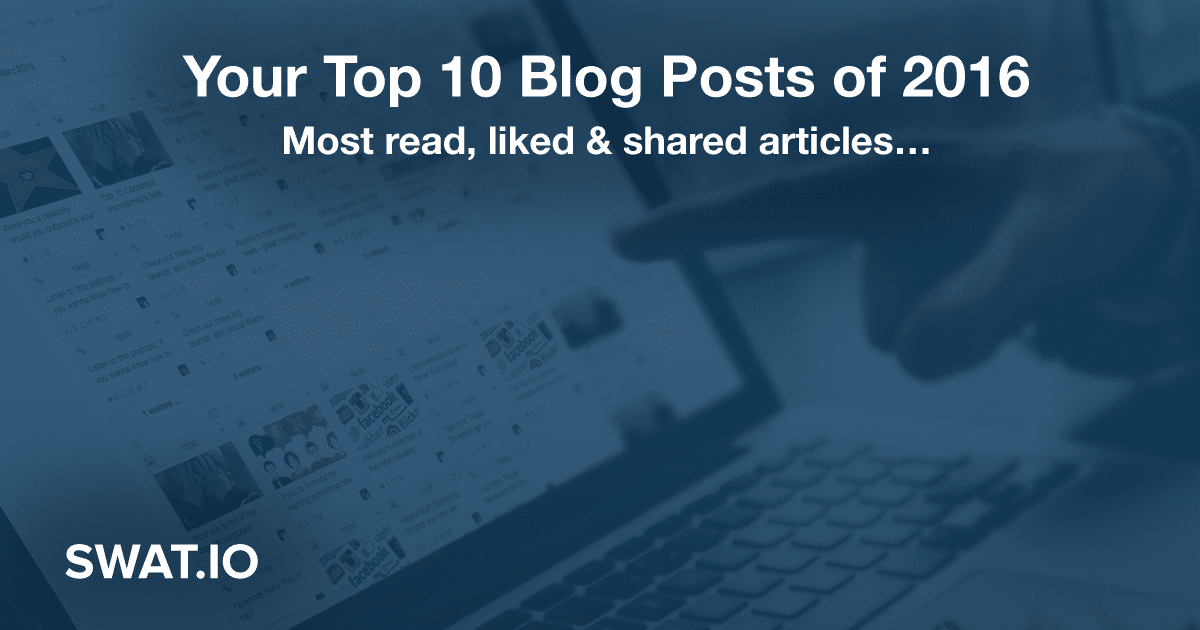 Your Top 10 Blog Posts of 2016
57 blog posts (31 on our german blog), 3 guest posts, 1 infograhpic and 5 eBooks – that was the year 2016 on our Swat.io blog in sheer numbers. But where there's lots of content getting published, there are (hopefully!) readers as well! And so, like last year, we continue our end-of-the-year tradition to present you the most popular, most read blog posts of the past 12 months!
You've favoured articles on customer service, visual marketing and interviews taken from our eBooks. Oh, and you seem to love everything about a certain rising social messenger platform… but I don't want to get ahead of myself, let's start with…

Human interaction has been often perceived as an irreplaceable component of customer service. However, as technology progresses, many activities that were handled by real human beings in the past will eventually be assigned to either robots or computer programs. This article investigates when and how AI will start to play a major role in everyday customer support. Read more…

Remember how things were 10 years ago? Marketers put a lot of effort into creating new strategies and campaigns that consumers would hopefully love. With the rise of social media, information and potential ideas are flowing back from consumers to producers. This article showcases 7 marketing campaigns that made good us of this flow. Read more…

Have you ever been tempted to just duplicate the same content to all your social media channels? After reading this article you certainly won't be so anymore, as we explain how and why each platform deserves to be treated individually in regards to its specific qualities and the kind of audiences it tends to draw. Read more…

While email frustrates consumers when they need a quick answer from brands, social media comes as a natural communication channel since it suits people's behaviour of being in a "live" conversation with one another. This and 6 more reasons are why customer service will never be the same again with social media! Read more…

When putting together our latest eBook on the psychology of Snapchat marketing, we sat down with Lisa Stadler, Social Media Manager at derStandard.at, to discuss the content strategies that work best on the platform, Snapchat's core features and how you can measure the success of Snapchat campaigns. Read the whole interview…
Publishing video content and expecting it to perform well on its own is not going to work in most cases. In this blog post, we're going to take a look at the steps you should take to get your videos and, ultimately, your message across. Read more…

Your social media marketing strategies don't pay off as you would have expected them to?
Things don't happen fast enough? When was the last time you tried something different This article offers 9 social media growth hacks that are believed to be working every single time. Read more…

Obviously, all brands want to create marketing campaigns that ooze with engaging content, but not all of them have a recipe for going viral. In either case, engagement goes well beyond liking, loving or favouriting a piece of content, and this blog post shows you how. Read more…

2016 was the year Snapchat finally broke into the mainstream marketing consciousness, so it's no big surprise that our second most popular article explored how this exciting, new platform can be put to marketing & storytelling use effectively. Read more…

If imitation is the sincerest form of flattery, as Oscar Wilde said, then Instagram has been flattering Snapchat quite a lot this year. With the recently launched Instagram Stories, it gets harder and harder to differentiate the two platforms. This, our most-read article of 2016, tried its best to lighten up and compare the similarities and differences between Snapchat & Instagram. Read more…
And that's about it! I'd like to take the chance to say "thank you" for reading our blog and eBooks in 2016! If you have any feedback, criticism or suggestions for future topics, let us know in the comments or email us at blog@swat.io!
Efficient Social Media Communications With Swat.io