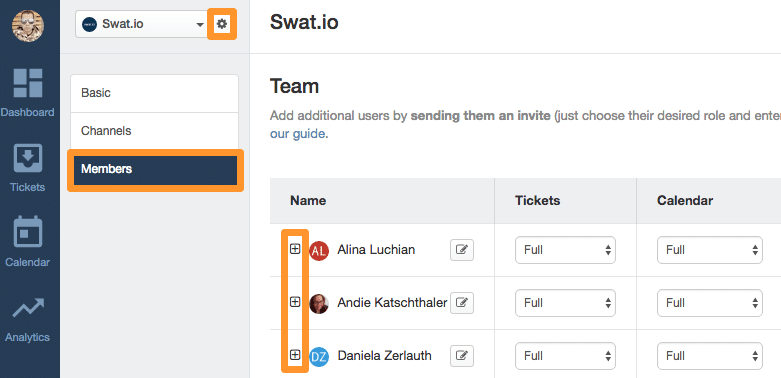 Launch: Learn Everything About Channel-based Roles!
When we improved our roles & permission system back in June, I've already teased another upcoming change: channel-based permissions! Today I'm glad to tell you that the wait is over – we've just launched this great new feature for all our customers! 🙂
Why are We Adding Channel-based Permissions?
While many smaller social media teams grant roles & permissions to team members across all channels (Facebook Pages, Twitter profiles etc.), there's a clear need for more differentiated permissions in larger organisations. Maybe one team member is exclusively allowed to post to Twitter, while another one is doing content on Facebook. To implement such roles in Swat.io, you had to split your channels into separate "Clients" – not anymore! 🙂
Is There Something I HAVE To Do?
No, if you're happy with the way permissions and roles are currently set for your team on a client-level, you don't have to change anything – everything will work & behave as before!
What is Changing With This Release?
You can change roles & permissions in the "Members" section of each clients' settings (just click the cogwheel next to the client list or on your dashboard). As you know, each member is assigned a role for Tickets, Calendar & Analytics on a client-level, meaning that the role is granted for all social media channels in this client: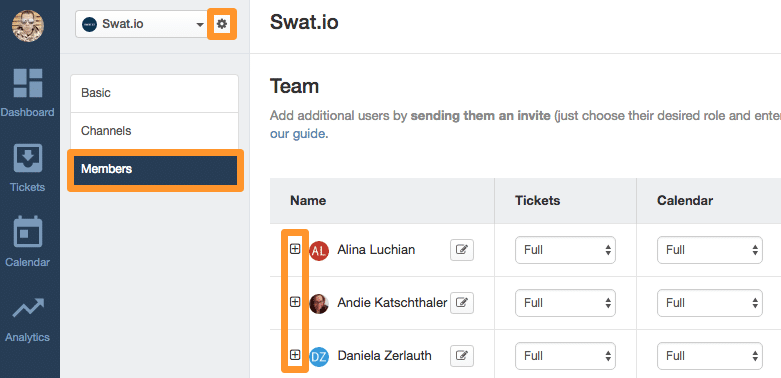 Notice the "+"-Icon? That's were all the magic happens! 🙂 Let's say Alina, who's currently a "Full" member of our team, should be prevented from accessing our WhatsApp channels at all. Easy!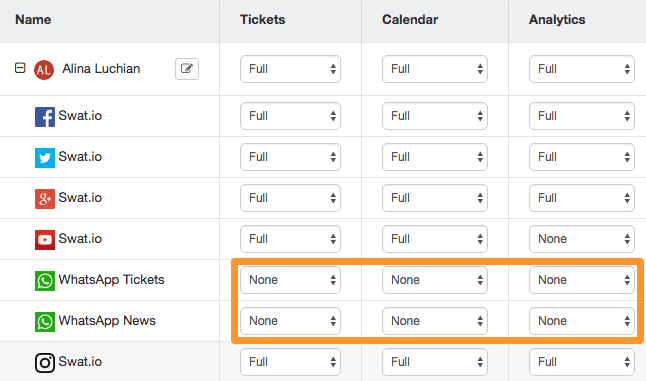 Another example might be Andie, who is exclusively focussed on managing our WhatsApp channel, but should be allowed to copy content from our Facebook channel with the "Read only" permission: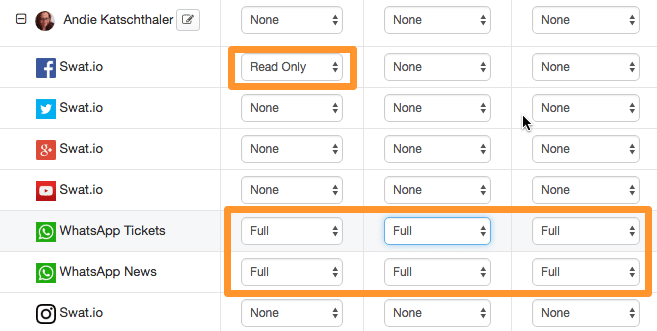 Please notice: as default, Andie still has the role "None" on the client-level. This default role is overriden by the channel-specific roles she got granted for Facebook ("Read Only") and WhatsApp ("Full")
I think you get the idea! 😉
What Further Changes are Coming Up?
With this second release related to the role system, we are confident that Swat.io can now match all your specific use cases. Combined, channel-based permissions and splitting the roles for Tickets, Calendar and Analytics give you a great deal of flexibility – therefor, we currently have no further plans for changes in this regard. 🙂
That's it for today – if you have any questions about the new channel-based permissions, don't hesitate to contact support@swat.io or just comment below.
Efficient Social Media Communications With Swat.io