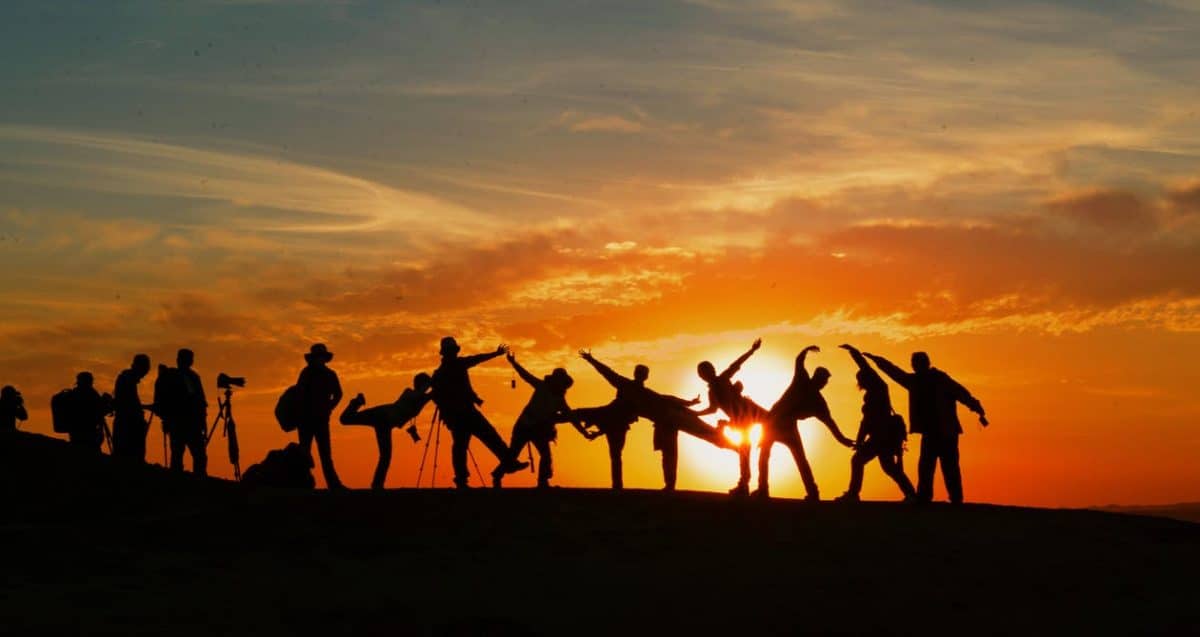 Rewind 2017: The Most Important Social Media Updates
Social media is not just about popular new features. Throughout 2017, we've seen many other things change. Your goal: be on the lookout, and leverage updates that truly impact the way your brand interacts with your target audience.
In this blog post, we will start from the beginning, and highlight the updates that truly changed the way you do social media marketing for your brand and business. Stay tuned as we will also reveal what Swat.io has been up to throughout the year.
Most important social media updates of 2017
March – Facebook Stories
Facebook Stories hit the main Facebook app in March, but it didn't perform as expected. At first, Stories in Facebook were only available for personal profiles, meaning brands couldn't benefit from the feature. A second upgrade followed in October, allowing business pages to add Stories. And a third in November, when Facebook launched collaborative Stories for groups.
According to Buzzsumo, the average number of engagements created by brands on Facebook has dropped by 20% since January 2017. Stories can be used to provide new and fresh content to your audience. It is a viable approach to outperform Facebook's algorithm and preserve stable levels of referral traffic.
Facebook Stories are placed strategically within the Messenger app. Basically, it's the first thing users see when accessing Messenger (Stories are also shown at the top of users' News Feed). Create compelling, catchy content and provide your audience with new and original ways to increase engagement and interest.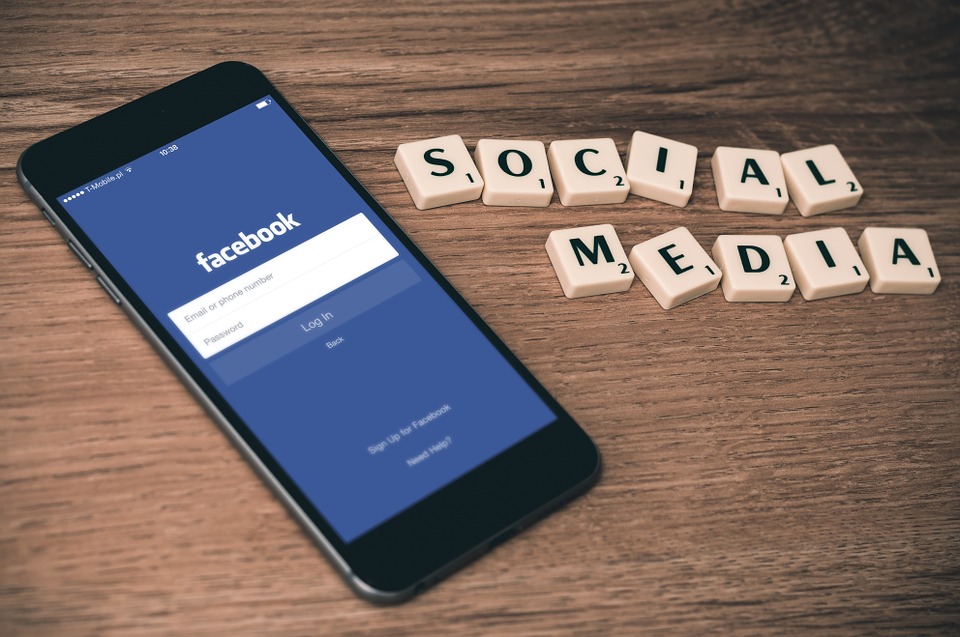 March – Instagram launches Instagram Stories Ads globally
Instagram came up with Stories Ads the same month Facebook launched their own version of Stories. Available on mobile only, Stories Ads are labeled as "Sponsored", and are shown between stories from different users you currently follow.
To make the most of Instagram Stories Ads, use consistent, large branding. It is important to make your point quickly, and let your followers know where they can find you afterward. One of the core benefits of Instagram Stories Ads for your business: drive awareness for your brand and products. When creating your campaign, reach should be your objective.
June – Facebook & the quest to fight fake news
After announcing the full depreciation of the feature in June, Facebook rolled back partially by offering a solution to media and news organizations with Link Ownership only a few months later. This approach left most brands publishing on the platform unsatisfied, however. Fortunately, Facebook has been listening to its community and is now providing a new, stable way to handle link previews: Domain Verification!
Domain Verification allows users of Facebook's Business Manager to claim ownership of their websites or, more specifically, their domains. After verifying ownership, these domains can then be connected to any number of Facebook pages within the same Business Manager account. By establishing this connection, Facebook will continue to allow the modification of link previews for all connected pages – both on Facebook.com and 3rd party applications like Swat.io!
With the availability of Domain Verification, Facebook clearly has reacted to concerns that have been voiced by many publishers on the platform. Domain Verification offers publishers an easy way to keep modifying link previews for their owned content while reducing the potential for abuse by 3rd parties.Read more about how to use domain verification to modify link posts after December 2017 on our blog post.
June – Instagram launches Live Video Replay
After introducing live video streaming and Instagram Stories last year, Instagram came out with a new feature this past June: the 24-h video replay feature within Stories. Instagram's new feature lets users share their Story for another 24 hours; before disappearing for good.
When your live broadcast comes to an end, a "share" button appears at the bottom of your screen. If you share the video, it becomes available for another 24 hours. If you don't want to share it, you can discard the video. The 24-h video replay allows users to assess likes and comments from people during the replay phase as well, not just during the live broadcast.
The total number of viewers include people who watched your video live, as well as those who watched the 24-h replay within Instagram Stories. When Instagram launched their live video feature, it became an invaluable tool for brands to connect with their audience on a more personal level. However, 24 hours wasn't enough for them to reach their target group. The 24-hour video replay ensures brands that more viewers will get a chance to see their videos.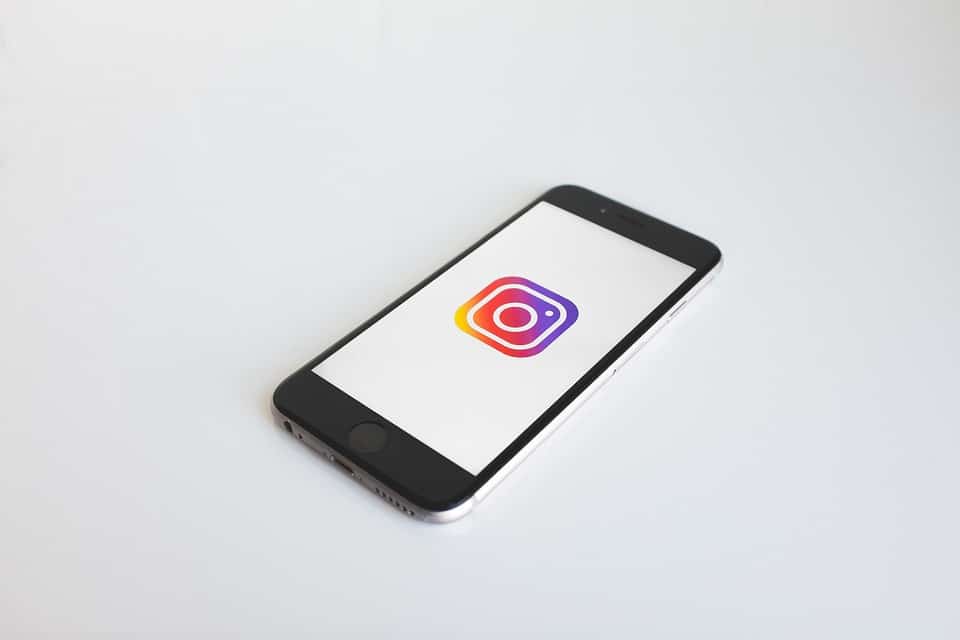 June – Facebook launches Discover Tab
In June, Facebook launched the Discover Tab to help brands streamline automated interactions between users and brands, and the way communication occurs in Messenger. The hub integrated with the Messenger app allows users to browse through a variety of chatbot category, check featured bots, and even explore recently used bots.
Discover Tab features notable changes compared to the initial version launched in April for a limited number of users. The latest version mixes human and automated chat experience in a single stream. To help users make the difference, automated chats are labeled "automated messaging".
According to Facebook, chatbots are carefully chosen before being featured in Discovery Tab. To submit your Messenger Bot, make sure your Page admin has completed the Discover submission form. If you your chatbot gets approved by Facebook, people can find your business page from the Discover Tab, following your bot.
July – Snapchat allows users to add links to their snaps
Snapchat launched its biggest feature of the year in July, when it released the ability to add links to snaps. A huge opportunity for brands and media companies to leverage the update and drive more traffic from Snapchat to their mobile websites.
The Paperclip feature allows anyone to add a link into a their Snap before sharing it on the platform. The new tool gives Instagram a run for its money, which doesn't allow users to add links into their posts (there's an exception for business profiles with 10,000+ followers who can add links within their Instagram Stories).
September – Super-sized tweets on Twitter
After a series of tests, Twitter finally doubled the character limit for tweets. According to a Twitter official, the decision was made after realizing that people had to cram their tweets into 140 characters. 20 characters had to be left for a personal note to the tweet, when you wanted the tweet to be retweeted. With the 280 character upgrade, users now have more freedom to express their thoughts in writing, without compromising on the quality of their content.
For brands, the 280-character limit has several core benefits: better storytelling. It is an opportunity for brands to connect with their audience on a more personal level. Another benefit is that you can add more links into your tweets, and tag more people in the same tweet.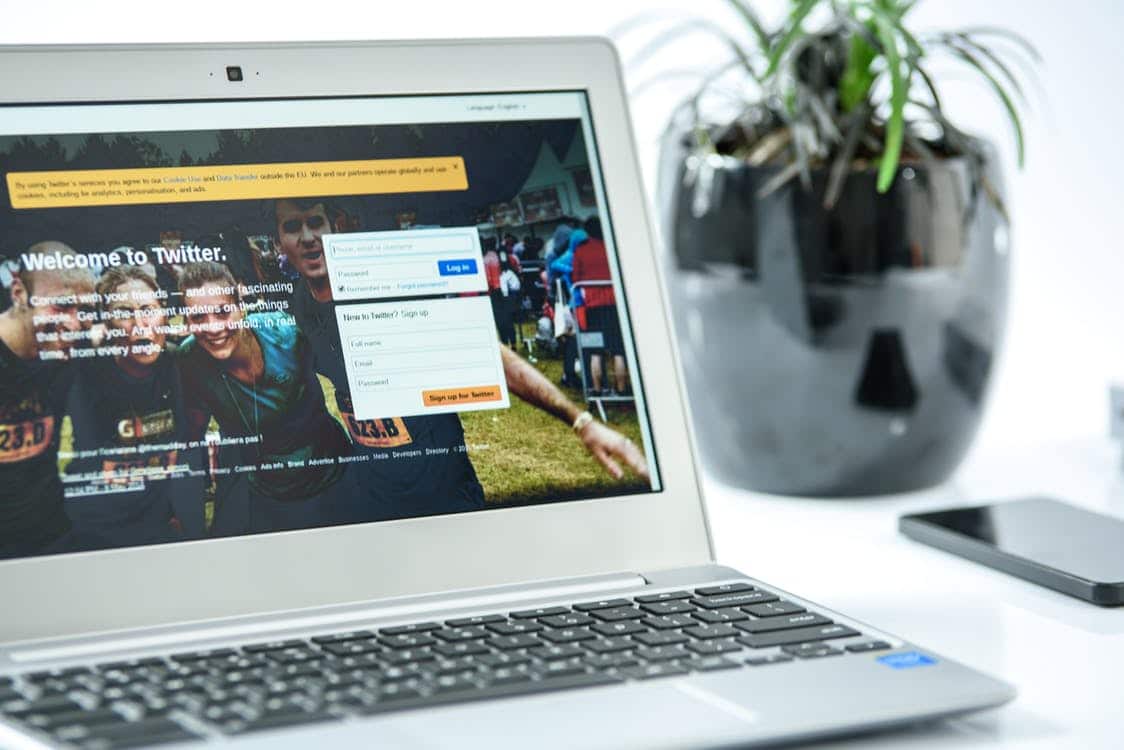 November – Facebook launches Facebook Creator App
Facebook launches an app targeted at social media influencers and video creators. It is an all-in-one app that you can use to chat with your followers, record branded videos, and get insights for the content you publish. One of the app's most exciting features is the Live Creative Kit that allows you to customize your live broadcasts.
When assembling your kit, you can also include transparent backgrounds, graphics, and add intros/outros. The Facebook Creator app is meant to steer users away from YouTube. It includes a bunch of tools for updating Facebook Stories, streaming videos, as well as special features for Facebook Live.
December – Facebook: Bye Bye Engagement Baits
Facebook posts like "SHARE this if you're born in December" are commonly known as "engagement bait" tactics used to benefit from Facebook's News Feed Algorithm. The purpose is to increase engagement to get better reach.
As of this December, Facebook has started demoting Facebook posts from both individual Facebook accounts and business pages that engage in engagement bait tactics. The update aims at encouraging more authentic engagement. Facebook plans to use machine learning model to detect engagement bait type of posts and take them out of people's News Feeds.
The Page-level demotion will roll out in full over the next couple of weeks, to give advertisers and publishers time to get used to the change and update their posts accordingly. What does this mean for business? Brands that use engagement bait tactics should expect a decrease in reach on those posts. Facebook advises Page Admins to focus on meaningful, relevant content to maintain the engagement and reach of their posts.
Swat.io's most important updates of 2017
Social media monitoring feature
Swat.io's social media monitoring feature is built-in with the Swat.io Ticket Inbox, and it helps you listen to what people are saying about your brand, products, competitors and other industry-related topics in the social media realm (when your brand/business has not been hashtagged).
Swat.io's monitoring feature filters relevant results and makes sure conversations are forwarded to the right people in your company (this helps your customer service team to enter the right conversations, at the right time). With advanced filters and the flexible keyword integration, you can refine the results of your monitoring ticket inbox with intelligent keyword management and search operators.
To paint a clearer picture and help you set up your monitoring channel within Swat.io, we wrote a detailed blog post and added a fictional example to put it all into perspective.
The Art of Social Media Content Creation
Download our eBook and learn how to plan, create and distribute your social media content while measuring its effectiveness on your relevant social media channels. To ensure you don't miss out on any big social media content trend or best practice, we've also included interviews of 5 experts in this field. Find out how to master the art of social media content creation using the latest available tools and determine what type of content makes your audience tick!
New Ticket Design
Swat.io's New Ticket Design has a clearer view. Actions like, unfollow, retweet, like, block and so on, are conspicuous. You can reply to a Facebook ticket ONLY with a Facebook channel. If you have two or more channels, and a ticket from Facebook, you can choose between those channels (this can be done with all channels support by the Swat.io app). Released together with the Swat.io monitoring feature, the purpose was to give the users the chance to choose between from which channels to reply.
We've also redesigned the post and comment section with the Swat.io app. Users can now have a clearer view of actions such as: Like, reply to a comment, retweet, follow, or block buttons. We've placed these buttons in a more logical order.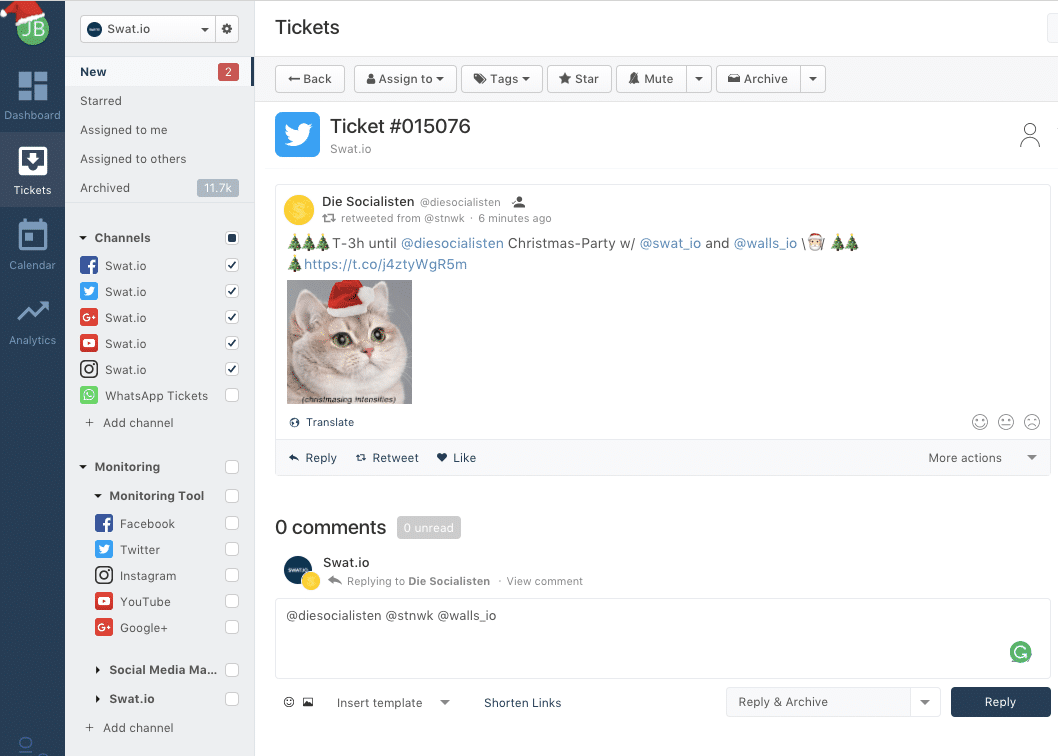 Efficient Social Media Communications With Swat.io
Video, Video, Video
We kicked off 2017 with a major launch for Twitter on January 17, when we integrated video support. In the initial phase of our update, users could only schedule and publish "smaller" videos. But as of August 8, you can upload longer videos on Twitter.
For Facebook, we added Captions within videos. You can now upload your videos within the Swat.io app and add subtitles to your videos (.srt files only).
Last but not least, we also launched an update for videos within the Swat.io app. Now videos can be directly published instead of only scheduled on Twitter, Facebook, and Youtube.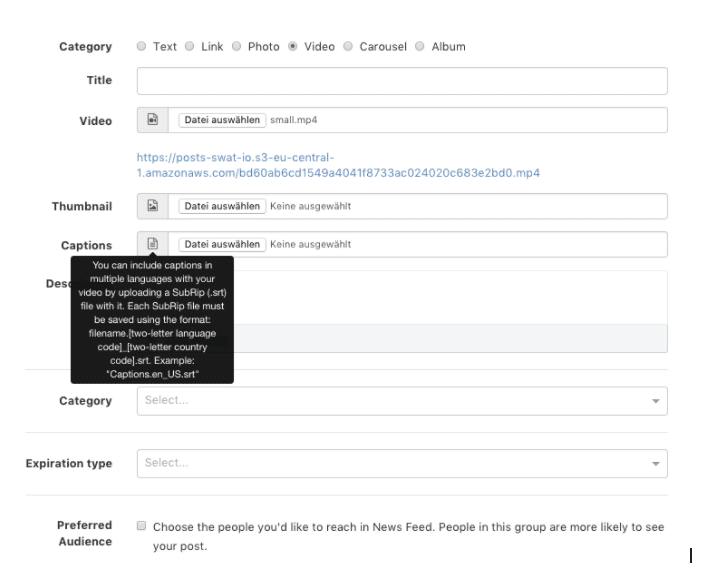 Conclusion
2017 has been a rollercoaster ride in the social media realm. We've seen many updates and new feature emerge and change completely the way brands advertise their business on the most popular social channels.
Facebook made quite an impression throughout the whole year. The quest to fight fake news has just begun, and we anticipate more updates will follow up in 2018. As for Instagram, we believe the launch of Stories Ads globally will have the most impact next year. Since reach should be your objective for driving awareness, this update will continue to shape the way your brand stands out on Instagram.
Swat.io has been going through several improvements throughout 2017. Because we wanted to help you make the most of your social media marketing efforts, we tweaked the app by integrating a social media monitoring feature. We also reworked the Ticket Inbox design and gave it a more user-friendly appeal. And because we believe video marketing will go mainstream in 2018, we integrated video support, the ability to add longer videos, and video captions for all supported channels of Swat.io.
We'd appreciate your feedback, so make sure to leave a comment below.